Global Navigation
VOL.4 ISSUE 2 SPRING 2011
Page Content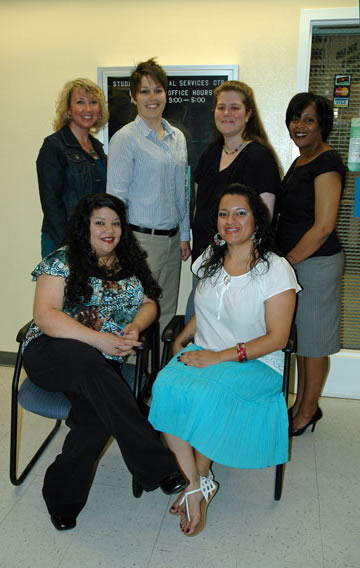 BEHIND THE SCENES
In the world of cashiering, Sac State's Cashiering & Disbursements Center is unique. Aside from a clearly distinctive customer population (primarily University students, faculty and staff), the most notable factor that distinguishes the Center is the multitude and complexity of services provided, of which cashiering is just one. Accordingly, the individuals who work at the Center possess a sophisticated skill set beyond what is required of a typical cashier who simply accepts and receipts payments and manages a cash drawer.
The Center is staffed by an assistant director, an assistant supervisor, five financial representatives and the OneCard specialist, all of whom are fluent in accounting and a variety of technical and analytical functions. Together, they process the entire volume of the University's cash transactions.
It's hard to miss. Enclosed behind a glass wall just inside the entrance to Lassen Hall, the Center is the more visible half of the two adjoining offices that comprise the Student Financial Services Center (SFSC). University business services...read more about new ABA graduates..


LEADERSHIP AWARDS
ABA's Leadership Peer awards represent valued staff and teams nominated by division managers. Managers also recognize their administrative peers across ABA. The 2010/11 Leadership Peer award went to Linda Hafar, in recognition of her efforts to advance sustainable practices on campus. Team awards went to the...read more about ABA Awards.
STAFF PEER AWARDS
The ABA Staff Peer Awards is a recognition program that allows ABA staff to recognize the work of their colleagues. This year, awards were presented at the spring ABA Staff Professionals...read more about ABA Service Awards.
MESSAGE FROM THE VICE PRESIDENT
At the end of another academic and fiscal year, the state's economic condition remains uncertain. Despite this situation, we are well advised to remain optimistic. System-wide leaders and others are involved in an ongoing campaign to advocate for favorable budget outcomes for the CSU. And, President Gonzalez recommends "that we prepare for the worst, but advocate for the best." In times like these...read more about Sac State Officers.
HORNET ATHLETICS WOMEN OF INFLUENCE
Sac State's Athletics Department recognized ABA's own Gina Lombardo as part of their Women of Influence awards program. The program was created to show Hornet Athletics' appreciation for women on campus who have made a significant impact on the University and the lives of students and colleagues. Lois Mattice, Associate Athletic Director, presented Gina with the award and had the following to say...read more Message from the VP


STAFF SPOTLIGHT
In each edition of Staff Spotlight, the FOCUS Newsletter features ABA staff who work behind the scenes. This Staff Spotlight features Jayme Gutierrez, Administrative Support Assistant I for University Parking & Transportation Services. Jayme...read more to find out what the Roving Reporter asked.
GREEN NEWS
The Sacramento Municipal Utility District presented a $75,572 award to Sacramento State in recognition of the energy efficiency of The WELL, the University's new recreation and wellness center. The ceremony took place April 26, 2011 on the second floor of The WELL with University...read more about UTAPS and Public Safety supporting the UFL games.


TALENTS ABOUND IN ABA
In each issue of the FOCUS newsletter, we try to find unique ways to feature fellow ABA staff. In this issue, we reached out to multiple offices to find individuals with unique talents. From photographers to authors, ABA is made up of talented individuals who practice diligence and creativity in their professional and private lives. From the response we have received, it is obvious, that talent is abundant in ABA...read more about Green News.