Page Content
Dr. D's Website
Department Chair / Professor of Physics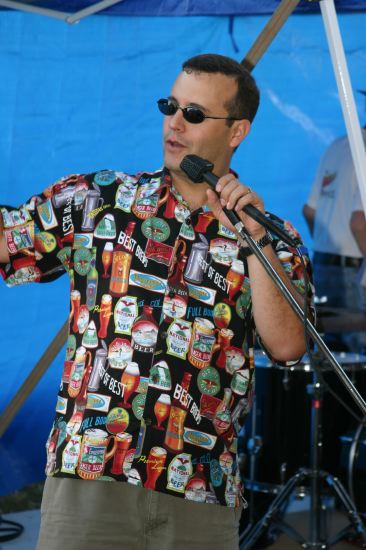 Dr. D emceeing the picnic at the 2004 AAPT Summer Meeting
On this page, you will find information on the courses that I teach, the research I do, helpful hints for students, as well as a few personal tidbits. 

But for those of you who don't have time to scan through the entire site, here is the abridged version:

In addition to being an associate professor of physics at Sac State, I am also a proud alumni of the California State University (California State Polytechnic University, Pomona, 1995). I earned my Ph.D. in Chemical Physics from the University of Maryland in 2000.  My Ph.D. research, as well as my post-doctoral work at the National Institute of Standards and Technology, was in experimental atomic physics.  This background has served me well in teaching upper division laboratory courses (Electronics and Advanced Physics Labs) here at Sac State. 

Hobbies that keep me out of trouble are running, cooking, camping, soccer, and cycling.  Hobbies that keeps me in trouble are homebrewing and wine/microbrew tasting.  I have won several awards for my homebrew and serve as an officer in the Sacramento based Gold Country Brewers Association.
Contact Information
William DeGraffenreid
Dept. of Physics and Astronomy
Office: Sequoia Hall #230
Phone: 916-278-5938
916-278-7447
E-mail: degraff@csus.edu
Office Hours - Spring 2013
Mon / Tues
2:00 - 3:00 in SQU 230
And by Appointment
Random Musing
Paraphrasing George Carlin:
"Try not to be freaked out by the fact that half of the population is dumber than the average person."