Trip to Nepal--November, 2001
Part I

1 Nov. 2001 merging into 3 Nov.
Early morning flight from Sacramento to LA, then board a Thai Airways 747 for the long flight to Tokyo and Bangkok. We crossed the international date line and arrived in Bangkok shortly after midnight of 3 Nov. (completely missing out on 2 Nov). Taxi to a hotel and got a few hours sleep before returning to airport for flight to Kathmandu.
I was on Thai Airways business class because the economy seats were all sold when I made the reservation. One could get used to flying business class. Good and abundant food, champagne, wines, port with cheese, Drambuie. Too bad the flight wasn't longer. We flew over the Ganges delta and eventually landed in Kathmandu.
After a chaotic time going through customs, I emerged into a dense crowd. I immediately found the Tiger Mountain (trekking company) man who drove me across town. Traffic was noisy (drivers honked every few seconds) and heavy (to me). "Traffic is light because it is Saturday," TM (Tiger Mountain) man said. Vehicles belched blue smoke, leading to horrendous smog. We went past the royal palace (where the royal family was recently wiped out) to the Thamel district and Kathmandu Guest House where I stayed. Interesting and comfortable hotel.
I wandered around the narrow, crowded streets. Vendors hustling their goods. Too many people trying to sell too many of the same things to too few buyers..
I had supper at the Rum Doodle Bar and Restaurant. Named after the 40,000 ½ foot peak in the book that is a great take off on large mountaineering expeditions.
---
4 Nov.
After a 10 hour sleep, I spent the morning wandering around. I walked to the "Monkey Temple" on a steep hill with 365 steps leading up to it. Monkeys wandered about freely as did humans. The temple complex is dominated by a large stupa, which is a semi-spherical mound with the large eyes of Buddha painted on the block above the mound (there is more to a stupa than that). In the afternoon, a Tiger Mountain man met with me and briefed me about the trek. There would be only 5 of us trekking, along with an entourage of 3 Sherpas, 4 cooks and 8 porters. The sirdar (lead Sherpa) would be Lhakpa Gyalu Sherpa. The other two Sherpas: Ang Tenzi Sherpa and Gopal Magar. The chief cook, Passang Sherpa.
I had a good Indian dinner in the hotel's patio restaurant.
Stupa in Kathmandu--"Monkey Temple"

5 Nov.
TM man drives me to the airport. The domestic travel terminal was pure chaos. Met my 4 fellow trekkers–Celia and Graham Bryan and Rachel and Chris Stott, all from the U.K. Bags heaped for communal weigh in after being X-rayed. No x-ray for carry on but each traveler is questioned. I admit to having a pocket knife, so have to go back and give it to someone. I felt I was in a board game and being sent back to Go. Thought I'd never see the knife again, but I got it back in Lukla without a problem. Before long someone tells the masses in the waiting room that the "T" boarding pass is boarding (I was clueless). Someone else tells us it is we that are being called. We are bussed to the Yeti Airlines Twin Beaver and depart shortly after 0900.
As we approached Lukla, the plane barely cleared a series of ridges. Being a private pilot, I was trying to read the instruments glancing into the cockpit, and figure out how the flight was progressing. The landing was steep and amazingly short. After getting off the plane, I could see why. The runway was on a steep incline and very short, ending at a cliff. (You couldn't balk a landing here.)
We were met by our sirdar (chief Sherpa, Lhakpa) and drank tea while our gear was collected. Around 10:30 we began trekking. Initially, the trail was a long downhill stretch. I was amazed at:
1. The number of people on the trail.
2. The number of villages and lodges along the trail.
3. The number of porters and oxen (actually crosses between yaks and cattle, called tzo) hauling loads. We would not see a wheeled vehicle on the entire trek.
4. The huge loads the porters carried.
5. The shear beauty of the place.

Prayers carved into a boulder and painted white.

The trail followed the valley wall above a rapidly moving river. We crossed a bridge over a tributary and stopped for lunch at a lodge overlooking the bridge. My altimeter read 8,500 feet. After a rather elaborate lunch and an hour and a half rest, we continued. We crossed the main river and our camp was set up in a yard near a waterfall. This was near the town of Phakding, closer to Tok Tok, at an elevation of 8,800 feet. Our tents were pitched by the Sherpas and porters and sleeping bags laid out. Our mess tent had a table and chairs. We were treated as aristocrats. I was damp and cold after the day's walk.

Looking across the river to our first lunch spot.

Waterfall near our first campsite
Chris and I checked out the inn next to our camp and ordered beers. (Beer is plentiful along the route and one of the prime loads of porters that you see on the trail.) They started up a wood stove, which felt good. Soon, the others joined us. After awhile, a Sherpa informed us that soup was on.
Soup was a rich, vegetable one, followed by a mildly curried chicken and many vegetables. After supper, it being cold, we returned to the warm inn for another beer. A cute, 6 year old boy, son of the landlord, displayed what he knew in English. He walks 3 hours to school each day. Returned to tents and went to sleep at 2130.
---
6 Nov.
Awake at 0530. At 6 a cheerful voice: "Good morning, suh. Tea suh?" A bit later he would bring a basin with hot water for washing. A large breakfast: porridge, egg on toast, marmalades, banana. We began hiking around 7. This would be our daily routine.
Up steep slopes, then down. Some long level stretches. Crossed the main river several times on swinging bridges. Around 0900 we reached entrance to Sagarmantha (Everest) National Park, in which Mt. Everest is located. We had to register to enter, passing armed soldiers at the entrance, a surprise for this seemingly peaceful part of the world. Descended and crossed the river twice. Lunch along the river. Our 4 cooks prepared the usual hot meal. We had gained only 300 feet all morning.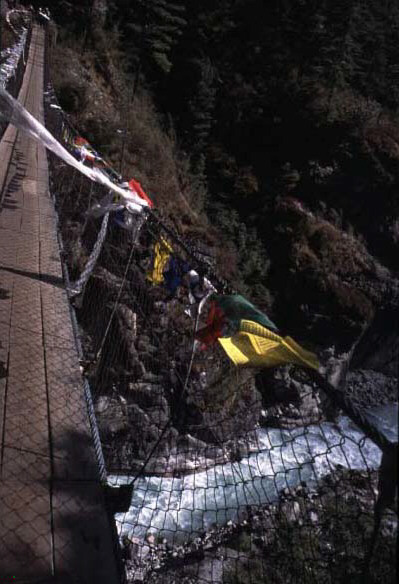 Views of bridge we would cross before ascending to Namche
We walked a half hour to the confluence of two rivers. We climbed steeply and descended slightly onto the highest bridge so far, across the easterly river. On the other side, we descended another steep section, then began a very long, mostly steep ascent on the land mass between the two rivers. Long sections of steep blocky steps. Part way up we got our first view of Everest. Eventually we got to the top of the ridge and Namche Bazar. Namche is, by far, the largest town in the Khumbu region and has electricity. Its in a steep bowl at an elevation of around 11,400 feet. After the porters arrived, our tents were put up in an enclosed yard behind multi-storied buildings, one of which was a bar with loud music.
After tea and resting my leg muscles, I wandered around the steep, narrow streets. Beer for around $1.35 a can (San Miguel, Tuborg, Carlsberg). Found a cyber café, and got caught up on my email. (Its expensive here.) Supper the usual plentiful and varied meal, but with a freshly baked pie for desert. The bar began blaring American music, which was annoying and hard to ignore. I went to bed at 2100 with a sweater over my ear to dampen the sound enough for me to sleep. I slept well.
Namche Bazaar. Note yaks.
---
7 Nov.
Tea and wake up at 0630. Breakfast and we were on our way at 0800. Partly cloudy. We headed up and to the west. Along the trail were vast numbers of mani stones (slabs of rock with prayers carved on them). These were stacked in mounds or along fences. We passed several chortens (monuments with Buddha eyes). And, of course, the ubiquitous prayer flags. The extent of devotion to a basically atheistic religion is amazing. We had lunch, cooked by our cooks, in an inn around 1100. It began getting cold After lunch we climbed, then made a steep descent to a gorge with a stream that had carved the rock into spectacular shapes. At the bridge, were two paintings on the cliff above the trail. From the bridge, we climbed up a long, steep section with numerous switchbacks. A few snowflakes began falling. Then it started snowing more seriously. It was cold enough that we didn't get wet. We arrived at Thame (or Thami). We were ushered into a Sherpa home adjacent to our camp site. We climbed out of the manger to the living quarters in the second floor. It was cold and we wished they would start the wood stove, but we found out it didn't work. Tea was brought to us, but I continued to shiver. After some time we found the tents were up. I went inside of mine and put on down pants and jacket. Turned away the usual basin of hot water for washing brought to the tent. Returned to the house where we had dinner brought by the cooks. Left around 1900 and went back to tent. By now the snowing had stopped and it seemed warmer. Read in my sleeping bag until I fell asleep around 9. Altitude 12,600 feet or 3,801 meters.

Namche from the trail as we were leaving town.
Bridge over Gorge. Paintings on cliff to right of bridge.
---
8 Nov.
Tea and wake-up at 0630. (I had been awake since 0430). 30 F in tent and water bottle partially frozen. A crystal-clear sky and stunning scenery that we had missed yesterday. The town was between two lateral moraines. On the trail around 0800. We retraced our route of yesterday, with a delightful hike back down to the bridge with the two paintings. We had lunch at an inn in one of the towns we passed. It began clouding over and started to snow lightly. Back on the trail, we passed the yak caravan that we saw yesterday, when it was on its way from Tibet to Namche Bazaar. Today, the yaks were loadless, having presumably had their loads sold in Namche.

My tent the morning after snowfall in Thame.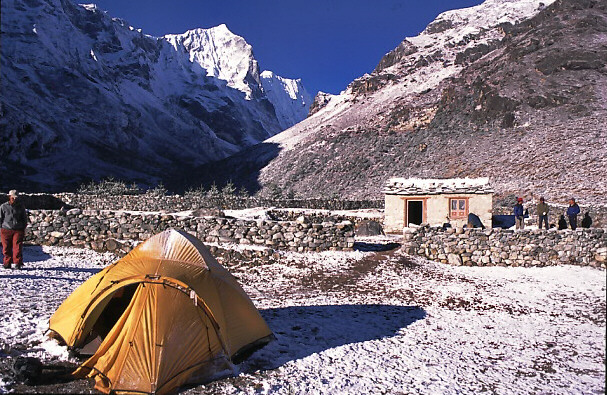 The bridge over the gorge and the two paintings on rock.
Mani stones by the side of the trail.
We left the main trail a few miles short of Namche and headed steeply upward. A long, steep grind. Cold in the wind when we stopped, hot and strenuous when we were going. Finally, we reached the ridge and, paradoxically, the airport that serves Namche. We continued to a pass and a chorten that overlooked Khumjung our destination for the day. A pleasant walk down, out of the wind and in sun, down a road built of rock slabs (gneiss) stacked sideways.

On the trail leading toKhumjung
Khumjung, 12,500 feet, is an open, clean, and seemingly prosperous place. Our campsite was in back of an inn. We arrived around 1430. Then we went to visit the monastary (a gompa). We were shown the famous, alleged yeti scalp. On returning to our camp we could see Ama Dablam emerging from the clouds. It got cold (around 32 F) quickly and I had a hard time staying warm, even by the yak dung-fed stove in the inn. I think it was due to a tiring day's hike. I drank two beers, the second taking more than two hours to consume. We ate in the inn, food cooked by our cooks. A large group of German trekkers were staying at the inn and communicated in English with their Sherpas. Went to bed around 2000, finally warm in my sleeping bag.

The monastery at Khumjung, home of
the alleged Yeti scalp.
Khumjung
---
This was Part I of two parts. To see some even more spectacular photos, go to Part II.
For my homepage, go to: http://www.csus.edu/indiv/p/plummerc/PLUMMER.HTM