CHEMISTRY 161, Section 1----Ritchey
General Biochemistry
Last Updated: JANUARY 13, 2015
---
Welcome to the General Biochemistry, Section 1 homepage on the World Wide Web. These ePages provide supplemental information for our course taught by me, Professor James M. Ritchey at California State University, Sacramento. This course introduces you to the basics of biochemistry and includes the broad topics of "structure and function" for biological molecules and "metabolic pathways" for certain specified living organisms. This class is open to students having already taken organic chemistry (either the one or two semester course) and is NOT, NOT, NOT open to students currently taking organic chemistry.
PLEASE NOTE: I WILL BE CHECKING YOUR OFFICIAL RECORD TO VERIFY THAT YOU ARE ELIGIBLE TO BE IN THIS CLASS AND IMMEDIATELY DROPPING YOU FROM THIS CLASS IF YOU ARE NOT ELIGIBLE!!!!

Lecture Meeting Information and Location:
Section 1: MWF 9:00 AM to 9:50 AM, SEQUOIA 316

Course Contacts: Office: SQU-428C (in the back of lab room SQU-428), Office Hours: MWF--10:00 AM to 11:00 AM, ritchey@csus.edu, Office Telephone Number: 278-7654
---

Chemistry Drop Policy:
Please see the latest University catalog for a current drop policy.
---

Textbook: McKee and McKee-- Biochemistry: The Molecular Basis of Life (5th Edition)--THIS IS THE TEXT I REFER TO IN CLASS, BUT OTHER EQUIVALENT PRINTED AND ON-LINE TEXTBOOKS ARE ACCEPTABLE.

Send questions/concerns/comments/suggestions to me at: ritchey@.csus.edu
---

Grading:
Attendance: You are expected to attend every class.
Quiz-- One quiz will be given for 30pts. The quiz will be on the structures, names, and abbreviations for the twenty common amino acids. In addition to the specific quiz, the amino acid material could also be on the appropriate exams.
THERE COULD BE ONE OR MORE "POP QUIZZES" TO ESTABLISH THAT YOU ARE ATTENDING CLASS AND CURRENT IN THE MATERIAL.
Exams-- Exams will be given on the following days. The lowest score of the three exams will be dropped. The Final Exam will cover all the material from the entire course.
First Exam (100pts)--- February 27, 2015
Second Exam (100pts)--- April 3, 2015
Third Exam (100pts)--- May 15, 2015
Cumulative Final Exam (200pts)--- Wednesday, May 20, 2015, 8 AM to 10 AM
The theoretical maximum total score for this course will be 430pts (without pop quizzes). However, your grade will be based on the person with the actual highest number of points as follows:
90% of actual high= A- to A
78% of actual high= B- to B+
65% of actual high= C- to C+
55% of actual high= D- to D+
****PLEASE NOTE THAT I TRY TO BE AS FAIR AS POSSIBLE IN GRADING AND SHOULD ALBERT EINSTEIN'S GREAT GRANDDAUGHTER/SON BE IN THIS CLASS AND HAVE A VERY HIGH TOTAL (APPROXIMATELY 5% ABOVE THE NEXT POINT TOTAL) I WILL SELECT THE SECOND HIGHEST TOTAL UPON WHICH TO BASE THE CURVE (OR 5% BELOW THE HIGHEST).****
---

Schedule and Associated Readings

.

           THE TEXTBOOK CHAPTERS CONTAIN MORE MATERIAL THAN WE WILL COVER IN LECTURE. THE EXAMS WILL BE BASED ONLY ON TOPICS THAT I HAVE DISCUSSED IN LECTURE.

Chapter 1- Introduction—Chemistry and Chemical Reactions.

Chapter 2- Introduction—Living Cells.

Chapter 3- Water and pH Problems.

Chapter 5- Amino Acids and Proteins.

Chapter 6- Enzymes, Mechanisms, and Coenzymes.

Chapter 7- Carbohydrates.

Chapter 11- Lipids and Membranes.

Chapters 17, 18, and 19- Nucleic Acids, Replication, Transcription, and Translation.

Chapter 4- Energy and Bioenergetics.

Chapter 8 – Glycolysis, Pentose Phosphate Pathway, Gluconeogenesis, Glycogen Degradation, and Glycogen Synthesis.

Chapter 9- Citric Acid Cycle.

Chapter 10- Electron Transport and Oxidative Phosphorylation.

Chapter 12- Lipid Metabolism.

****Time will most likely expire at this point in the semester, or before, however, should we set new speed records additional material may be covered.****

Problem Set Answers and Various Materials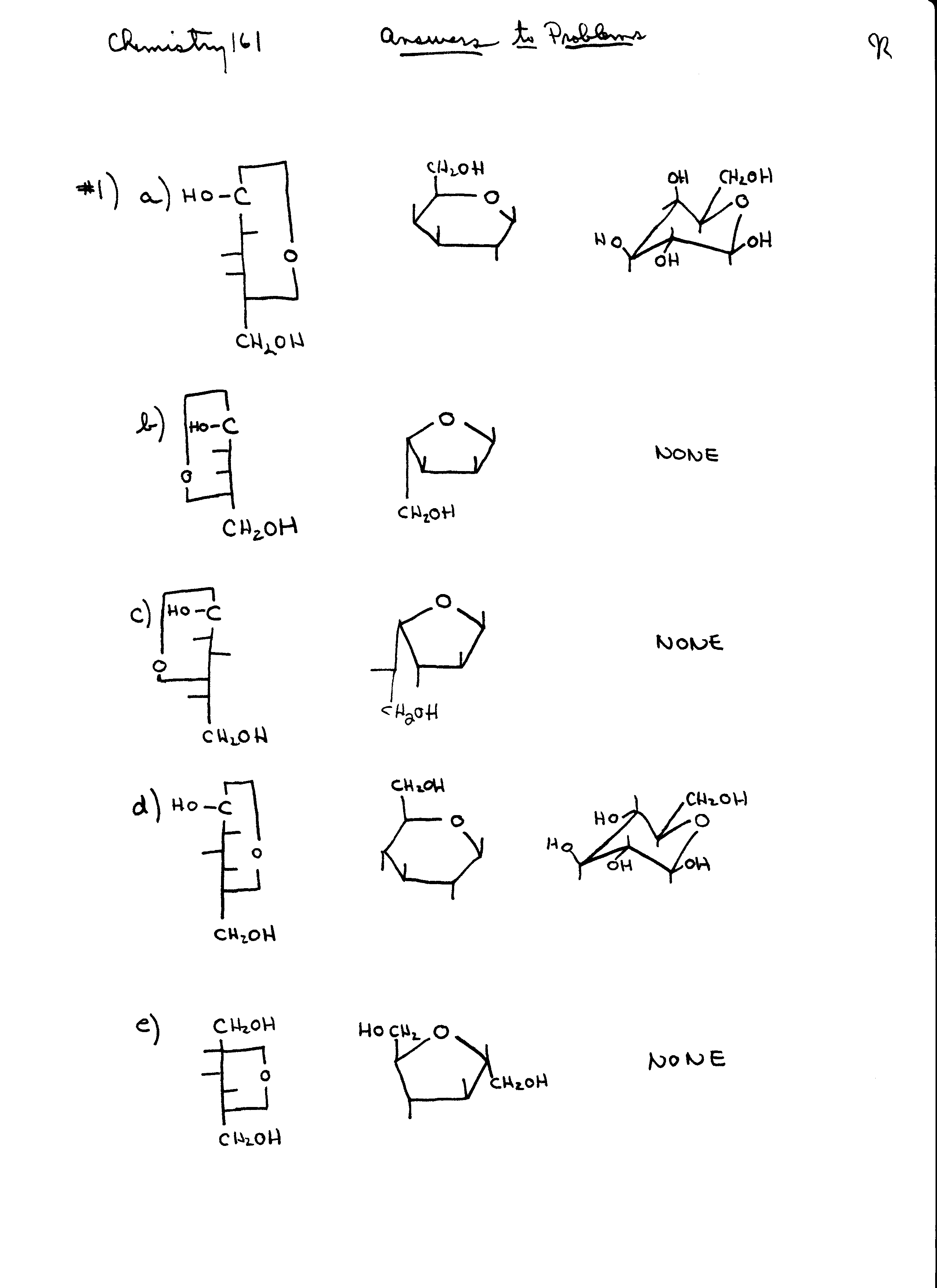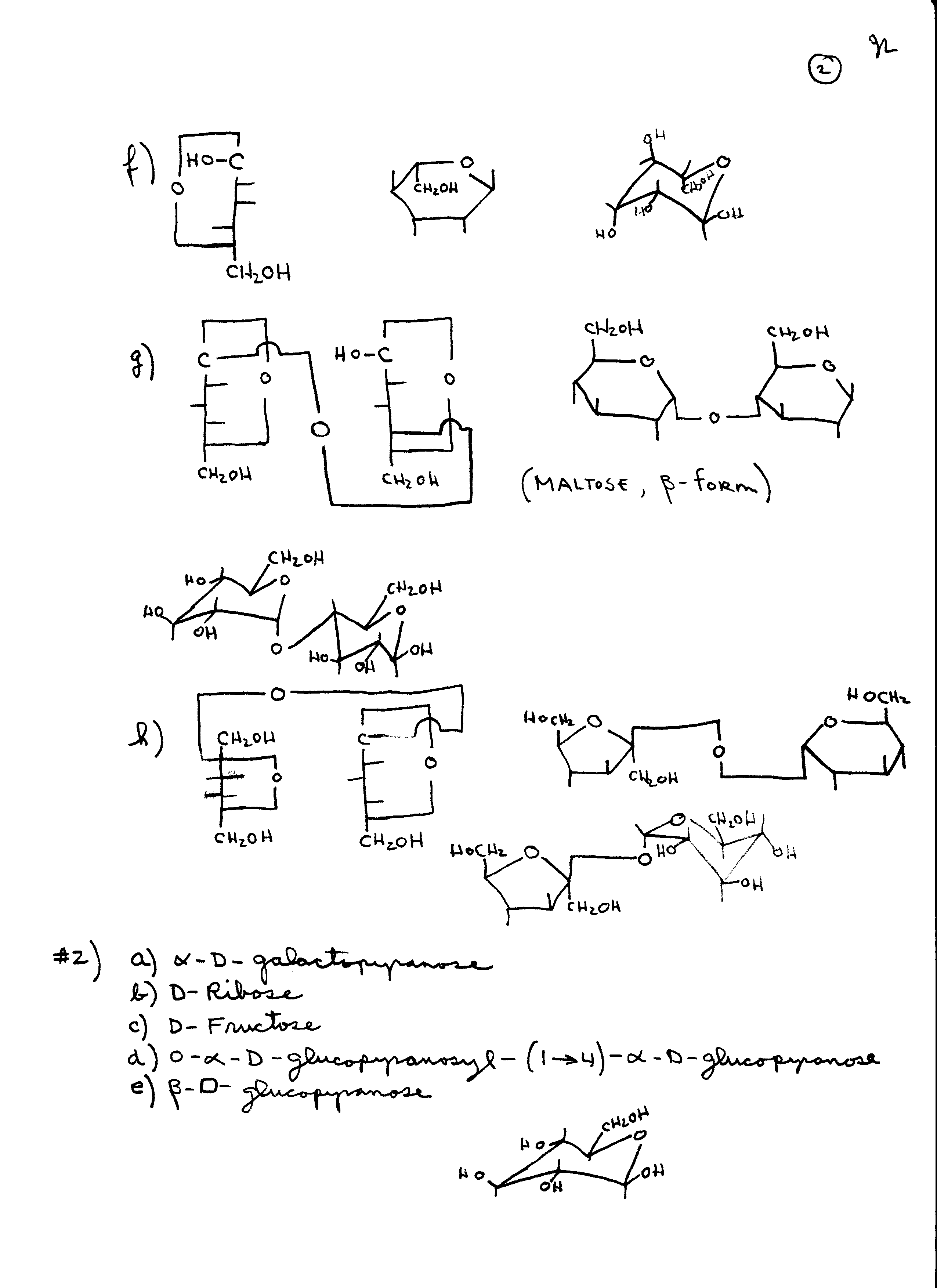 Past Exams
LAST SEMESTER'S EXAMPLE EXAMS WILL BE POSTED HERE BEFORE EACH CURRENT EXAM IS GIVEN.

Links to General Interest Biochemistry Sites
http://molbio.info.nih.gov/molbio/
http://molbio.info.nih.gov/molbio/servers.html
http://molbio.info.nih.gov/molbio/desk.html
http://www.nlm.nih.gov/hinfo.html
http://www.worthington-biochem.com/best/default.html
http://www.golgi.harvard.edu/biolinks.html
http://www.umass.edu/microbio/rasmol/
www.chem.ucla.edu/chempointers.html
http://www.chem.ucla.edu/chempointers.html
http://schmidel.com/bionet.cfm
http://www.bioch.ox.ac.uk/links/
http://bubl.ac.uk/link/b/biochemistry.htm
---