Global Navigation
VOL.4 ISSUE 1 FALL 2010
Page Content
ABA PROFILES NEW GRADS
For CSU and Sac State employees, the ability to pursue a college degree without significant financial burden is a coveted benefit. The CSU Employee Fee Waiver Program, administered at Sac State by the Professional Development & Training (PD&T) Office in Human Resources, extends to qualified employees this invaluable educational opportunity. Over the years, ABA has benefited from the program, with employees gaining work-related experience and comprehensive degrees that increase professional workplace capacity and competence. ... read more about new ABA graduates..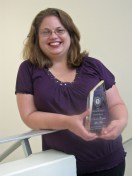 ABA STAFF HONORED BY PEERS
In the spring, a team of ABA staff professionals reviewed close to 40 Staff Peer Award nominations submitted by their division colleagues, recommending finalists in six categories aligned with ABA values. The team, representing each of ABA's seven families, was made up of prior year award recipients and others.
Awards were presented and nominees recognized at the ABA Staff Professionals meetings in May. Awardees were: Customer Service: Nicole Rogers (shown above), Student Financial Services Center, Excellence: Douglas Nguyen, Public Safety/Police, ... read more about ABA Awards.
EMPLOYEES RECOGNIZED FOR YEARS OF SERVICE
In April Employees Dave Shannon and Kem Gravenberg received awards for 40 and 30 years of service. Also, Nadine Nakata, not pictured, received an award for 35 years of service. Janet Morris and Lynda Reposa, received 30 year service awards. ... read more about ABA Service Awards.


BEHIND THE SCENES
How does Sacramento State ensure a safe and secure campus environment for its community of over 30,000 students, faculty and staff? It's no small job for a police force of 20 plus police officers pulling shifts 24/7 to cover a 300-acre campus and the University's remote properties. But thanks to an innovative and successful program that counts on students and the campus community for support, the University's Department of Public Safety has extended its reach.
The idea behind Public Safety's Community Service Officer Program is not unique... read more about Sac State Officers.
MESSAGE FROM
THE VICE PRESIDENT
On October 1, I assumed the position of Sacramento State's Vice President and Chief Financial Officer (Interim). I am honored to serve in this leadership role for ABA, an organization that is highly respected across the campus and CSU system. Over the years, I have personally interacted with many of you and look forward to working more closely with each of you.
I want to thank you for your commitment to the University's Destination 2010 initiative, and congratulate you on your contributions to
... read more Message from the VP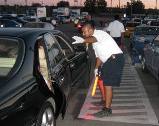 ABA SUPPORTS UFL FALL SEASON
Hornet Stadium is host to the Sacramento UFL Mountain Lions football team fall 2010 season home games. With a $1.1 million artificial turf project completed in July, the University's stadium is a suitable venue for professional ball teams. Public Safety and UTAPS, who provide support for campus special events... read more about UTAPS and Public Safety supporting the UFL games.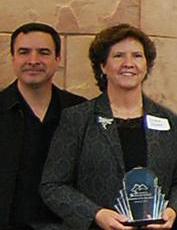 GREEN NEWS: SAC STATE NAMED 2010 SUSTAINABLE BUSINESS OF THE YEAR
Vice President Ming-Tung "Mike" Lee and Director Linda Hafar accepted a 2010 Sacramento Sustainable Business Award from the Business Environmental Resource Center (BERC) on behalf of Sac State on October 8. The annual award, presented by Congresswoman Doris Matsui, honors top performers whose sustainability efforts demonstrate environmental excellence and community leadership. Submitted by SMUD, the nomination cites the University's commitment to the conservation of natural resources
... read more about Green News.