Virtual Hivemind Cohort Program
Join a cohort of like-minded peers in making your ideas a reality!
The Carlsen Center and the Hive are excited to announce the third Hivemind cohort set for Spring '22. With the campus being more open for gathering compared to our previous cohorts, we are thrilled to be able to provide in-person meetings that allow face-to-face interaction and better cohort engagement.
The goal of this program is to help you and your team accomplish milestones that you have set for yourself and your business and foster a community of peers that are also launching their startups.
We welcome all students located in the Greater Sacramento Region. You do not have to be a Sacramento State student to participate.
Style and Framework
The Cohort will take place over twelve weeks split into three 4 week sprints (diverge and converge) that are centered around key milestones to grow and scale your idea. At the end of each sprint, all teams will report out/ demo what they've been working on during that time to provide peer accountability.

The style of the cohort will consist of one content session hosted by guest speakers/mentors who will workshop on actionable information relating to students' ideas. From concepts like building mission and vision, to workshopping on customer development and MVPs the hivemind cohort is ready to support teams who are eager to build for launch. The cohort will also include weekly check ins/ forums for teams in the cohort to socialize and communicate about their challenges and successes. In addition to these two main sessions featured every week for twelve weeks, The Hive and Carlsen Center will be providing additional events like: Office hours, Pitches & Pizza, and demo days for cohort members.
Benefits
Since the Hive's student leadership team is eager for students' entrepreneurial success all teams/ventures will be allotted one point person from The Hive to act as a student resource. Point person's will check-in with teams to make sure they're meeting deadlines and staying productive as well as giving the necessary feedback on items mentioned by the student startups.
Along with student point persons' Teams in the cohort will also receive a mentor from the Sacramento Startup community to aid in any of the barriers that startups may face. The Mentor selection process is catered by the Carlsen Centers' staff to ensure that mentors are the right fit for teams and provide tremendous value.
Benefits of the cohort include:
A mentor from the community
Team workspace in the Carlsen Center
Catered content for early-stage startups
Opportunities to pitch and present to the Sacramento Community
Private workshops with experts in different fields
Upon completion of this program, participants will have the opportunity to leverage collaborative workspace at the Carlsen Center, while having the ability to reserve private meeting rooms and priority sign-ups for office hours.
Incubation/Workspace at the Carlsen Center (Library 1520)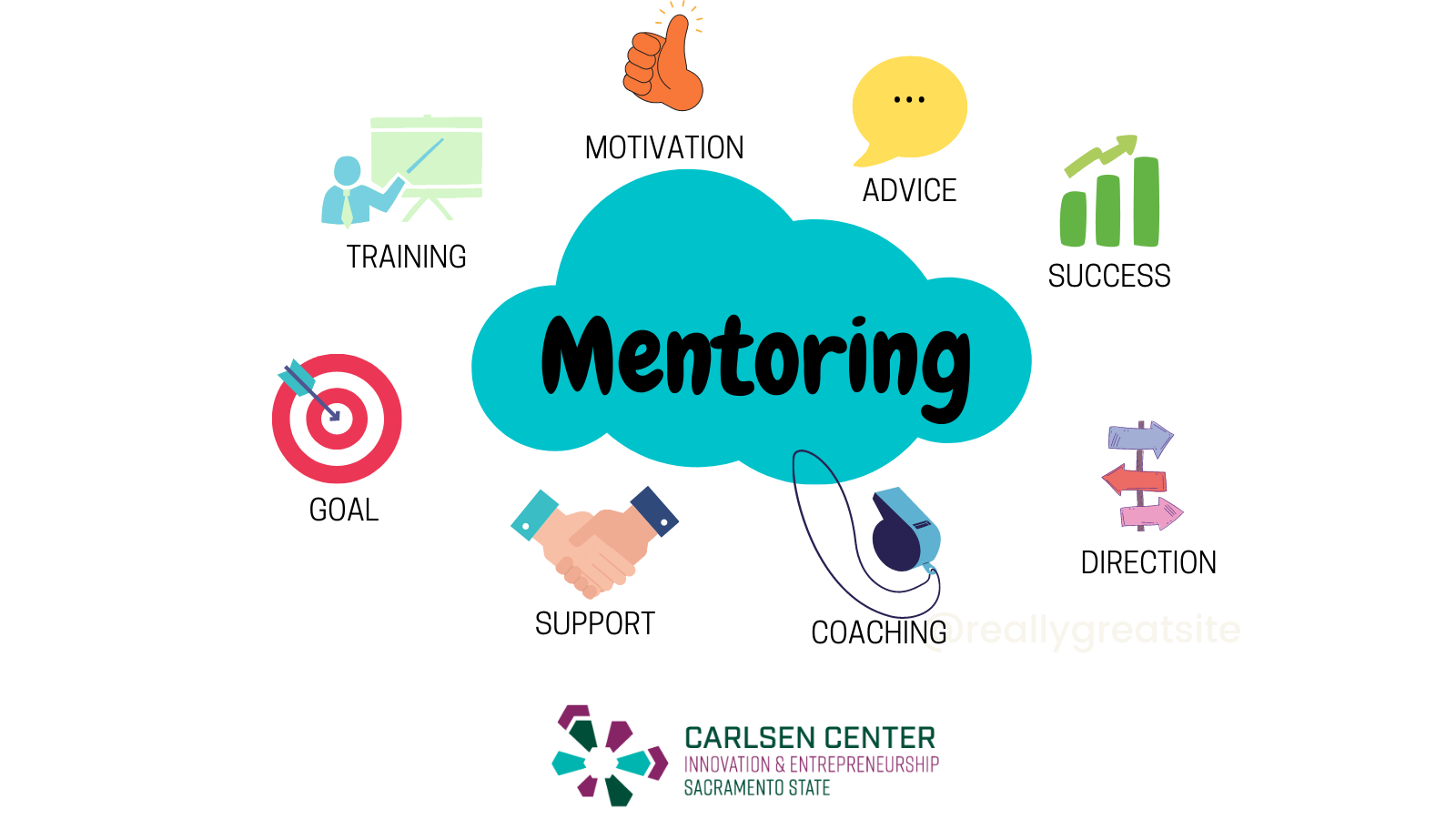 One-on-One Community Mentor, Student Point Person, and Carlsen Center Lead Mentor