College Pitch Competitions
The Carlsen Center is excited to partner with a number of Colleges on-campus to run their own idea and innovation pitch competitions. This activity is a creative outlet for students to explore their ideas and begin their entrepreneurial pursuit.
Hosted in the fall of each academic year, the College Pitch Competition allows students to share product ideas, innovative services, or a startup plan at any stage in the entrepreneurial process.
Workshops to Prep You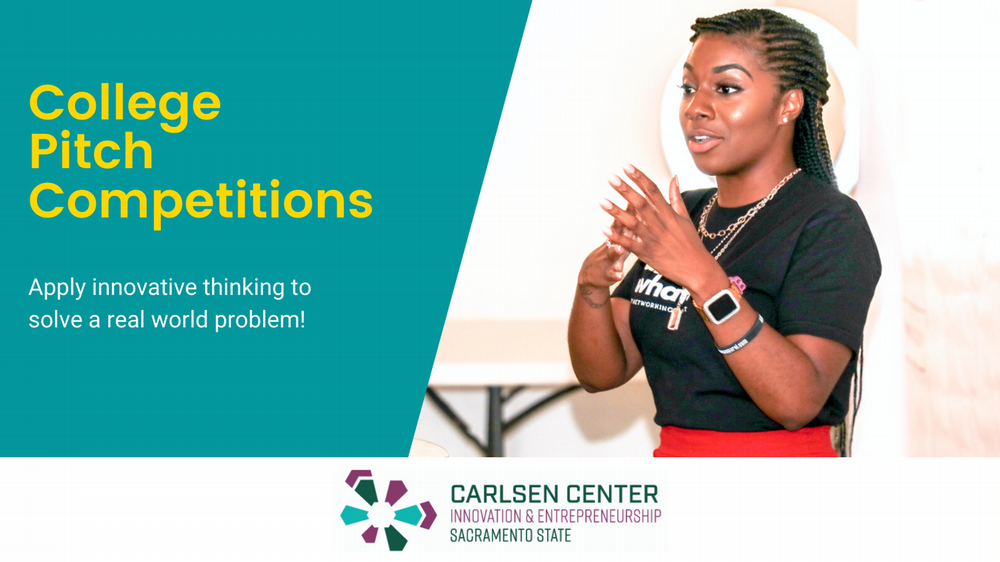 To support you in refining your ideas into a pitch the Carlsen Center will host a series of workshops to support you in the preparing for the competition.
Deadline to apply EXTENDE to October 18th, at 11:59 pm!
College Pitch Prizes
Each College offers different cash awards, and the top awards range from $300 to $1,000.
All participants will receive a certificate of participation.
Schedule of College Pitch Competitions
College of Business
Monday, Nov 1st, 3:30 - 5:30pm
College of Natural Science and Mathematics
Tuesday, Nov 2nd, 10:30am - 12:30pm
College of Engineering and Computer Science
Thursday, Nov 4th, 5:30 - 8:30pm
College of Education
Video Submission due by Nov4th at 5pm
Highlights of Past Winners
College of Engineering and Computer Science
Triton Energy Solutions
Billy T. Hernandez – Ethicli (CleanStart Award Winner, too)
Armin Baboldashtian - Kite Vision
College of Business
Jered Morgan – Sign Diagnostics
Adrian Pinon – TownToday
Garrett Votaw – Switch
College of Natural Science and Mathematics
Jem Coursey – Firebox
Derya Asaner – Textilia
Austin Wilson & Kevin Pacheco – ChefAssistant
College of Education
Sydney Miller – M.A.R.C.H