Thursday, November 11th
Mentor Sacramento Office Hours Sprint - Speedmentoring!
The Mentor Sacramento Office Hours Sprint is an opportunity for early-stage entrepreneurs and startups to gain invaluable expert advice and connections to solve persistent issues in their ventures. Nothing is more valuable than expert advice, at the right time. Office Hours Sprint is like speed dating for startup/small business founders and mentors.

Participants will have the opportunity to (virtually) meet with several expert mentors, investors, advisors, subject matter experts, and experienced entrepreneurs in 15-minute sprint sessions. During each session founders will provide details on their company and ask mentors for advice. Founders will have the opportunity to get expert feedback quickly and from a variety of sources and backgrounds - something that is rare to find in just one hour.

The goal of Mentor Sacramento Office Hours Sprint is to further connect startup founders and mentors, prove the value of mentorship, and establish Mentor Sacramento as a go-to platform to connect. An application sign up is required to reserve a spot in the Mentor Sacramento Office Hours Sprint event during Global Entrepreneurship Week!

The Carlsen Center for Innovation & Entrepreneurship Mentor Network is powered by the California Bank of Commerce!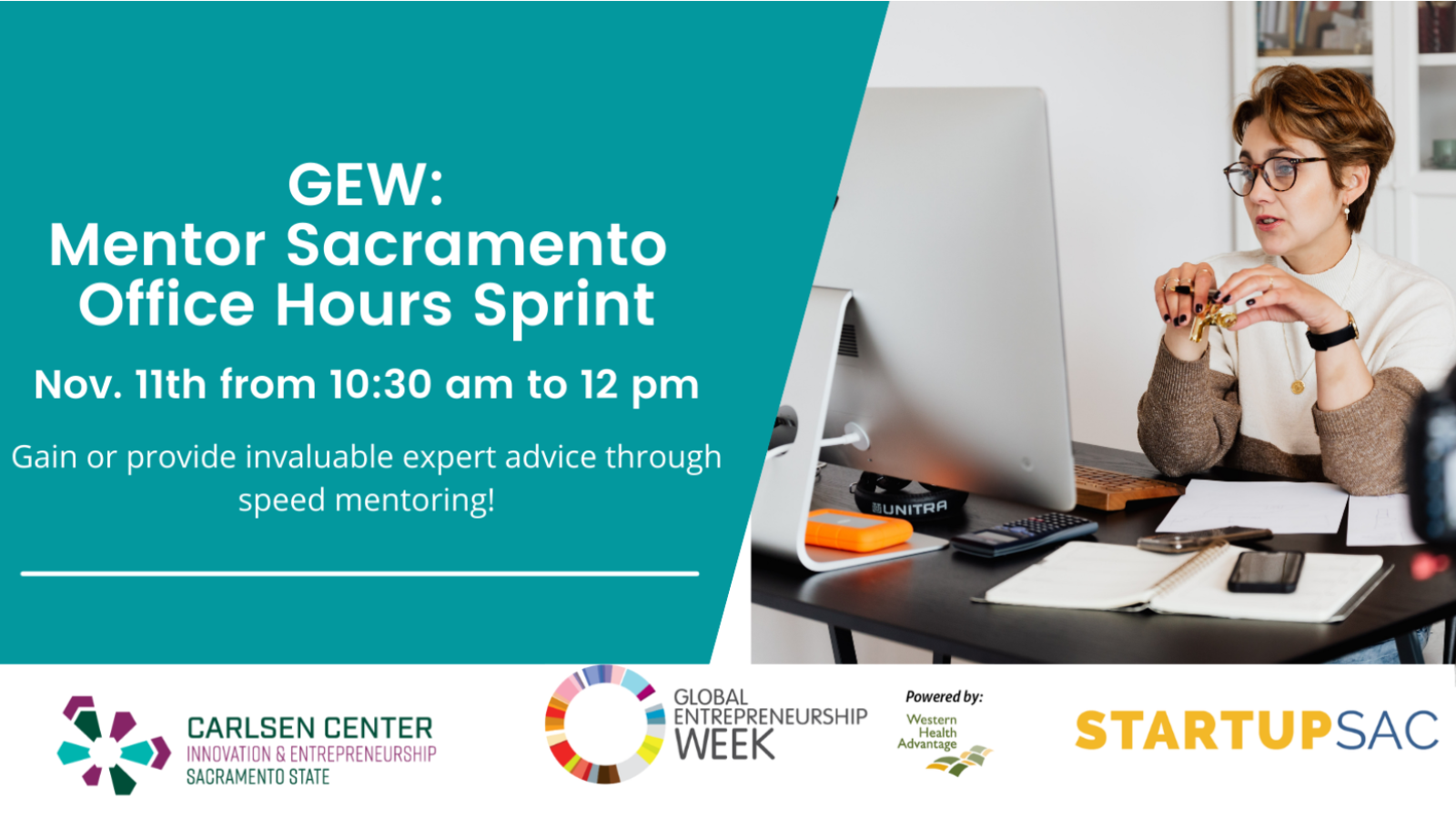 Startup Board Development Panel Discussion
Join us in learning how to unlock the hidden power of startup and advisory boards!
The Carlsen Center for Innovation & Entrepreneurship is excited to bring to you a distinguished panel discussion on Startup Board Development. We hope to enable you as a founder to unlock the hidden power of startup and advisory boards.

In this panel discussion, you will hear from a panel of entrepreneurs and investors who will share their experience in serving on startup boards and as advisors to startups.

Moderator:
Kim Box, Independent Board Director and Advisor as well as Carlsen Center Advisory Board Member
Panelists:
Kwame Anku, CEO and Chairman of Black Star Fund and Carlsen Center Advisory Board Member
Lokesh Sikaria, Founding Partner of Moneta Ventures and Carlsen Center Advisory Board Member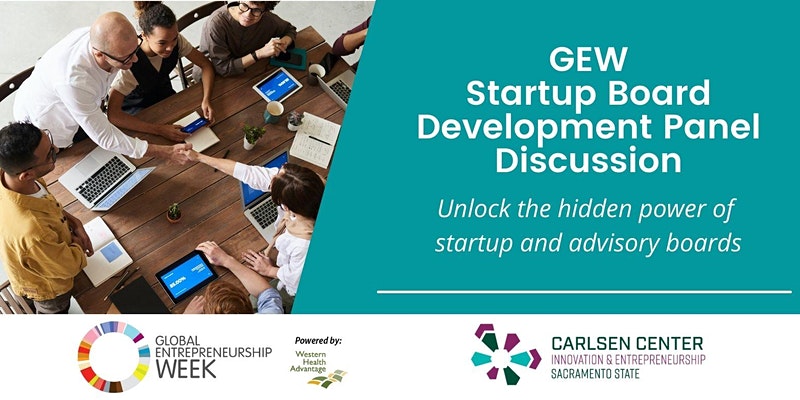 The Startup DEI Framework – Unlock New Gains Through Diverse Teams
Join us for this session to explore how you can unlock new gains by building a diverse team!
As part of celebrating Global Entrepreneurship Week Sacramento 2021, powered by Western Health Advantage, we are delighted to present a workshop with Mariah Lichtenstern, Founding Partner of DiverseCity Ventures and Founder of Tech Funding Equity. This event is brought to you in partnership with the Carlsen Center for Innovation & Entrepreneurship, DiverseCity Ventures, and Tech Funding Equity.

This session will provide you with a Startup Diversity, Equity & Inclusion (DEI) Framework enabling you to build diverse teams that will unlock new gains for you and your startup. Research has shown diverse teams and boards outperform their more homogenous counterparts and we want to empower you as a startup founder with the resources you need to succeed. Tech Funding Equity has a four-step methodology and framework designed to optimize startup culture for diversity, equity, and inclusion while closing the tech funding gap.

About Mariah Lichtenstern:

At the intersection of technology, entertainment, and venture capital, Mariah "Roman" Lichtenstern accelerates positive social, economic, and environmental impact through entrepreneurship.
Introduction to Angel Investing in Startups
Learn how you can become an angel investor and how that can benefit local startups and the Greater Sacramento region economy.
The startup and innovation space is exciting and full of new technologies and innovations. Investing in startups gives you a front row seat to the game-changing innovations and technologies being developed by startups.

Angel investing is a powerful method to diversify your portfolio with the potential to realize exponential growth in your investment. While the risk of investing in startups is high, the rewards are also high. Getting in on the ground floor of an exciting and innovative startup can provide huge financial rewards if that startup is successful.

In this workshop you'll learn what angel investing is, the requirements to become an angel investor, and how and why to get started investing in the Sacramento startup community. Join us and learn from seasoned angel investors about the exciting personal and community benefits of angel investing.

Topics to be Covered in this Workshop:
What is angel investing?
How investing in local startups helps fuel the local economy
Who can be an angel investor?
How to get involved in angel investing
Next Steps
This seminar is organized by StartupSac.
The Mission of StartupSac is to accelerate Sacramento's startup and innovation ecosystem by informing, educating, empowering, and connecting its startup founders and innovators.
About the Presenter: John Selep
John Selep is an active angel investor, former tech executive, and long-standing contributor to the startup community in our Sacramento region. Having spent three decades launching new technologies through both small and large organizations, John now serves as an investor, board member, business consultant, and advisor to emerging technology companies.
Global Entrepreneurship Week (GEW)
Join the Carlsen Center, entrepreneurs, students from Sac State, regional community colleges and UC Davis, alumni and community members for a week of dynamic presentations, panel discussions and pitch competitions, all focused on entrepreneurship, innovation, and ingenuity.
We will celebrate GEW with college pitch competitions, workshops, happy hour conversations and presentations from local startup founders across the Sacramento Region, along with presentations from authors of startup tools that are included in our Virtual Entrepreneurship Toolkit Series: Josh Levine (Building Company Culture) and David Bland (Precoil).