Tuesday, November 15th
Exploring the World and Making a Difference
Join us for this inspiring discussion with Chelsea Glass, a Sac State Alum who believes in the power of travel to break down barriers.
During Global Entrepreneurship Week Sacramento, powered by Western Health Advantage, we are excited to hear from Chelsea Glass, #MadeAtSacState, about her experience living in Latin America and as an an entrepreneur offering travel experiences that include cultural learning and language development. This GEW 2022 event is in partnership with the College of Continuing Education and the Sac State Alumni Association.

About Chelsea Glass: Originally from Sacramento, Chelsea is the Chief Executive Officer (CEO) and Founder at Heart of Travel. She began studying Spanish at the age of 19 while living in Guatemala and working in the tourism industry. Chelsea completed her graduate work at Sacramento State in Spanish and Literature in 2021. She has lived in Latin America for the last ten years and has truly created an international, worldly and authentic life for herself nestled amongst the volcanoes of Central America.

Chelsea is passionate about responsible and sustainable travel practices and believes in the power of travel to improve local economies while breaking down barriers. Through travel and Spanish language education, Chelsea and her team hope to share a more comprehensive insight into Latin America and to change the often negative narrative regarding Latin America and immigration. Heart of Travel is 100% female owned, supports the community, and actively raises funds to donate to various relief causes in Mexico, Cuba, and Guatemala.

This event will be in-person at the Harper Alumni Center. It will be a hybrid event with a ticket option to attend virtually, via Zoom.

If any special accommodations are needed please let us know at least two weeks in advance to secure the needed accommodations.
Where is the Fun in Entrepreneurship?
During Global Entrepreneurship Week, 2022 powered by Western Health Advantage, we are eager to bring you a discussion with Dr. Elisa Garzitto-Michals. Dr. Garzitto-Michals has spent most of her life learning and studying the educational outcomes of Drama and Play. Currently, she is working on Social Emotional Learning Practices using play to teach social literacy. She is a professor in the College of Education at Sacramento State where she teaches classes in Teacher Education and Critical Thinking. She has published two books:101 Ways to Change the World- Lessons in Creativity, Critical Thinking and Innovation and Going Deep- Critical Thinking Across the Curriculum. She also serves as a Faculty Board Member of the Carlsen Center Advisory Board.

Dr. Garzitto-Michals is formally a lead speaker coach for TEDx Sacramento and TEDx CSUS, owner of an educational consulting business in Vancouver, British Columbia and most recently the co-owner of a restaurant in El Dorado Hills.
Carlsen Center for Innovation & Entrepreneurship: We serve as a regional hub and platform for providing approachable and accessible entrepreneurial education, community, and support to enable startup founders of all backgrounds to explore and launch their businesses.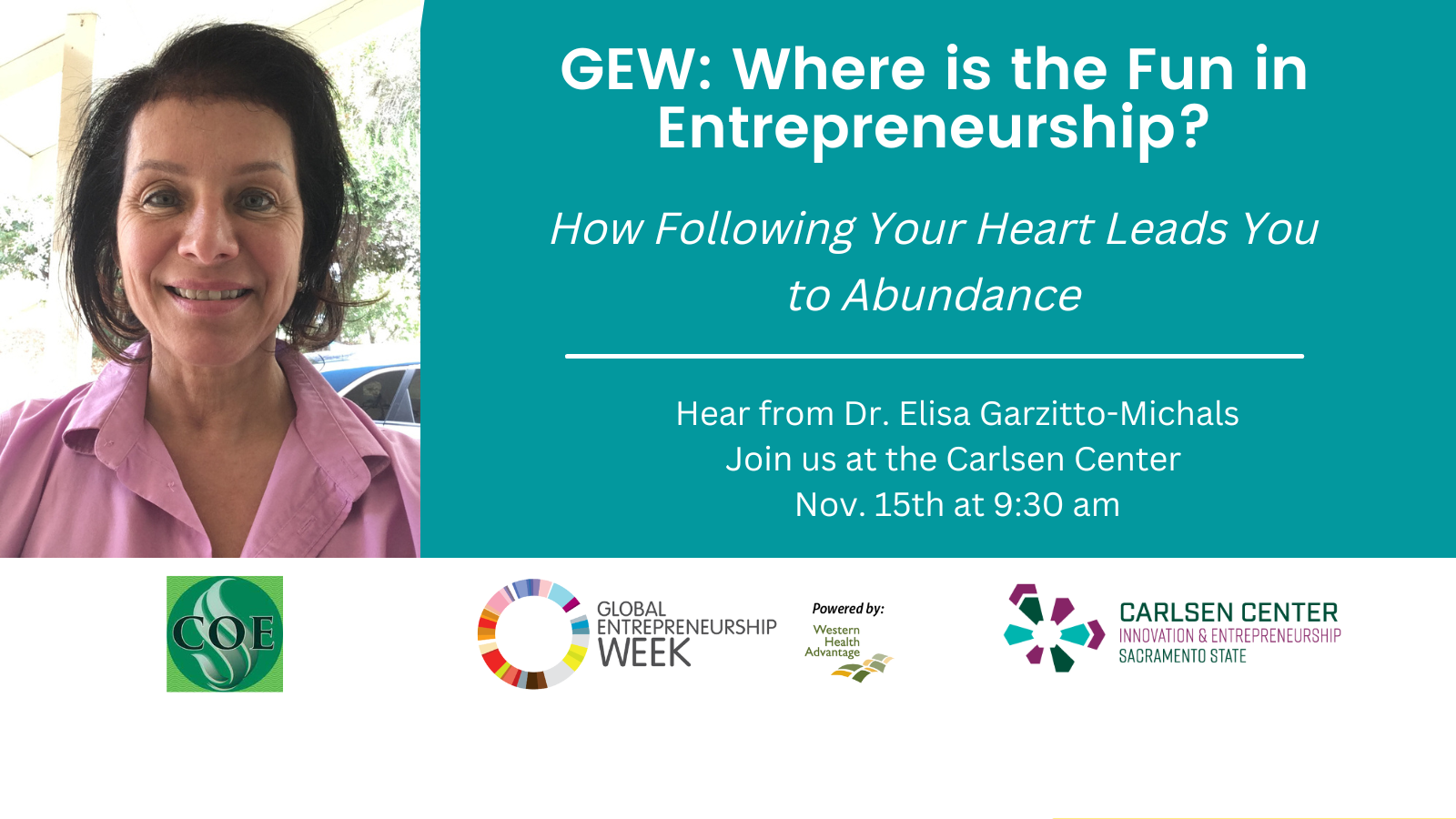 Opportunity and Possibility - The Pathway to Success
The Carlsen Center for Innovation & Entrepreneurship is excited to partner with the National Black Entrepreneurship Project in celebration of Global Entrepreneurship Week Sacramento powered by Western Health Advantage! We are excited to elevate the story and impact of one of our Advisory Board Members, Kwame Anku. This keynote will be an inspirational talk exploring the concept of opportunity and possibility as a mindset to creating success.

Kwame Anku is the CEO and Chairman of the Black Star Fund, an early stage innovation fund. Prior to the Black Star Fund, Kwame co-founded and served as Principal of the Black Angel Tech Fund, a pioneering fund that focused on capitalizing Black technology entrepreneurs.

He was named "One of the Top 25 Black Venture Capitalists to Watch in 2018" by Pitchbook. Kwame has worked extensively in business development and media marketing for over two decades. In September 2018, Kwame was selected to be one of only twenty-one recipients of the prestigious Aspen Ascend Fellowship from The Aspen Institute.

An honors graduate of Stanford University, Kwame has delivered powerful keynote addresses and been a featured speaker at the Google For Entrepreneurs' Black Wall Street Conference in Durham, The Essence Festival in New Orleans, Culture Shifting Weekend in New York City, The National Black Chamber of Commerce in Washington. D.C., The Ford Freedom Awards in Detroit, the Association of Black Foundation Executives Conference in Napa Valley, and recently at the First Annual Ghana Tech Summit in West Africa.

Kwame has appeared on numerous national television and radio programs including CNN, MSNBC, BBC Worldwide, SiriusXM, & National Public Radio. He has spoken extensively around the United States encouraging diverse audiences to think differently about social inclusion and technology. His work garnered two invitations to the Obama White House to share ideas and best practices with leaders from around the United States. He is a mentor for both the AT&T Aspire Accelerator and Founder Institute Sacramento.
Science - A Fertile Ground for Entrepreneurship
We are excited to bring to you during Global Entrepreneurship Week 2022, powered by Western Health Advantage, an opportunity to learn about how multiple scientists turned entrepreneurs. The Carlsen Center for Innovation & Entrepreneurship is excited to partner with the College of Natural Science and Mathematics in bringing this engaging discussion to fruition.

Our inspiring panel:

Dr. Ishita Shah: Co-Founder and CEO of Matrubials
Gurkern Sufi: Co-Founder and CEO of Ravata Solutions
Peichen Chang: Co-Founder and CEO of tCheck'
We look forward to having this amazing panel share how they have utilized their deep science backgrounds to build and launch these science-based ventures. Additionally, these founders will share how they have engaged the Sacramento entrepreneurial ecosystem in starting and scaling their ventures.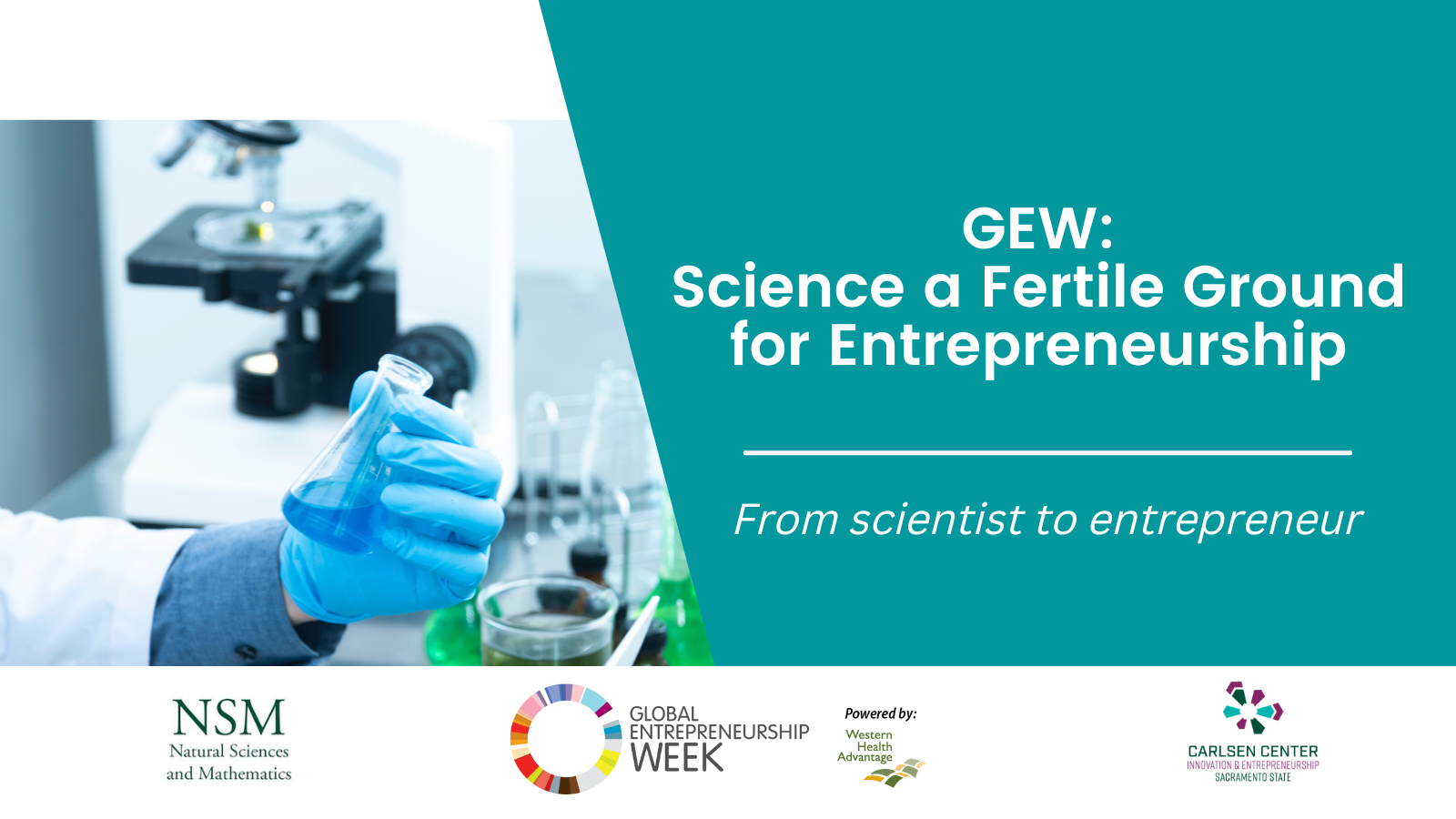 Startup Happy Hour with Sonny Mayugba of AZRA Games
Mingle with other entrepreneurs and enjoy appetizers at Startup Happy Hour! Plus we'll have an AMA with Azra Games cofounder, Sonny Mayugba!
Join StartupSac and the Carlsen Center for Innovation and Entrepreneurship for the Global Entrepreneurship Week edition of Startup Happy Hour! Our featured AMA (ask me anything) guest is serial entrepreneur Sonny Mayugba, cofounder and COO of Sacramento-based Azra Games!

Startup Happy Hour is a monthly get-together where entrepreneurs can connect, socialize and learn from each others stories and journey Our featured guest will tell a little of his story and then invite you to ask your questions about launching or scaling a company

Location: The Urban Hive, 1007 7th Street, Sacramento, CA 95814
FourthWave - Women Taking the Lead in Business
As part of Global Entrepreneurship Week 2022, powered by Western Health Advantage, we are excited to bring to you the culmination of the 15-week-long FourthWave accelerator journey. This will include a celebration of our cohort of female founders while sharing in a panel Women Taking the Lead in Business.

This event will discuss leadership and entrepreneurship as well as how the increase in women-founded companies will lead the way to a brighter post-pandemic world. The discussion will be between two of our FourthWave team members and a panel of experts ranging from entrepreneurs to experts in leadership.
The Panel:
UCDavis Little Bang! Pitch and Poster Competition
Students! The Little Bang! Poster + Pitch Competition will help you define your business idea and communicate it on a poster.
Start your entrepreneurial journey. The Little Bang! is designed for currently enrolled students at the high school, community college, undergraduate or graduate level. This is an entry-level competition; you do not need any business experience to participate.

Overview
🚀 The competition will take place at Gallagher Hall on the UC Davis campus on Tuesday, November 15, 2022, 6–8 p.m.

You will present your poster and give a 90-second pitch to spectators and judges.
Teams typically have between one and four members. There is no maximum number of team members.
Deadline
🚀 To compete, register here by noon on November 7, 2022. Your registration must include:

Your poster (visit the Little Bang! webpage for detailed printing instructions)
90-second pitch
Your customer call summary
Learn more
🚀 For competition details—including prizes!—visit the Little Bang! webpage.
About Global Entrepreneurship Week (GEW)
"Let's show the world what happens when we unleash entrepreneurial ideas, creativity and potential." -- Global Entrepreneurship Week USA