Wednesday, November 16th
Global Entrepreneurship Week: "1 Million Cups" - Sacramento
After more than a 2 year hiatus, 1 Million Cups Sacramento is having an in-person meetup on Wednesday, November 16th, at the Carlsen Center for Innovation & Entrepreneurship. This is designed to help bring our Greater StartupSac Community together as we celebrate Global Entrepreneur Week! (GEW)

We're looking forward to seeing everyone in our community face-to-face! This will be a hybrid meeting so those who can't come in person can join us on zoom.

We will have two guest speakers:

- Christian Masegian presenting Modern Football Technology

- Cynthia Dees Brooks presenting TAP Wine Lounge

Celebrating GEW - To celebrate, everyone will receive a commemorative 1 Million Cups travel mug! Plus, we'll have random drawings for 1 Million Cups t-shirts and ceramic mugs! And of course, there will be plenty of coffee (although maybe not one million cups)!

Arrive early to have a chance to say hello to your old friends and to make some new ones!

The Carlsen Center has graciously offered our guests a free day of coworking as well. Anyone who attends the 1MC meeting can stay and work for free in the space.
Health Care Professionals as Entrepreneurs
Join us to celebrate highly trained, service-focused professionals that founded their own businesses!
As we celebrate Global Entrepreneurship Week-Sacramento, powered by Western Health Advantage, we are honored to bring you a panel of service-focused health care professionals who became entrepreneurs. This event is in partnership with the College of Health & Human Services at Sac State.

Entrepreneurship is about problem-solving to create value for others. The professionals on this panel are undeniably focused on problem-solving relative to health and human services and, as a result, they are improving and enriching the life experience of the people they serve. The panelists will discuss their experiences as health care professionals who became founders of their own businesses.

Our panel will include:

Carolyn Ecker - Founder of Developmental Therapy Services of Sacramento
Karen Fittinger - Founder of Bright Star Therapies, Sacramento and Roseville
Leigh Langerwerf - Founder of Butte Premier Physical Therapy in Chico
The panel will be moderated by Abhijeet Shirsat, Assistant Professor, College of Health & Human Services.

About the Panelists:

Carolyn Ecker

Carolyn Ecker graduated from Cal Poly San Luis Obispo, CA with a Bachelor's in Biology. She then earned her Master of Occupational Therapy from Samuel Merritt College in Oakland, CA. Since graduating in 1997, Carolyn has had experience in multiple settings including hospitals, skilled nursing facilities, schools and home-based services. Her primary area of practice has been pediatrics for the last 16+ years.
Karen Fittinger

Karen Fittinger graduated with her Masters of Science degree in Speech-Language Pathology and Audiology from California State University, Sacramento in 2002. The following year in 2003, she opened Bright Start Therapies, a pediatric clinic with locations in Sacramento and Roseville California, specializing in speech-language and occupational therapy for children of all ages. Bright Start Therapies has been in the community for over 15 years. Their motto has always been "Let's Grow Together."
Leigh Langerwerf

Leigh Langerwerf received a DPT from the University of Southern California in 2004. In 2007, he opened Butte Premier Physical Therapy in Chico, California. The clinic has grown to a practice with six PT's and one PTA. In addition to orthopedic physical therapy, his clinic provides aquatic physical therapy and immediate post-operative care at the adjacent outpatient surgery center. His clinic is located next door to a practice of 10 orthopedic surgeons, as well as a pain management clinic with two physicians, which allows for a lot of interdisciplinary collaboration.
Selecting The Right Entity for Your Startup
Justin Borrowdale, attorney at Weintraub Tobin, will help you navigate the process of determining the right legal entity for your business.
One of the first major decisions a startup founder makes is selecting an entity structure. Each type of entity has its own advantages and disadvantages. The most advantageous choice of entity, or combination of entities, will depend on your particular business, your tax situation, the nature of your current and future financing needs, and other factors.
In this session, Justin Borrowdale, attorney at Weintraub Tobin, will help you navigate the process of determining which legal entity type is right for your business.
Points to be Covered:
Entity types - LLC, corporations, partnerships, sole proprietorship
Which entity type is best for your business?
What entity type do investors prefer?
How does your exit strategy impact entity selection?
This GEW 2022 event is hosted by StartupSac. The Mission of StartupSac is to accelerate Sacramento's startup and innovation ecosystem by informing, educating, empowering, and connecting its startup founders and innovators. Learn more here.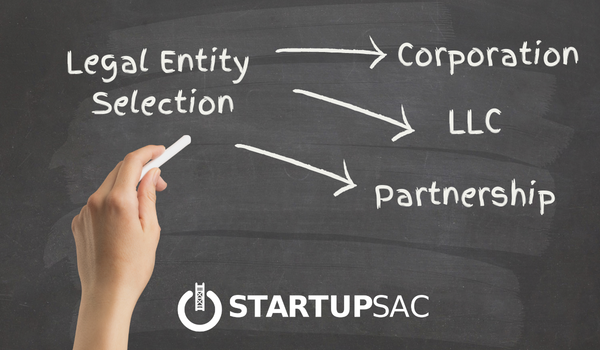 Mentor Sprint - Speedmentoring!
The Mentor Sacramento Office Hours Sprint is an opportunity for early-stage entrepreneurs and startups to gain invaluable expert advice and connections to solve persistent issues in their ventures. Nothing is more valuable than expert advice, at the right time. Mentor Sprint is like speed dating for startup/small business founders and mentors.

Participants will have the opportunity to (virtually) meet with several expert mentors, investors, advisors, subject matter experts, and experienced entrepreneurs in 15-minute sprint sessions. During each session founders will provide details on their company and ask mentors for advice. Founders will have the opportunity to get expert feedback quickly and from a variety of sources and backgrounds - something that is rare to find in just one hour.

The goal of Mentor Sprint is to further connect startup founders and mentors and prove the value of mentorship. An application sign up is required to reserve a spot in the Mentor Sprint event during Global Entrepreneurship Week!

The Carlsen Center for Innovation & Entrepreneurship Mentor Network is powered by the California Bank of Commerce!
Makerpreneur | A conversation with Preston Tobery
Join us for a discussion with makerpreneur, Preston Tobery, who will share his experience in going from making to becoming an entrepreneur!

As part of our celebration of Global Entrepreneurship Week Sacramento ,powered by Western Health Advantage, we are pleased to offer an exciting discussion with Preston Tobery a makerpreneur.

At this event you will have the opportunity to hear from Preston, where he will share his experience in making as well as his growth from just making into becoming a makerpreneur.

The "Fireside" Chat: Preston Tobery and Cameron Law

Preston Tobery:
Accomplished Technology Professional with a demonstrated history of working in the higher education industry. Skilled in Maker technology, Classroom Instruction, Technical Documentation, Autodesk Software, and Management. Experienced in developing and implementing innovative maker-related services. Provides strong management, leadership, teamwork, customer service skills, and attention to detail.
Nuestra Cultura: Empredimiento Y Comida
Join us to hear from these talented foodpreneurs, #MadeAtSacState!

During our celebration of Global Entrepreneurship Week - Sacramento, powered by Western Health Advantage, join us to learn about these local, Hispanic entrepreneurs in the food industry. This event is in partnership with the Sacramento Hispanic Chamber of Commerce. The discussion will be in English.

The panel will include:
Tony Gutierrez - Founder of Arctic Fox Desserts
Fernando Ponce - Founder of Chido Restaurant & Bar
Silvia Rodriguez - Founder of Gondo Fusion

About Our Panelists:
Tony Gutierrez is the CEO/Founder of Arctic Fox Shaved Snow and Desserts in Rancho Cordova, CA. Tony GutierrezCo-founded with his wife, they wanted to offer an healthy alternative for desserts. Their intention was to create a family-friendly dessert shop that offered high quality products and service. Artic Fox offers shaved ice with freshly pureed fruit. They also offer freshly brewed teas, using a specially engineered tea-spresso machine that brews with high pressure at the perfect temperature. This results in a naturally sweet, rich tasting tea. They also feature other specialty desserts and fruit puree beverages. Tony graduated from Sac State with a B.S. in Mechanical Engineering.

Fernando Ponce, owner and chef of Chido's Restaurant & Bar, started out as a late-night street vendor in the Midtown Farmers Market, which celebrates Sacramento's diverse street food culture. He was one of three 'Street Food Sacramento' grant recipients selected by the Midtown Association this year. His brick and mortar restaurant features Mexico City-style seafood. His cuisine is driving customers to his restaurant.

Silvia Rodriguez, owner and chef of Gondo Fusion which offers the best, healthy version of Cuban-inspired food, with a Bay Area touch." Silvia earned a degree in hospitality in Mexico and worked there for 5 years before coming to the U.S. In 2012, she took a leap of faith and opened her first food truck. She always had a passion for expressing her love for her Mexican and Cuban heritage through food and wanted to share it with the world.
Gaining Traction and Growing Your Startup
We are excited to bring to you during Global Entrepreneurship Week Sacramento powered by Western Health Advantage an insightful discussion on gaining traction and growing your startup. This event is brought to you in partnership with Moneta Ventures, a Sacramento-based venture capital firm funding and supporting dynamic entrepreneurs to help grow promising early stage startups into world changing companies.

At this event you will have the opportunity to hear from a panel of founders who have experienced the early stage startup journey, have raised capital, and built teams to grow a successful venture.
The panel:
2022 Spark Venture Competition
Join us for the Spark Venture Competition which is part of Global Entrepreneurship Week 2022, presented by Western Health Advantage.

The Spark Venture Competition in Sacramento is an annual venture competition hosted by the Carlsen Center for Innovation and Entrepreneurship for early-stage startups and social impact ventures during Global Entrepreneurship Week. A total of $20,000 in cash prizes will be awarded.

The competition is open to early-stage ventures aiming to operate in the Greater Sacramento Region. An application is required to be considered for Round 1 of judging. Finalists will be announced virtually and are invited to an optional pitch workshop to help prepare for the final round. In the final round, teams compete by presenting their pitches to a panel of judges (5 min presentation and 5 min Q&A) to win cash prizes.

The focus of this competition is to catalyze a group of early-stage ventures by elevating their startups at the Spark Venture Competition and having a select few of them walk away with cash awards to advance their venture. We are aiming to select startups with at least problem-solution fit and evidence around product-market fit.*

*Problem-Solution Fit - this occurs when you have evidence that customers care about certain jobs, pains, and gains. At this stage, you've proved the existence of a problem and have designed a value proposition that addresses your customers' jobs, pains and gains. Unfortunately, you still do not have clear evidence that your customer really care enough about your value proposition enough to buy it.

*Product-Market Fit occurs when you have evidence that your value proposition is actually creating value for customers by alleviating their pains and creating the gains they desire. Your product or service is beginning to gain traction in the market and you've gone through the long and iterative process of running tests that have validated and invalidated the various assumptions underlying your value proposition. - Strategyzer, Nabila Amarsy 2014

The Demo Day event will be in person at the Carlsen Center.
Our Judges:
Douglas Younger III - Founder and CEO of 3STEPS4WARD and Founder and Host of Twist of Fate Podcast
Kim Box - Independent Board Director at McGrath RentCorp, Chair of the Board at the NACD Northern California Chapter, and Advisory Board Member of the Carlsen Center for Innovation & Entrepreneurship
Sara Ledterman - Founder and Investor of 3+ Ventures
UC Davis Ideas into Action
Write to Win: Your Executive Summary
Join Ken Andersen and learn how to define your business in a concise and well-written executive summary.

Ken is a continuing lecturer in the University Writing Program, where he teaches a variety of upper-division courses and serves as the assistant director for business writing.

Note: The two-page executive summary is a required deliverable in Round 1 of the UC Davis Big Bang! Business Competition.

Why you should attend
Ideas into Action workshops teach the knowledge and skills needed to move from concept to company—and to effectively compete in the annual UC Davis Big Bang! Business Competition.

Even if you don't wish to become an entrepreneur, the leadership skills you learn through the Ideas into Action workshop series and the Big Bang! will translate into whatever career path you chose. You'll learn to:
Solve complex problems
Be a part of and effectively lead cross-functional and cross-cultural teams
Make connections and build your network
Thrive in challenging times
Global Entrepreneurship Week (GEW)
"Let's show the world what happens when we unleash entrepreneurial ideas, creativity and potential." -- Global Entrepreneurship Week USA