Friday, November 18th
Crypto, Connections & Coffee
Join us for coffee & conversation to learn more about the state of Blockchain & Crypto today, where it's headed and why that matters to you.
Despite recent volatility, cryptocurrency along with the Blockchain technology, that enables the existence of crypto (among other things), are here to stay and are poised to transform how we do everything from clearing and settlement to powering fractional ownership models to insurance.

Join us for coffee & pastries and an opportunity to learn more:

How has public sentiment, policy and business practice continued to evolve?

How are innovators & regulators thinking about consumer protection & security?

How are innovators and entrepreneurs building on or incorporating blockchain, crypto & NFTs into their solutions across industry sectors?

How integrated is this technology and these assets into the daily lives, workflows, applications of business and consumer users today and what could this look like in the future?

Panelists include:

Joe Ciccolo, Founder of BitAML & ComplyFit
Ken Anderson, Founder of Launchbadge
Strategic Growth Opportunities in International Business
As we celebrate Global Entrepreneurship Week 2022, powered by Western Health Advantage, we are happy to offer an opportunity to learn how you can grow your business strategically through international business. The Carlsen Center for Innovation and Entrepreneurship is excited to partner with the World Trade Center Northern California in running this workshop to exploring the opportunities to grow your business through global trade. International business is a way to source what your company needs and to find new markets or customers.
You will learn about:
How you can get started in international trade?
What the fundamentals of importing and exporting?
What resources are available to help you?
Additionally you will learn how companies have successfully taken that next step to grow their business through international trade.
This presentation will:
Share insights into the fundamentals of importing, exporting and cross border e-commerce
Discuss how to manage potential risks
Offer next steps to take your business global
The workshop will be led by Kevin Mather, President and CEO of the World Trade Center Northern California. Kevin is and experienced President with a demonstrated history of working in the international trade and development industry. Strong business development professional skilled in International Business, Educational Technology, Management, Product Marketing, and Start-ups.
Startup Grind Fireside Chat with Mark Haney, CoFounder of Growth Factory
Ecosystem partners, Startup Grind Sacramento, Startup Folsom and Granite City Co-Working are hosting this lunch and learn event. Grab a slice of pizza and be part of a fireside chat with Mark Haney during your lunch hour.

This event is FREE for Sac State Students!

Mark Haney is a successful entrepreneur, media personality, and angel investor with a portfolio of 50+ Sacramento-based companies across various industries including new media, tech, consumer products, real estate, construction, transportation, distribution, and security. Mark's accomplishments include successfully exiting a Rocklin, CA based enterprise that maintained hundreds of employees and generated over $200M in annual revenues.

Mark is also a member of the Carlsen Center for Innovation & Entrepreneurship's Advisory Board.

Building and Scaling from Sacramento to Lake Tahoe
Join us on Friday, Nov. 18th during GEW Sacramento 2022 for a conversation with Jennifer and Brandon Robinson founders of Flatstick Pub!
During Global Entrepreneurship Week 2022, powered by Western Health Advantage, we are very pleased to offer you an opportunity to hear from Jennifer and Brandon Robinson, Founders of Flatstick Pub, and how they grew from Sacramento to South Lake Tahoe and beyond.
The Carlsen Center for Innovation & Entrepreneurship is excited to work with in bringing to you this discussion where you will have an opportunity to hear the business creation and growth story of a local company and entrepreneur #MadeAtSacState.
Our Speakers:
Jennifer (Hardin) Robinson and Brandon Robinson - Founders of Flatstick Pub
Learn more about their story before the event here.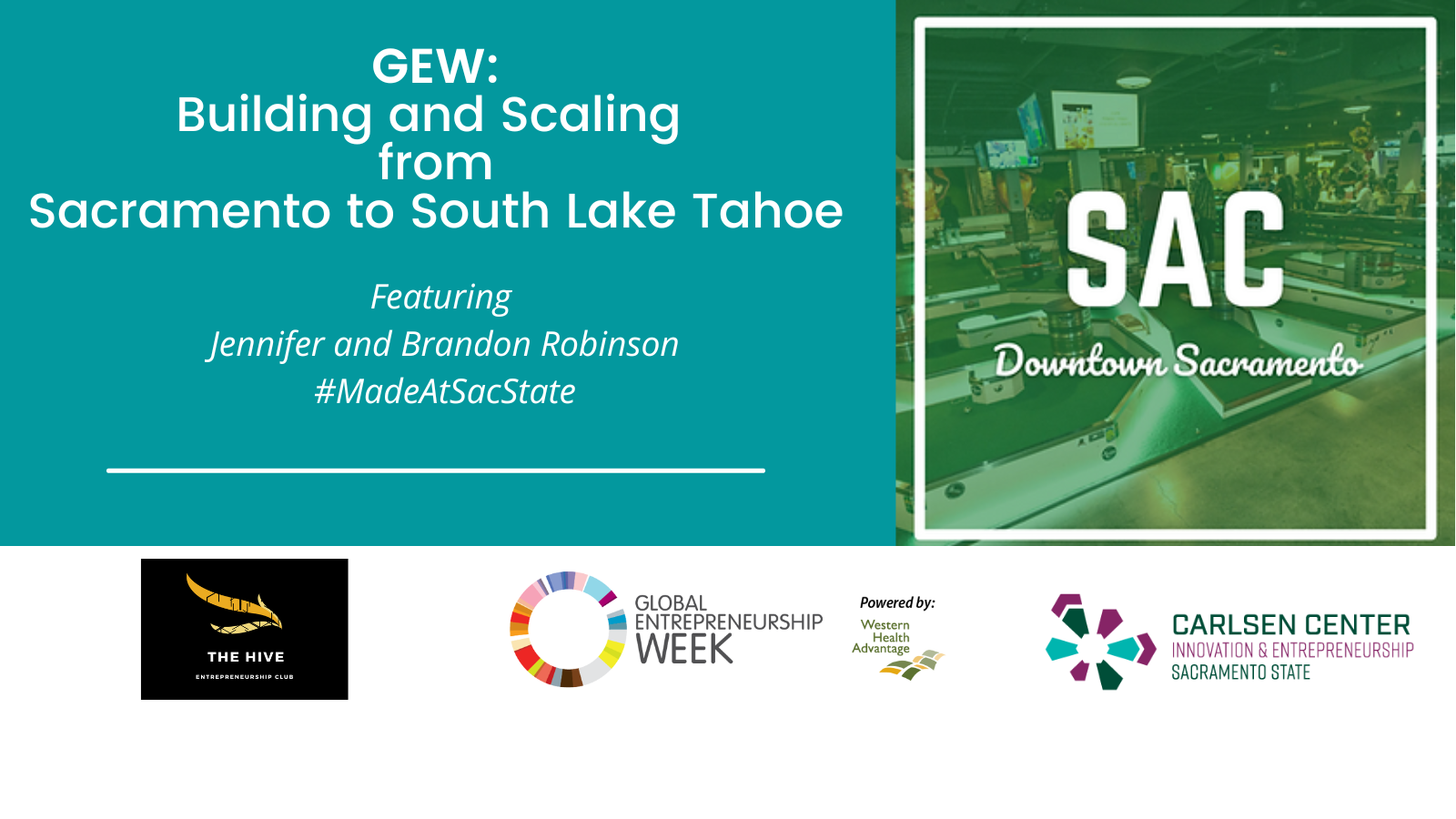 On the Road to Zero Waste
Join us for an insightful panel discussion about how CA is leading the way in building the road to zero waste!
As we celebrate Global Entrepreneurship Week Sacramento 2022, powered by Western Health Advantage, we are excited to offer a panel discussion on how CA is leading the way in building a road to zero waste.

This insightful panel discussion is brought to you in partnership with the Western Placer Waste Management Authority and the Sustainability Center at Sacramento State. In this session, our panel will discuss the economy around waste and how as innovators and entrepreneurs we can make a positive impact on our environment by limiting or utilizing "waste" as an input. The panel will encompass a variety of perspectives from those that handle products at their end of life to those that are designing and building for the future.

We hope that you will walk away with an understanding of the market forces driving the circular economy forward and how a product can be designed to better our world at every stage of its life.

Panel:
Sacramento's CleanTech Innovation Ecosystem
Join us during Global Entrepreneurship Week Sacramento for this exciting discussion about Sacramento's CleanTech Innovation Ecosystem!
As we wrap up Global Entrepreneurship Week Sacramento powered by Western Health Advantage, we are excited to offer an exciting discussion about the Sacramento CleanTech Innovation Ecosystem in partnership with CleanStart.

There are billions of dollars being invested in the energy transition to fight climate change in California. Locally in our region, there has been nearly $2 Billion invested recently and over 100 innovative companies making a thriving Clean Tech Sector.

Do you want to be part of the biggest change in the world economy happening right here in Sacramento? Want to build a career fighting climate change and joining the energy transition? Come check out CleanStart. Learn about what you can expect by becoming an entrepreneur in clean energy and sustainability, current investment trends in industry, and the local resources and network you can connect to today.
Hear from:
Gary Simon, founder of CleanStart and a seasoned energy executive and entrepreneur with 45 years of experience in building Clean Tech Business.
Thomas Hall, Executive Director of CleanStart and Analyst at Clean Edge a developer and publisher of thematic stock indexes tracking clean energy, transportation, water, and the grid.
Global Entrepreneurship Week (GEW)
"Let's show the world what happens when we unleash entrepreneurial ideas, creativity and potential." -- Global Entrepreneurship Week USA