2020 Festival of the Arts
DUE TO THE COVID-19 OUTBREAK, THE FESTIVAL OF THE ARTS IS CANCELLED FOR THIS YEAR.
The annual Festival of the Arts at Sacramento State runs for a week each spring with multiple concerts and events in Theatre, Dance, Art, and Music. This year, the festival runs from April 21-26. Here are the events happening within the School of Music. All concerts are at 7:00 pm, and admission to each concert is $10 general, $7 senior (60+), and $5 for students (any school).
Driving Directions/Parking Info
Jazz Ensembles
The music portion of the Festival of the Arts opens on Tuesday, April 21 with a performance by our award-winning Jazz Ensembles. Joining them on this concert will be a guest group: the Granite Bay High School Jazz Ensemble.
Chamber Music Group
On Wednesday, April 22, our student Chamber Music Group presents a variety of classical chamber music. The event also features the annual Watson Family Chamber Music Competition, as groups will be competing for the top prize.
Faculty Recital
Soprano Robin Fisher, baritone Burr Phillips, pianist Hatem Nadim, and scholar Barbara Carle will present a program of poetry and song on Friday, April 24, tracing the inspiration German composers of the 18th and 19th centuries found in the writings of prominent Italian poets. Professor Carle will read the poetry in her native Italian before the performers present songs by Mozart, Schubert, Beethoven, and others. Experience the beauty of the Italian language that stirred the hearts of German art song masters.
Brass Over Bridges
The brass quintet Brass Over Bridges will perform on Saturday, April 25. Based in San Francisco, Brass Over Bridges is an ensemble that engages audiences with music across barriers of style and artistic discipline. They were winners ofthe 2019 Aspen Music Festival Brass Quintet Fellowship and the 2019 Intermusic San Francisco's Musical Grant Award.
Faculty Chamber Concert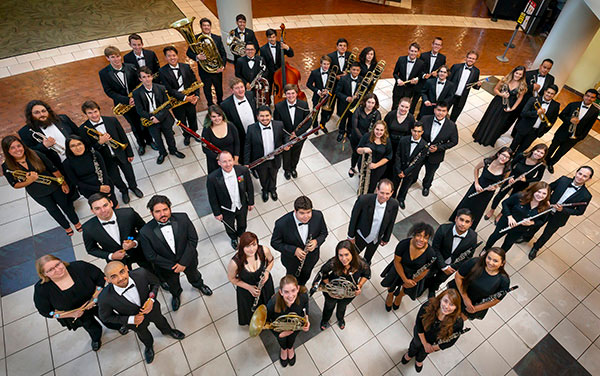 The Festival of the Arts will wrap up on Sunday, April 26 at 7:00pm with a faculty chamber performance that will also feature our Symphonic Wind Ensemble in a performance of Tubby the Tuba, with Julian Dixon on tuba and Claudia Kitka as the narrator.