Add/Drop Procedures After Second Week of Semester
The following instructions are for courses housed within the College of Business Administration.
OnBase
Submit the petition via the University Onbase System (please review information emailed to your through you Saclink email address)
The form can be accessed in your Student Center on My Sac State in the Onbase Forms link (see image below)
If you choose to submit the form via this process the form will be routed automatically to the instructor and further authorizations. You will receive updates via your Sac State email.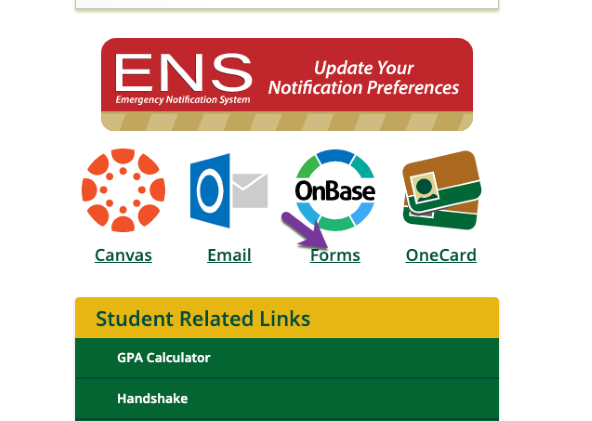 University Add Policy after 2nd Week of Semester
Adds in weeks three and four of the semester are processed through the academic department and require approval by the instructor and department chair.
Adds are not approved after week four (the census date -- February 18, 2022) unless students present evidence of University error that prevented their timely registration. University error does not include failure to meet all payment deadlines. State your reasons for a late add request on a separate page and attach to this petition along with verification of the circumstances. Obtain signatures of the instructor, department chair, and college dean.
University Drop/Withdrawal Policy after 2nd Week of Semester
Drops during the third and fourth (through February 18, 2022) weeks of instruction are processed in the academic department offering the course and require instructor and department chair approval.
Drops after the fourth week of the semester (census date – February 18, 2022) are called withdrawals.
Withdrawals after the fourth week (February 19, 2022 and later) of the semester are granted only for "serious and compelling" reasons.
Withdrawal during the 5th and 6th week of the semester requires the signature of the course instructor and the department chair. Reasons for dropping in during this period include medical, carrying an excessive course load, student's inadequate academic preparation for the course, or the student having significant job or career changes.
Withdrawal during the 7th through the 12th week requires the signature of the course instructor, the department chair, and the college dean. Reasons for withdrawal during this period include only medical or work related reasons clearly beyond the control of the student; a student initiated job change, carrying an excessive course load or inadequate preparation does not qualify.
Withdrawal is allowed after the 12th week of instruction only in exceptional cases, such as in cases of accident or serious illness where the cause is due to circumstances beyond the student's control. All signatures are required and the student must meet with an Academic Advisor in the Academic Advising Center. Withdrawals approved during the last three weeks of the semester will not count towards the 18 unit maximum; however, a grade of "W" is still recorded on the transcript.
Questions?
If you still have questions. Please call in during Zoom Office Hours to speak to a Business advisor.