CBA Outstanding Student Awards
Each year, the College of Business Administration invites our top students to apply for our Dean's Award and Outstanding Student Awards. Students must have demonstrated academic excellence in order to qualify and their whole portfolio of academics, involvement, and contributions to their campus and/or communities are evaluated by our faculty in the CBA. Additionally, students are invited to share any adversity they have overcome on their path to their degree. As part of their application essay, we ask our students to describe how their business education has impacted them both personally and professionally.
Please join us in congratulating our hardworking, accomplished and truly outstanding students. They make the CBA stronger.
2019-2020 CBA Dean's Award: Donna Walters
Donna is graduating with her Bachelor's Degree in Business Administration with a concentration in Human Resources Management and graduates with honors and a 3.60 GPA. Life is often not a straight nor linear path, and for Donna her road to academic success has been a long and winding road, making her success all the sweeter. Donna has overcome hurdles, obstacles and detours, and arrived at Sac State with a renewed zest for education. In her time on campus, Donna has contributed in countless ways and has grown exponentially. She sought out the Human Resources concentration because she wanted to learn how to create more supportive workplace environments for everyone.
Donna, the daughter of an immigrant mother and a mother to a nine year old daughter, has forged her own way to success as a student. She has earned a spot on the Dean's Honor list every semester at Sac State; and her confidence in her abilities to lead others soared as students found sanctuary in the esports club she established. Looking to increase her impact, Donna became the ASI Director of Business, partnered with faculty as an Instructional and Research Assistant, participated on search committees for executive level positions and has been elected as the Executive Vice President for ASI Inc. for the 2020-2021 academic year. Though a long road to this point, Donna isn't done yet; she will begin working on her MBA starting next fall.
How has your business education impacted you personally and professionally?
I can honestly say, without a doubt, that coming back to school was the best decision of my life. Not only did I make some great connections with some of the best minds in Sacramento, I learned so much about who I am as a person and my place in the world.
For the first time in my life, I feel I can make a real difference through the projects in which I have been involved. Every person I have connected with on campus has enriched my ability to succeed; whether through real life learning opportunities on how to overcome challenging personalities who use tricky politics, or through faculty mentors and on-campus organizations that utilize hands on learning opportunities outside of the classroom.
The most important and advantageous impact however, has been the growth and enrichment of my self-efficacy. By coming to Sac State, I now know my purpose and have been able to move past some heavy barriers that were preventing me from achieving real happiness and moving forward in life. I have found my tribe here at Sac State and I will always be part of the Hornet Family!
Who has had the greatest impact on you as a person?
My daughter, Bailey. She is my driving force and the reason I continue to push forward to succeed. When I'm exhausted and feel like giving up, all I have to do is look at her and suddenly a surge of love fills my heart and I'm ready to once again take on the world.
In her own words...
"I now feel confident in my abilities to overcome many of the challenges that will be encountered in my future, because of the support, education, and hands on learning opportunities I received from the faculty, staff, and programs I accessed at Sac State. I'm confident that I can bring new methods to improve our communities and help our future leaders succeed through innovative Human Resources and best practices."
Outstanding Senior Award: Morgan Aring
Morgan is a graduating senior, completing her degree in Spring 2020, with a 3.99 GPA and consistent spot on the Dean's Honor list since her freshman year. Her concentration is in finance and it is her plan to pursue an exciting career in banking, real estate or forensic accounting. Morgan has been active and involved throughout her academic experience, taking on leadership roles with Beta Alpha Psi, serving at the Director of Awards and Competitions, and overseeing organizing the chapter for project competitions. Morgan is also a member of Beta Gamma Sigma, the business honor society for AACSB Accredited business schools throughout the world.
In addition to her academic excellence and campus involvement, Morgan has served her community as a high school swim coach. Like many Sac State students, Morgan has cleared her own personal hurdles and demonstrated drive, determination and perseverance in completing her degree in four years.
How has your business education impacted you personally and professionally?
My experience as a business student has impacted me professionally and personally. I am a diligent and a rather quiet student. I try to put my best effort in my classes, and I have grown so much during my time at Sac State. I have taken on a couple of leadership roles for projects in my business classes, which has allowed me to develop confidence and build communication skills that I can use in a professional setting. Joining a finance and accounting club, called Beta Alpha Psi, has also helped me develop networking skills and make wonderful lifelong friends. I have also faced some challenges at home, but my drive to stay focused on school has shaped me into a hardworking and caring individual. College can be a long and difficult road, and the challenges people face during this time are different for everyone. However, challenges can make a person stronger and earning a college degree is a powerful accomplishment.
Who has had the greatest impact on you as a person?
I believe my two brothers, Wesley and Harrison, have had the greatest influence on my life. We share the same childhood experiences, which has made us very close. They are two of the most important people in my life. We are supportive and encouraging of each other, and I admire how they have grown from challenges.
In her own words...
"Taking on leadership roles in my business classes has allowed me to develop confidence and build communication skills that I am excited to use in a professional setting."
Outstanding MBA Student Award: Rachid Abadli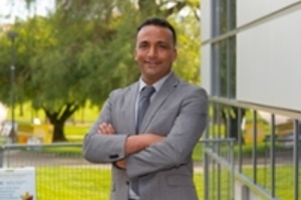 Rachid will complete his MBA program with an emphasis on Finance this summer and demonstrates his academic excellence with a 3.80 GPA in his master's program. In his own words, Rachid pursues self-improvement and took on the ambitious and daunting project of adding an MBA to his other earned degrees with hopes and dreams as his motivation. Rachid values the experience of pursuing this degree locally as it helped him realize how he's an integral part of his community and recognizes that he has become more curious about local initiatives, and seeks to find effective ways of participating in improving the vibrancy of Sacramento.
Rachid has set his sights on establishing his own Financial Technology Company, employing the plethora of skills and knowledge gained from his MBA student experience. In addition to his success as a student, Rachid has professional experience as a software engineer for a range of organizations, has earned Oracle and AWE Certified Solutions Architect Certifications, and contributes to his community. Rachid serves on the board of directors for a local non-profit called First Love Yourself (FLY) whose mission is to help underprivileged youth develop self confidence. He understands this first-hand, as an immigrant from Morocco, he embraces the opportunity to show his two children that you can set high goals and achieve them despite hardships that some may view as obstacles instead of opportunities.
How has your business education impacted you personally and professionally?
Professionally I was entrusted with more responsibilities, and a higher financial remuneration. Personally I am able to show my 10 and 6 year old children that learning at any age does have a positive impact.
Who has had the greatest impact on you as a person?
My father had the greatest impact in my life. He welcomed curiosity and enabled me to discover new things, through travel, sharing the knowledge of his job, and funding.
In his own words...
"As a Sac State business student, I saw my leadership abilities enhanced, and my sense of belonging to the Hornet family, in particular the Sacramento community as a whole, defined."
Outstanding MS Accountancy Award: Nadia Fuia
Nadia completed her Master of Science, Accountancy degree in December 2019, with academic excellence and a GPA of 3.7 and has set her sights on sitting for the CPA Exam, knowing that it will open the door to many opportunities in public accounting - which is where she would like to focus her career, along with forensic accounting. Nadia is professionally driven with extensive experience; in addition to her full load of raising kids and pursuing an advanced degree, Nadia has served as Assistant Controller, Interim Financial Controller, Senior Staff Accountant and Real Estate Transaction Coordinator.
Nadia's path to the Sacramento State MSA program was not linear; she discovered her passion for accounting when she immigrated to the US from Romania, where she had an early career in journalism. After earning a Master's in International Affairs, and engaging in projects aimed at reforming public administration, she found herself moving not only from Europe to the United States, but into a whole new career path.
How has your business education impacted you personally and professionally? Being a Sac State business student was my professional goal and I feel accomplished that I was able to pursue it. I learned a lot of new things about the accounting principles and practices and the professors' expertise in the field helped me succeed as a student and as a professional. It was a difficult commitment to balance career, personal life and student life and I am proud I was able to pursue it.
Who has had the greatest impact on you as a person?
My parents had the greatest influence on my life. They taught me ethics and morals in life and these beliefs and principles helped me succeed.
In her own words...
"I embrace the diversity of my work experience and I believe in the importance of education. Being a Sac State business student enriched my personal life and career in many ways. I experienced the challenge of juggling with many responsibilities as a mother, wife, full-time employee and full-time student. It was a difficult path I undertook, but every minute I spent studying or working on a project was worthwhile. I became aware that hard work pays off."
Outstanding IMBA Student Award: Ivan Tan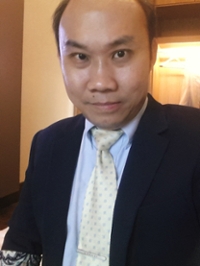 Ivan is graduating from the College of Business' International MBA program and hails from Singapore, successfully navigating the program with precision, despite living halfway around the globe and balancing his professional career and his academic pursuits with a 16 hour time difference. Ivan never missed a step, he has excelled and successfully completed his program this spring with a 3.95 GPA.
Additionally, Ivan embraces the fact that this program has allowed him to broaden his horizons in managing across cultures and is encouraged to realize his international ambitions of globalizing businesses and economies through the advent of the internet and e-commerce. Ivan has degrees from two other international institutions, holds the role of Chief of Staff for HP, Inc and an impressive resume with an array of critical roles with HP since 1999. He holds numerous certifications including Project Management Professional, (PMP), Agile Certified Practitioner (PMI-ACP), Certified Triathlon Coach and First Aid, CPR and AED Certified.
How has your business education impacted you personally and professionally?
Personally, being an overseas business student in the CBA encapsulates a regime of intensive learning and research. It enforced discipline and a certain amount of proactiveness in meeting the curricula objectives. Professionally, the interaction with classmates who are industry practitioners, and the knowledge transfer from brilliant academics from the faculty have impeccable, yet extensive forbearing on my learning journey.
Who has had the greatest impact on you as a person?
My late grandfather, a philanthropist immigrant from China in search of greener pasture for his family, is my most significant influence in life. He settled in Singapore in the early 1940s and sold coffee powder as an entrepreneur. He worked hard and valued relationships, which built loyalty amongst his business partners. His generosity earned him a name as he established a chain of coffee shops just after World War 2. Learning from him as I grew up led me to understand the virtue of patience and integrity. He was such an endearing father and grandfather.
In his own words…
"As a chairperson for the Corporate Social Responsibility Committee with HP, Inc., the learnings gathered through this program allows me to put into practice the topic of Sustainability and the Circular Economy, and what it means to revolutionize the world."
Outstanding EMBA Student Award: Vasantha Eswara
Vasantha graduated from the College of Business MBA for Executives (EMBA) program this spring and did so with flying colors! With a naturally inquisitive and intelligent mind, Vasantha became known among her cohort as someone to go to for information or to get things done. Her wealth of knowledge and experience made for enriched and lively classroom discussions. As a highly experienced pharmacist she is looking to leverage healthcare and systems knowledge to guide strategy, product selection and implementation of innovative healthcare technologies.Vasantha serves on the board as an Associate Director of First U.S. Community Credit Union. She is also a member of the American College of Healthcare Executives.
She recently completed a course, Artificial Intelligence: Implications for Business Strategy, offered by MIT's Sloan School of Business and CSAIL (Computer Sciences and Artificial Intelligence Laboratory). She has been invited to speak at the InnovatorMD Global Summit in San Francisco in January 2021. Vasantha is grateful to the EMBA program for its demanding curriculum and inspiring professors who provided a thought-provoking atmosphere which challenged her assumptions and pushed her limits.
How has your business education impacted you personally and professionally?
I have learned how to lead a team in the absence of a formal hierarchy. It was eye opening to see how a topic could produce diametrically opposing points of view which taught me the importance of communication and emotional intelligence. It is important to get all stakeholders on board for any project to be successful.
Who has had the greatest impact on you as a person?
My father has been the greatest influence in my life because he taught me the value of integrity, honesty and commitment not by talking about it, but by living these values.
In her own words...
"I'm going to take what I've learned to lead a healthcare organization that implements advanced technologies to provide exceptional patient care while being mindful of all the business aspects of those decisions."
Congratulations to All of You!
Please join the Faculty, Staff and Administration of the College of Business Administation in congratulating each of our 2019-2020 Outstanding Student Award Recipients and our Dean's Award Recipient. Each one of our truly outstanding students are CBA Ambassadors of excellence and showcase the best of the College of Business Administration.
To you as students, we wish you every happiness and success as you move to your next chapter in life. Thank you for your many contributions to the College of Business Administration and Sacramento State. Stingers up!