Dr. James Miranda
Courses | Education | Research | Links
Contact Information

Title:
Associate Professor of Chemistry
Office
Hours:

Fall 2015 Tuesday/Thursday 8:00-9:30 am

Sequoia Hall Room 420

E-mail:
miranda@csus.edu
Office
Phone:
(916) 278-6189
Mailing
Address:

Sacramento State, Department of Chemistry
6000 J Street
Sacramento, CA 95819-6057
Courses
Chem 124 (Organic Chemistry Lecture II) Fall 2015
Chem 125 (Advanced Organic Chemistry Laboratory) Fall 2015
Chem 220 (Spectrometric Identification of Compounds) Fall 2015
Complete Course Websites are available on SacCT
I am actively recruiting undergraduate and graduate students who are interested in participating in research in the exciting field of organic chemistry. Please contact me at miranda@csus.edu. For more information, see the Research section.
---
Education
---
Research (Organic Chemistry)
"Since their launch in 1901, the Nobel Prizes have rewarded more achievements in the study of carbon-based substances, otherwise known as organic chemistry, than in any other traditional chemistry discipline."
Our research interest primarily lies in developing new methodology for the organic synthesis of biologically active molecules. Usually these complex molecules are not only important in medicinal chemistry as therapeutic agents, but are also interesting from a structural point of view. We also seek to understand the mechanism of these important new reactions. A typical researcher in my group can expect to gain experience in a great variety of organic chemistry laboratory techniques as well as gain valuable experience in the common spectroscopic methods available to the organic chemist (NMR, IR, GC/MS, HPLC, cyclic voltammetry, etc...)
We are conducting mechanistic investigations into the use of catalytic nickel (II) salen in electroreductive cyclization reactions. For more information please see:
Yates, J.M.; Fell, J.S.; Miranda, J.A.; Gherman, B.F. "Metal-Salens As Catalysts In Electroreductive Cyclization and Electrohydrocyclization: Computational and Experimental Studies", J. Electrochem. Soc. 2013, 160(7), G3080-G3090.

Miranda, J.A.; Wade, C.J.; Little, R.D. "Indirect Electroreductive Cyclization and Electrohydrocyclization Using Catalytic Reduced Nickel (II) Salen", J. Org. Chem., 2005, 70(20), 8017.
Catalytic ERC
We are investigating polymer supported vanadium complexes as potential catalysts for the epoxidation of organic substrates. We are currently exploring the scope of this reaction and working on optimizing the conditions of the reaction as well.
We are currently working with the Gherman group here at CSUS on using computational chemistry to predict the experimental reduction potential of various metal-salen complexes. The predicted reduction potentials can then be used to determine if the metal-salen complex can participate in mediated electroreductive cyclization reactions. Our contribution to this project is to synthesize a series of metal-salen compounds with various metal centers (Ni, Co, Cu, etc...) and various groups (electron-withdrawing or electron donating) on the aromatic rings. For more information, please see:
Bateni, S.B.; England, K.R.; Galatti, A.T.; Kaur, H.; Mendiola, V.A.; Mitchell, A.R.; Vu, M.H.; Gherman, B.F.; Miranda, J.A. Beilstein J. Org. Chem. 2009, 5, No. 82
Vinylcyclopropane radical cyclization-fragmentation. We are exploring a novel route towards eight-membered rings, such as those found in the anti-tumor compound paclitaxel (shown below). For more information please see:
Miranda, J.A.; Little, R.D. "Investigation of Vinylcyclopropane Monoradical Cyclization-Fragmentation as a Possible Route towards Eight-Membered Rings" Heterocycles, 2006, 70, 169 - 175.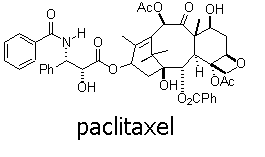 All rights reserved.
---
Links
Chemistry Links
Last updated: 07/22/2015