The 2016 Engineering & Computer Science Exposition at Sacramento State, hosted by the student-run Engineering and Computer Science Joint Council, will be the largest and most ambitious yet – and is expected to attract 700 children and adults.
The expo will run from noon to 4 p.m. Saturday, March 12, at the University Union Ballroom and on the third floor of the Union, with outdoor workshops at nearby Serna Plaza. The expo will feature the best and brightest extracurricular projects by students and student clubs from Sac State's College of Engineering and Computer Science. Many are preparing for intense collegiate competitions over the next few months.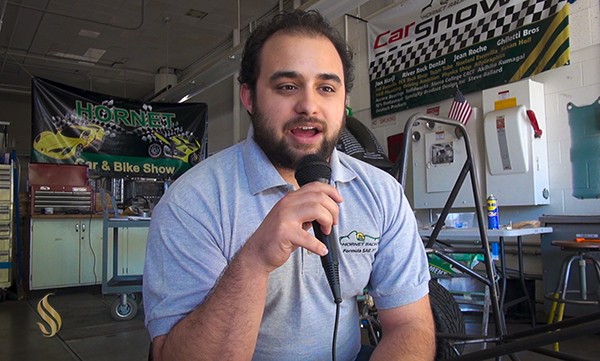 Mechanical engineering student Anthony Melanson is part of the Hornet Racing team participating in the Engineering & Computer Science Exposition.
"I want to showcase what we do in the college, to show everyone the possibilities that occur outside of the classroom," says council President Peter Avalos, a senior majoring in computer engineering.
The event is free and open to the public. Parking is free on the three lower levels of Parking Structure II. (For an interactive campus map: www.csus.edu/campusmap.)
Among the events and activities:
The Hornet Racing team will introduce its small Formula-style race car, which it is building in anticipation of this summer's Formula SAE collegiate competition in Lincoln, Neb.
Students who are designing and building Sac State's entry in the SMUD Tiny House Competition, to be held in October in Sacramento, will share details on their innovative 400-square-foot solar cabin.
The team headed to April's micro-mouse regional competition in Hawaii will demonstrate how its tiny robot "mice" learn to solve a complex maze.
Among the senior projects on display will be a composite lamination press, a robotic arm, and the catamaran that four students are building to compete in SMUD's Northern California Solar Regatta, coming up in May.
The Concrete Canoe and Steel Bridge competition teams will show off models of their work in advance of the American Society of Civil Engineers Mid-Pacific Student Conference and Competition, coming in April to Reno.
The Competitive Robotics club will stage a Robot Rumble, an exciting full-scale battle of small, handmade robots facing off in a big glass "cage."
The Water Treatment Challenge team will be on hand to demonstrate the filtration and treatment of wastewater.
Computer science students will demonstrate computer graphics and games, mobile software applications, circuit design, and cybersecurity.
Among the scheduled workshops, which will delight kids in particular, are "elephant toothpaste," cars and airplanes propelled by rubber bands, and USB-powered fans. And you won't want to miss the trebuchet, a medieval fighting device used to propel heavy objects.
In addition, Sacramento Police Department bomb squad officers will be on hand to demonstrate Ozbot, a battery-powered robot that assesses high-risk situations and defuses bombs.
The Engineering & Computer Science Exposition will follow the college's annual open house for prospective students, set for 8 to 11:30 a.m. March 12 at the University Union Ballroom and the Union's Redwood Room.
The expo is funded by the College of Engineering and Computer Science, Associated Students Inc., and Intel. – Dixie Reid