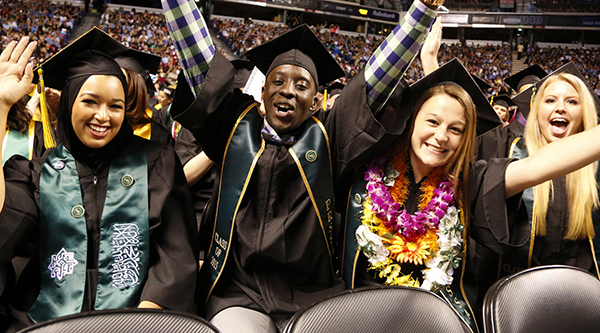 Photos, videos, and more: Visit our Commencement Coverage page
---
The next chapter of life is about to begin for about 5,000 Sacramento State students eligible to walk across the graduation stage during the University's Spring Commencement on May 20 and 21 at Sleep Train Arena. President Robert S. Nelsen will officiate at ceremonies for Sac State's seven academic colleges, joining friends and loved ones in congratulating the bachelor's, master's, credential, and doctoral candidates.
Nelsen also will award honorary doctorates to two prominent community members and Sac State alumni:
Gregory Kondos '51, MA '57 (Art) is considered one of America's leading contemporary landscape painters. His works have been exhibited around the world, and his many honors include election to the National Academy of Design; a Lifetime Achievement Award from the International Biennale in Florence, Italy; and a Master of Drawing Award from American Artist. Kondos will be recognized at the College of Arts and Letters ceremony at 6:30 p.m. May 21. View profile
David Lucchetti '67, Credential '68 (Physical Education) is president and CEO of Pacific Coast Building Products, a family-owned company with operations in 13 western states and Canada. Under his leadership, the company has become one of the nation's largest privately held firms. He has been honored as both Business Man of the Year and Sacramentan of the Year. Lucchetti will be recognized at the College of Health and Human Services ceremony at 8:30 a.m. May 21. View profile
In addition, seven students will be honored as Dean's Award recipients for their colleges; of those, Payyam Hojjat from the College of Business Administration will be recognized with the President's Medal as the year's outstanding graduate.
Commencement schedule (graduates and family should arrive an hour before):
Friday, May 20
11:30 a.m. – College of Social Sciences and Interdisciplinary Studies (1,133 graduates*)
3:30 p.m. – College of Natural Sciences and Mathematics (307 graduates*)
6:30 p.m. – College of Education (380 graduates*)
Saturday, May 21
8:30 a.m. – College of Health and Human Services (1,268 graduates*)
12:30 p.m. – College of Engineering and Computer Science (381 graduates*)
3:30 p.m. – College of Business Administration (627 graduates*)
6:30 p.m. – College of Arts and Letters (848 graduates*)
*Graduate totals as of May 11
For more information, visit the Sac State Commencement website at csus.edu/commencement. – Craig Koscho