Sacramento State President Robert S. Nelsen and other University representatives fanned out across the community on Sunday, Feb. 12, to spread the word about making higher education dreams come true. They visited four churches as part of the CSU's annual Super Sunday outreach.
Now in its 12th year, the program focuses on improving preparation and graduation rates of African American students by visiting their families' churches.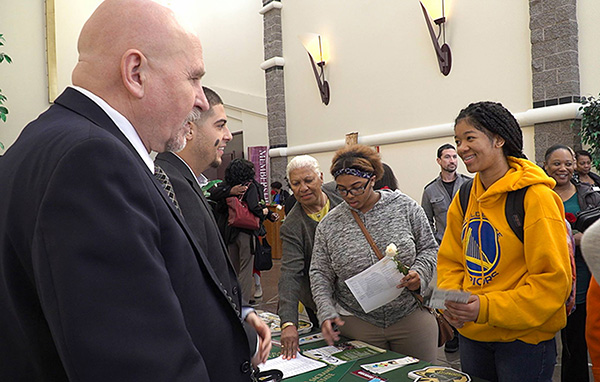 President Robert S. Nelsen and Sacramento State staff spread the word about higher education at Antioch Progressive Church. (Sacramento State/Rob Neep)
More photos
Speaking at Antioch Progressive Church in Sacramento, Nelsen told parishioners not to be deterred by the potential cost of a college education, pointing out that there are many federal and state grants available. "What I'm here today to say is that (a college education) is possible," he said. "College is for you, it is for your children, it is for your grandchildren. It is for everyone."
And he urged all those contemplating going to Sacramento State next year to make sure they fill out their FAFSA – the key financial aid form – by the deadline of March 1.
Nelsen also emphasized the importance of parental involvement in their children's education, particularly reading, well before the children begin grade school. "If they are not reading at third-grade level by third grade, 85 percent of them will drop out of high school," he said. "We need to read to our children, and we need to be there for them."
Other Sac State officials taking part in Super Sunday included Provost Ching-Hua Wang, taking part in her first Sac State Super Sunday at St. Paul Missionary Baptist Church. Student Affairs Vice President Ed Mills led the team visiting Common Ground Covenant Church, and several staff members visited Center of Praise Ministries.
After each service, representatives from the University's Admissions and Outreach, Financial Aid and Scholarships, and other offices met with children and parents to hand out brochures and other materials and answer questions.
CSU leaders are visiting more than 100 churches across the state over two Sundays.
"The absolute beauty of Super Sunday is that the presidents in the California State University system and other university officials get to go directly to the congregations and meet one on one with parents and students – in our case, with future Hornets," Nelsen said in preparing for this year's event. "The energy is always amazing. I am very grateful that so many churches are opening their doors for us."
For more information about CSU's Super Sunday, visit calstate.edu/supersunday. Information about Sacramento State's admissions and financial aid programs can be found at csus.edu/admissions. – Craig Koscho