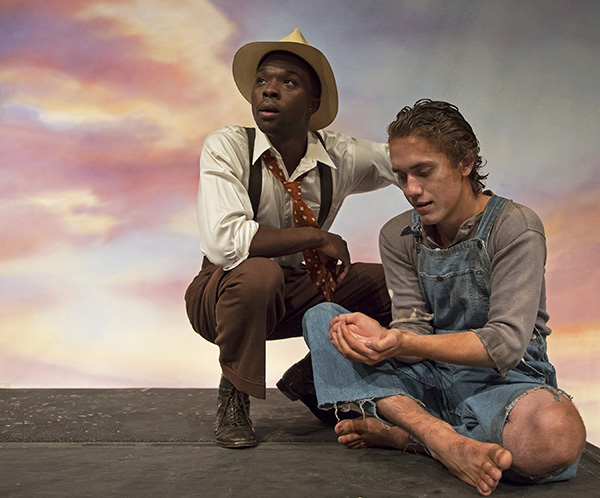 Roderick Hickman, left, seen here in a scene from
The Diviners
with Liam Worrell-Olson, is on his way to an acting competition at the Kennedy Center.
Sacramento State's Roderick Hickman bested more than 250 other students to win the prestigious Kennedy Center Regional Irene Ryan Acting Competition. He's heading to Washington to participate in the national festival and finals April 17-22.
He was part of eight two-person teams taken to the regional competition Feb. 19 in Denver by Theatre and Dance Professor Michelle Felten. Hickman, who recently played the lead in Sac State's production of The Diviners, received a $500 scholarship for performing two scenes with his acting partner, Elizabeth Ferreira, plus a monologue he wrote himself.
Hickman praised the support he received from Ferreira and Felten. "Without their vision and counsel, I would not be in the place that I am now," he says. "All three of us knew we wanted to bring something different to the table."
Another Sac State acting student, Sidney Raey Gonzales, won the Best Partner award for her work with Hannah Singleton.
Started in 1969, the Kennedy Center American College Theater Festival (KCACTF) provides opportunities for participants to develop their skills, improves the quality of college theater, and encourages universities to put on distinguished productions of new plays.
As part of the weeklong national competition, Hickman and Ferreira will study with acting schools and training artists from across the country and compete against seven other acting teams. The winners will receive a $5,000 scholarship for the actor and a $1,000 award for the partner.
---
For more information about University Communications or University Advancement, visit csus.edu/ua or call (916) 278-6502. For media assistance, call the University Communications office at (916) 278-6156.
---
"Roderick and Elizabeth will meet like-minded students and train side by side with them in the days before the finals," Felten says.
"I'm really looking forward to experiencing what the stage at the Kennedy Center feels like, as well as representing Sacramento State in the competition," Hickman says. "This opportunity is truly an honor."
This is not the first time the University's Department of Theatre and Dance has sent a team to the Kennedy Center finals. Olivia Hughes and her partner Sean Nill won a trip there in 2011.
"Sac State has a lot to be proud of as the Department of Theatre and Dance continues to make a name for itself with student success stories," Felten says.
For more information on the KCACTF, visit web.kennedy-center.org/education/kcactf/Home. Information about Sac State's Department of Theatre and Dance is available at csus.edu/dram or (916) 278-6368. – Craig Koscho