Barbara Carle's Poetry
Back and Front Covers of Tangible Remains/ Toccare quello che resta
For orders or more information on this book please visit the link below: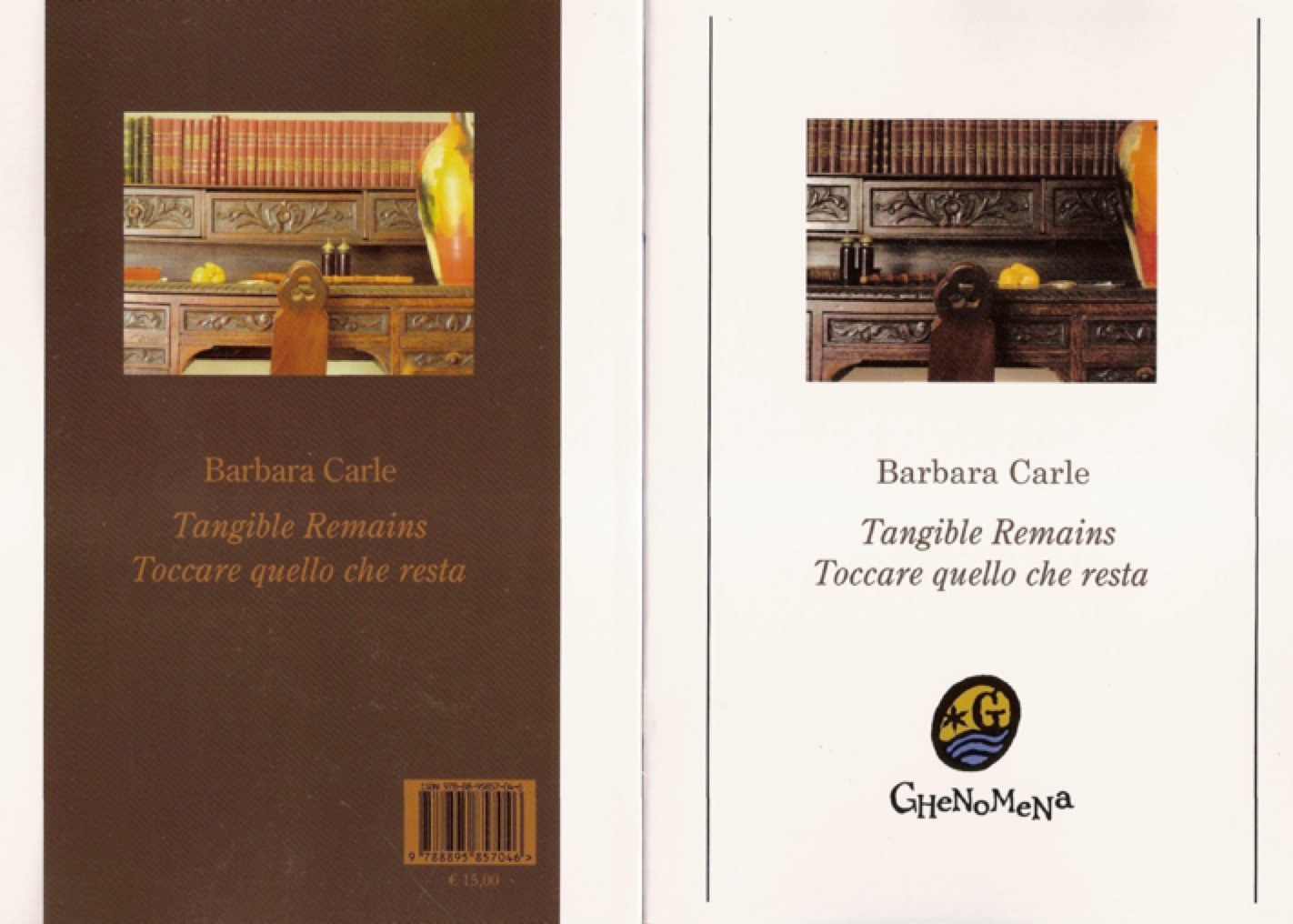 (To read reviews of this book click here)
(Per leggere recensioni di questo libro cliccare qui)
Front Cover of Don't Waste My Beauty, Caramanica, 2006.
In November of 2000 Carle won the Premio Nazionale Frascati (Sezione Straniera, Italo Alighiero Chiusano) for the Translation into Italian and Publication in Italy of Don't Waste My Beauty, translated into Italian by Antonella ANEDDA.
Back and Front Covers of NEW LIFE, available from GRADIVA PUBLICATIONS
A brief selection of previously published poems:
Pencil
Stark
piece
of wood
whose
surface
is smoothly
painted.
A pointed
tip,
a rubber
top,
a vein
of lead
flows
from
its pink
head
to its
sharp
tip
that turns
into
a trip.
Its grey
stuff
doesn't
stick,
may be
erased
like claw
marked
sand.
Its lead
is light
but has
the taste
of brain
drops
that slip
from the
hand.
*

Matita
Nudo
pezzo
di legno
la cui
superficie
è politamente
dipinta.
Una punta
aguzza
una cima
di gomma
una vena
di piombo
scorre
dalla
testa
rosa
alla punta
aguzza
che
si trasforma
in viaggio.
La sua materia
grigia
non
appiccica
può essere
cancellata
come la
sabbia
graffiata.
Il suo piombo
è leggero
ma ha il sapore
di gocce
mentali
che scivolano
dalla mano.
--From Tangible Remains/Toccare quello che resta, Ghenomena Edizioni, 2009.
*

Scarf
Fibrous delicacy slides through the fingers,
silkily enfolds the body blending the substance
of its allure to infinite ends.
Imperceptibly slips through the hands,
deliciously rips when tugged,
fits anywhere like a caress,
moves suavely like a long blue tress of sky.

Sciarpa
Una fibrosa delicatezza scivola tra le dita,
avvolge il corpo di seta
mentre armonizza fini infiniti
nella sostanza del suo fascino.
Sfila impercettibilmente fra le mani,
si strappa deliziosamente quando è tirata
sa adattarsi a tutto come una carezza,
si muove come una lunga treccia azzurra di cielo.

--Now in Tangible Remains/Toccare quello che resta, Ghenomena Edizioni, 2009.
*

During My Bengali Adolescence
During my Bengali adolescence
I learned karaits were deadly four inch snakes
whose forked tongues distinguished them from worms.
Brown, moist, they clustered soil like pubescence
and swarmed tangled, glistening near the lake
where they would crumble the humus and churn.
American adolescence did twist
my remembrance of kraits into depths
of Bengal which gnawingly fed on me.
They darted in me with their dank mist,
they slithered through my fluent eyes
and leapt in a mirror that flashed them back at me.

--Previously in Chelsea # 72, 2002, now in Don't Waste My Beauty

*
 
Il giardino vero
La mia anima ha un giardino vero
di fiori d'arancio e di gelsomino
di limone di lavanda e pero
d'olivo d'alloro e rosmarino
d'uva fragola di mora e mistero
di rosa gardenia e ciclamino
di salice tiglio cipresso altero
di ginestra mughetto biancospino
delle terrestri sovrane dell'aria
tre sequoie matrone vertiginose
dell'eucalipto aulente della palma
melodiosa docile originaria
dell'infanzia essenze armoniose.
Una veemente oasi di calma.
From Arenaria ragguagli di letteratura cinque a cura di Lucio Zinna, 2011, p. 61.