Barbara Carle Poetry
Back and Front Covers of Tangible Remains Toccare quello che resta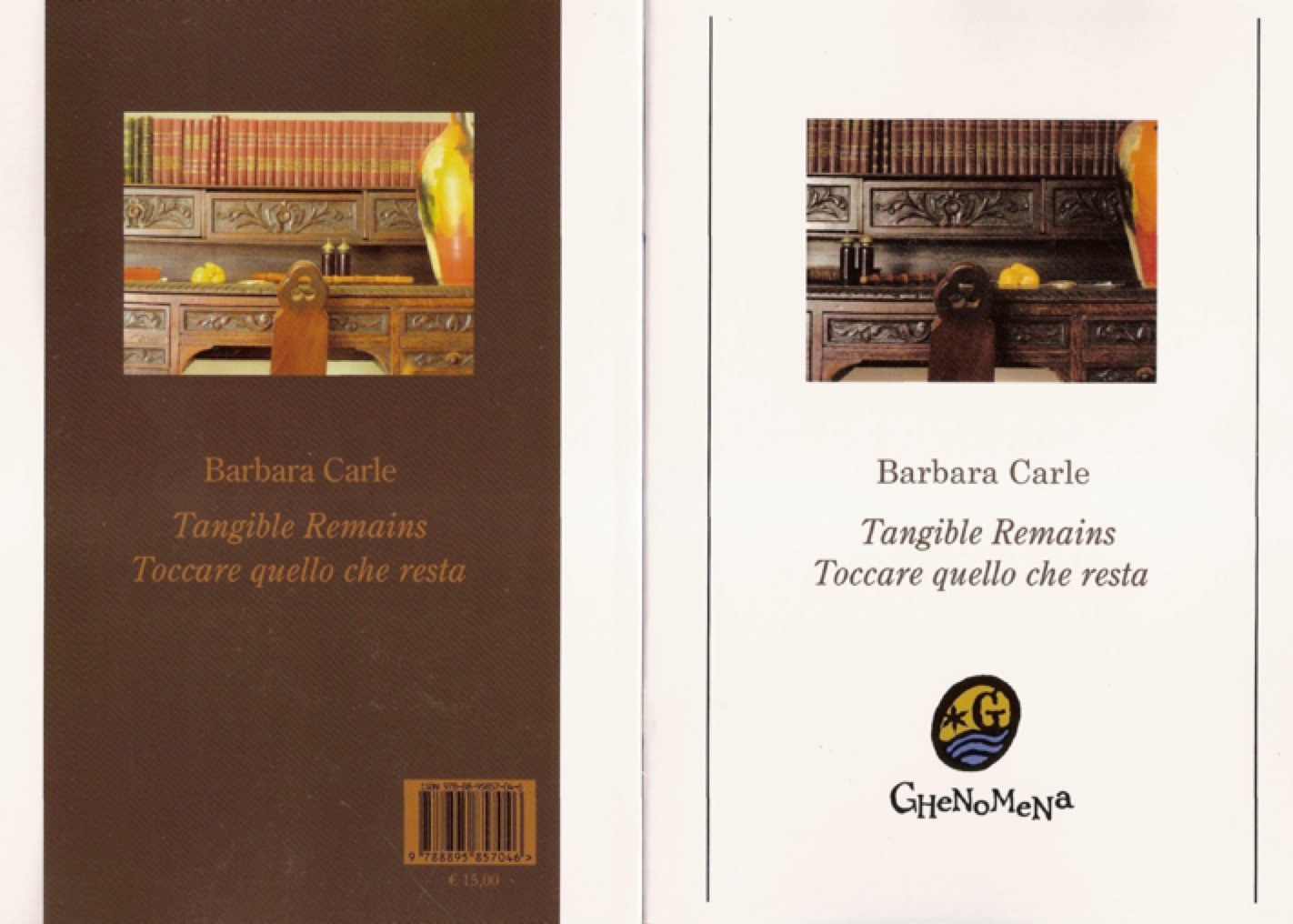 (To read reviews of this book click here)
(Per leggere recensioni di questo libro cliccare qui)
For orders or more information on this book please visit the link below:
Front Cover of Don't Waste My Beauty, Caramanica, 2006.
In November of 2000 Carle won the Premio Nazionale Frascati (Sezione Straniera, Italo Alighiero Chiusano) for the Translation into Italian and Publication in Italy of Don't Waste My Beauty, translated into Italian by the author with Antonella ANEDDA.
Back and Front Covers of NEW LIFE, available from GRADIVA PUBLICATIONS
A brief selection of previously published poems
 Aria
Per essere me devi ispirare
diventare aria, un soffio
di leggerezza, espirare
ogni abito, inventare l'anima
dell'etere respirare ogni nota
in cima al ventoso lauro
vibrare il chiarore dell'aura
aprire le ali del tuo slancio
in una volta aerea di azzurro
scintillare con la schiuma
dell'onda tremare con le foglie
nella brezza del buio aspirare
il sale del mare all'alba scomparire
per nascere lampo del mio alito
Da: Le strade della poesia Poesie dell'aria Catalogo a cura di Domenico Cipriano
 Delta 3 Edizioni, 2013, p. 74.
 *   *   * 
 Il giardino vero 
La mia anima ha un giardino vero
di fiori d'arancio e di gelsomino
di limone di lavanda e pero
d'olivo d'alloro e rosmarino
d'uva fragola di mora e mistero
di rosa gardenia e ciclamino
di salice tiglio cipresso altero
di ginestra mughetto biancospino
delle terrestri sovrane dell'aria
tre sequoie matrone vertiginose
dell'eucalipto aulente della palma
melodiosa docile originaria
dell'infanzia essenze armoniose.
Una veemente oasi di calma.
Da: Arenaria ragguagli di letteratura 5 a cura di Lucio Zinna, 2011, p. 61.
 *    *    *
During my Bengali adolescence
I learned karaits were deadly four inch snakes
whose forked tongues distinguished them from worms.
Brown, moist, they clustered soil like pubescence
and swarmed tangled, glistening near the lake
where they would crumble the humus and churn.
American adolescence did twist
my remembrance of kraits into depths
of Bengal which gnawingly fed on me.
They darted in me with their dank mist,
they slithered through my fluent eyes
and leapt in a mirror that flashed them back at me.
Durante la mia adolescenza nel Bengala
imparai che i karaits erano serpenti dal veleno mortale
lunghi quattro pollici, le lingue forcute li distinguevano dai vermi.
Bruni, umidi, a mucchi brulicavano a terra come una pubescenza
splendevano accanto al lago in un formicolio sbriciolavano humus.
L'adolescenza americana volse la mia memoria dei kraits
in quel profondo con cui il Bengala
si nutrì di me rodendo.
Si scagliarono in me con la loro umida nebbia
scivolarono in me lungo il flusso degli occhi
balzarono nello specchio per ritrovarmi in un baleno.
--Previously in Chelsea,  72, 2002, now in Don't Waste My Beauty
*    *    *



1
Lime green skin contains bright meat;
acidulously sweet when cut with salt
and machete.
Tangy darts hammer the palate.
Bitter honey secretions in mouth.
Adolescent fruit whose juice
leaves fingers sticky.

2

Battered cart filled with green fruit.
Sandals molded to brown feet.
Unkept toenails.
Worn straw hat, old baggy pants.
Pale loose shirt, dark weathered face.
Toothless smile, beneath black moustache.
Little bag of salt.
Calloused labored hands.
Machete.


From Poet, Vol. 5, No. 2, Fall/Winter 1993/94.
Now in Tangible Remains/Toccare quello che resta, Ghenomena Edizioni, 2009.
*   *   *
1
La pelle da cedro contiene carne compatta
dolcemente acidula quando viene tagliata
col machete e un poco di sale.
Frecce piccanti martellano il palato.
Secrezioni di miele nella bocca.
Il succo del frutto adolescentesi appiccica alle dita.
2
Una carretta consunta riempita di frutta verde.
I sandali plasmati dai piedi marrone.
Le unghie trascurate.
Logorato cappello di paglia,
vecchi pantaloni larghi.
Ampia camicia pallida,
scuro volto patinato.
Sorriso sdentato sotto i baffi neri.
Sacchetto di sale.
Mani callose.
Machete.
Da: Tangible Remains/Toccare quello che resta, Ghenomena Edizioni, 2009.

   *   *   *
   Scarf


Fibrous delicacy slides through the fingers,
silkily enfolds the body blending the substance
of its allure to infinite ends.
Imperceptibly slips through the hands,
deliciously rips when tugged,
fits anywhere like a caress,
moves suavely like a long blue tress of sky.


 Sciarpa
Una fibrosa delicatezza scivola tra le dita,
avvolge il corpo di seta
mentre armonizza fini infiniti
nella sostanza del suo fascino.
Sfila impercettibilmente fra le mani,
si strappa deliziosamente quando è tirata
sa adattarsi a tutto come una carezza,
si muove come una lunga treccia azzurra di cielo.


Tangible Remains/Toccare quello che resta, Ghenomena Edizioni, 2009.
*    *    *

  Theft
The grievous kindling of my battered heart
reminds me of thieves who forced the chasm
fingered my underclothes, raped me in absentia
stole my antique rose of light in a spasm
of greed and voracious dementia.

These painful stirrings remind me
of your beloved face sallowed by death
transformed into a hideous corpse,
your mouth stuck open in its final retort,
the beauty of your person maimed and warped
by a gaping cry of infinite remorse.

These murky stirrings remind me
of your surrender to the ultimate theft
when your breathing slowed and you wheezed,
and somehow expired leaving us bereft.

These stirrings of my battered heart remind me
of your skeletal body's bloodless mouth,
and the Auschwitz photo of traumatic depth
where cadavers piled industrial mounds--
at the evil factory of mortal theft.

Now, the unspeakable rests on your dead face,
and I am left with grievous stirrings of space.

  Furto
Il doloroso incendiarsi del mio cuore battuto
mi rammenta i ladri che forzarono il baratro,
mi violentarono in absentia,
toccarono con le dita la mia biancheria intima
rubarono la mia antica rosa di luce in uno spasimo
di avidità e di vorace demenza.

Questo dolente tumulto mi richiama
il tuo amato volto ingiallito dalla morte
trasformato in orrendo cadavere
la bocca rimasta aperta nella smorfia finale
la bellezza della tua persona storpiata e guastata
da uno spalancato grido d'infinito rimpianto.

Questo torbido tumulto mi rammenta
la tua resa al massimo furto
quando il tuo respiro rallentava e ansavi
ed in qualche modo spirasti e rimanemmo spogli.

Questo tumulto del mio cuore battuto mi richiama
l'esangue bocca del tuo scheletrico corpo
e la traumatica profondità della fotografia di Auschwitz
nella quale i cadaveri salivano in tumuli industriali --
all'infame fabbrica del mortale furto.

Ora l'indicibile risposa sul tuo volto morto
ed io mi ritrovo in un dolente tumulto di spazio.
Da: HEBENON (Torino)  Anno XII Terza serie n. 9 Novembre 2007, pp. 40-41.
*    *    *