General Characteristics
Just north of the United States, Canada has a population of 31,946,316 people and its total area is about 3,849,674 square miles. In addition, the current unemployment rate of Canada is at 7.1% (as of September 2004). Canada is divided into 10 provinces and 3 territories which includes: Alberta, British Columbia, Manitoba, New Brunswick, Newfoundland and Labrador, Northwest Territories, Nova Scotia, Nunavut, Ontario, Prince Edward Island, Quebec, Saskatchewan, Yukon Territory. The total birth rate is 10.91 births per 1,000 of population and the death rate is 7.67 deaths per 1,000 of population. Also, the life expectancy is 76.59 years for males and 83.5 years for females.




Retirement
The government of Canada offers a retirement income system which is the Old Age Security program. This program started in 1952 and is financed by the Government of Canada general tax revenues. Under the Old Age Security program, there is the basic Old Age Security Program, the Guaranteed Income Supplement, and the Allowance. The Old Age Security program is the largest public pension plan in Canada. With this program, most people can start receiving a monthly pension at the age of 65. With the Guaranteed Income Supplement (GIS), an additional monthly benefit will be given to low income OAS people. Lastly, the Allowance pays a monthly benefit to low income people between the ages of 60 and 64. This is only available to the spouses of OAS pensioners and survivors until they reach the age of 65. The following is a chart of the most recent payment rates under the Old Age Security program.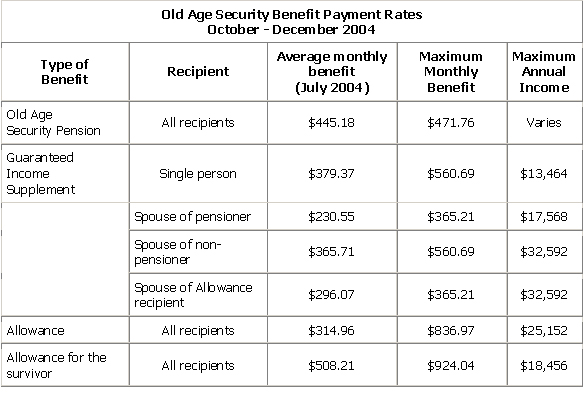 Besides the Old Age Security program, there is the Canada Pension Plan (CPP). Under this plan, a monthly retirement pension would be paid to people who have worked any age above 18 and have contributed to the CPP. With the CPP, a person would generally get 25% of the earning that they contributed into the program. Canadians can start receiving this pension as early as 60 and as late as 70. However, 65 is the normal age where there won't be any penalties.
There are also employment pension plans in which formally called the Registered Pension Plans. These plans are set up by employers and employees can either choose from a defined benefit plan or a defined contribution plan.


Current Issue of Canada's Retirement System
Like many parts of the world, Canada is also facing the problem that the baby boomers are reaching the retirement age. Most of them are above the age of 50. Because of this problem, many people are trying to have an early retirement so they can get part of the money, if the government really runs out. A reason why they believe there won't be enough money for retirement is that there seems to be only two groups of people. The first group, are being that are starting to retire, and a younger group that is not paying into the retirement plan yet. There seems to be a limited number middle age people that are actually working and contributing to the retirement plan.


Recommendation
No countries have found a way to solve this problem yet. However, people do suggest that people that want to retire with enough money should start their own retirement plan. That means people should start investing today before it's too late. Another suggestion is to help one's retirement plan is to consider one's lifestyle. A lot of people want to retire, relax and just enjoy life to the full extent. Since this is not really possible by the way the system is going, people should try to save more money by lowing their expectations and know what is a need and what is a want. There is no easy way to solve this retirement issue.




Health Care
In 1984, Parliament passed the Canada Health Act (CHA) which "affirms the federal government's commitment to a universal, accessible, comprehensive, portable, and publicly administered health insurance system." Under this act, all eligible residents would have access to medical insured services on a prepaid basis. Meaning, there can no longer be hospital user charges and extra-billing by physicians. Today, the primary objective of Canadian health care policy is "…to protect, promote, and restore the physical and mental well-being of residents of Canada and to facilitate reasonable access to health services without financial or other barriers."
The Canada Health Act (CHA) is a federal funded national health insurance program. With this program, all residents of Canada have reasonable access to medical needs. Under the Canada Health Act, provinces and territories have to meet five criteria and two conditions in order to qualify for their full share of federal transfers


Five Criteria
1) Public administration: the administration of the health care insurance plan of a province or territory must be carried out on a non-profit basis by a public authority.


2) Comprehensiveness: all medically necessary services provided by hospitals and doctors must be insured.


3) Universality: all insured persons in the province or territory must be entitled to public health insurance coverage on uniform terms and conditions.


4) Portability: coverage for insured services must be maintained when an insured person moves or travels within Canada or travels outside the country.


5) Accessibility: reasonable access by insured persons to medically necessary hospital and physician services must be unimpeded by financial or other barriers.



Two Conditions




1) Information: the provincial and territorial governments are to provide information to the Minister of Health as may be reasonably required, in relation to insured health care services and extended health care services, for the purposes of the Canada Health Act.


2) Recognition: the provincial and territorial governments are to recognize appropriately the federal financial contributions toward both insured and extended health care services



Current Issue of Great Canada's Health care System

In an article, "Current Issues in Addiction and Mental Health," the author has reported that 20 percent of the general population, each year, is suffering from a mental illness or addiction. In addition, 10 to 15% of Canadian in some point of their lives will experience clinical depression. Statistically, one out of eight Canadians will be hospitalized for mental illness at least once in their life time. In 1998, more than 8 billion dollars were lost due to workers being on disability (which led to lost in productivity) and premature deaths. Not only does it cost to treat mental health and addiction problem, the lost in productivity has made this problem one of the most costly health care problems in Canada. In reaction to this problem, the government of Canada created special programs that deal directly with mental health. Here's a link that provides information on mental health (Click for more information).

Another issue in Canada health care system is long waiting period in which patient have to wait between referrals from a general practitioner prior to treatment. On the 13th annual waiting-list survey, it shows that the average waiting period in 2001 to 2002 was 16.5 weeks. In 2003, that number has rose to 17.7 weeks for waiting period. Ontario holds the shortest waiting period at an average of 14 weeks, while Saskatchewan holds the longest waiting period at and average of 30 weeks. Because of this long waiting period, in some cases, patient actually dies waiting. A reason for this long waiting period to occur might be the fact that doctors are leaving Canada. In 2003, a report was written and found that about 10,000 doctors have left Canada during the 1990s.

Before 2003, some patients, rather than staying on the waiting list, have sought out private treatment. However, the British Columbia government enacted Bill 82. Bill 82 was an amendment to strengthen legislation and protect patients from inadvertent billing errors. However, Bill 82 disallowed everyone from paying the clinical fees for private surgery. The fine for accepting these fees or allowing it to happen would be $20,000. Overall, Bill 82 makes opting out of the Canadian health care system and paying for your own surgery illegal.



Recommendation

The government of Canada is trying to hire more doctors to solve this issue, but it might take a while before people see any effect of that. It seems that people have no choice as to choosing their own health care services in Canada and that may be the reason why doctors have left Canada. There seems to be too much government regulation. If doctors do not want to work in Canada, the government of Canada should reconsider their amount of regulation in the health care system.




Links
Centre for Addiction and Mental Health [http://www.camh.net/]
Government of Canada [http://www.sdc.gc.ca]
Health Canada [http://www.hc-sc.gc.ca/ ]


SciELO[http://www.scielosp.org/scielo.php?script=sci_arttext&pid=S0036-36341998000300009&lng=pt&nrm&tlng=en]
The World Factbook [http://www.cia.gov/cia/publications/factbook/geos/ca.html.]





[Home][Great Britain][Canada][Germany][Japan]