STAFF SPOTLIGHT - Joey MARTINEZ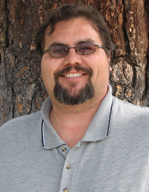 Every issue of the FOCUS Newsletter spotlights an ABA staff member whose work deserves mention. This edition features Joey Martinez, the University Recycling Coordinator, Facilities Services.

How long have you been with Sac State?
Coming up on nine years now. I started in 2003 as a student assistant with what was then commonly referred to as the Moving and Recycling Department.

What is your job title?
I am the Recycling Coordinator here at Sac State.

When did you receive this job title?
Just recently - actually April 2012. Before that I was with the Moving Department.

What are some of the unique aspects of your job?
Since 'Recycling' is an ever evolving venture, I get the opportunity to become both a student and teacher of the new and evolving processes. I get the chance to learn about the latest recycling news, and then reinterpret that into a viable campus program where I can help educate the campus community.

What are some examples of your daily duties?
Auditing current recycling programs on campus to make sure that the results are not only meeting the contractual obligations of said program, but also to spot for areas of improvement in Sac State's recycling efforts. A portion of my day allows me to be out and about on campus to make sure things are going well. I spend time with customers answering recycling questions and arranging recycling opportunities. I am the editor for our Facilities Services newsletter, The Pipeline, so I also busy myself with promoting some of the great work being done by our staff.

Who are your primary customers?
Everyone on campus is my customer whether they realize it or not. Everyone on this campus—staff, student and faculty alike—produces waste of some kind. It's my job to manage recyclable aspects of those waste streams and hopefully divert as much as possible of it from the landfill.


What are your biggest, yet most rewarding challenges?
Because everyone knows they're supposed to recycle, it's become an everyday ordinary practice—which is good in one respect! It's my job to not only manage the recycling programs, but to try to publicize it in a manner that keeps it ever fresh and prominent in peoples' minds. It's great that it's a daily practice—we just don't want it to become"just" an everyday practice.

What do you like best about your job?
The sheer amount of people with whom I come into contact on any given day! Recycling is something that occurs throughout the entire campus and, because of that, I find myself meeting many different members of the campus community. It keeps things fresh, and I continue to learn more about the people of Sac State.

What is your favorite aspect of working on campus?
Because the campus exists to foster the education of so many minds, there's always a certain palpable energy in the students and faculty, as well as the staff. That energy can breed passion, and that's a wonderful thing to witness. I hope to be able to direct some of that passion into recycling by working with both students and staff alike.

Why and how would someone contact you?
Anyone who has any kind of question about a recycling program here on campus should give me a call at 278-5801 or email me at jmartinez@csus.edu. Currently we recycle e-waste, metals, green waste, tires, paper, cardboard, toner and ink cartridges, wood, old furniture, bottles and cans, and are working on plans to expand into others arenas of recycling very soon. I can assist in answering questions on any of those programs. Other reasons someone might contact me would be to inquire about arrangements for the shredding of confidential files or for special office purges. Our recycling programs are free to much of the campus community (for campus-generated waste), so please feel free to contact me before tossing something into the garbage.