Water on Campus
Drinking fountains on campus that have been tested for lead have this label. Using a QR Code reader on your phone, you can instantly find out the test result for that exact fountain.
Sample label placed on water fountains through out Sacramento State.
Sample results from QR/Bar Code Reader app on a Smart Phone.
Summary of Lead in Water Testing
These graphs summarize the test results for 799 drinking water sources on campus that have been tested for Lead.
Over 65% of drinking water sources are below 1.0 part per billion and 94% of sources are below 5.0 parts per billion.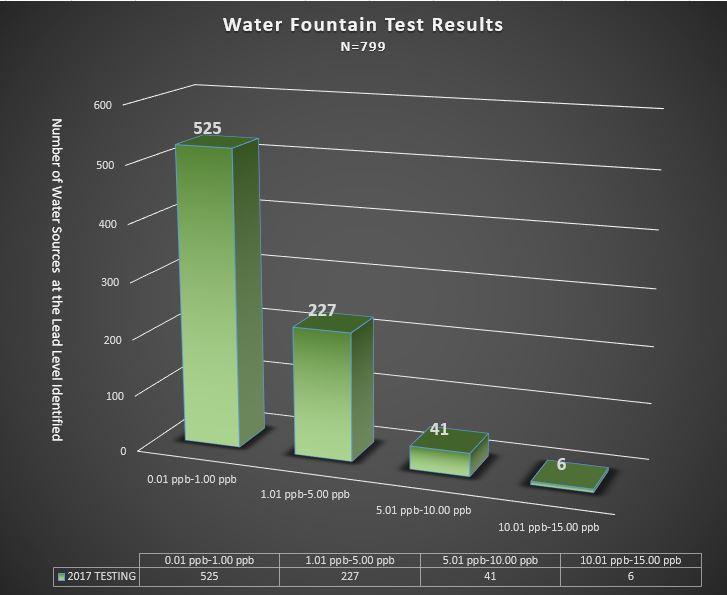 Sacramento State Water Fountain Database
Drinking fountains on campus have been tested for lead. This database summarizes the testing. Testing is ongoing and the database will be continuously updated as new data are collected. The data are organized by building. For each building, each fountain is listed, along with the date of testing and the test result.

The test result number shown is in Parts Per Billion (ppb). The US Environmental Protection Agency (EPA) lists 15 ppb as the "Action Level." All fountains on campus labeled by Risk Management Services have been tested and are below this action level.

Your personal risk is affected by a variety of factors.  For further information about lead in food and water see the following links for US EPA, US Center for Disease Control (CDC) and US Food and Drug Administration (FDA).
"From River to Tap, How We Ger Our Drinking Water (in Sacramento)"
Building Listed By Abbreviations
RESIDENCE HALLS