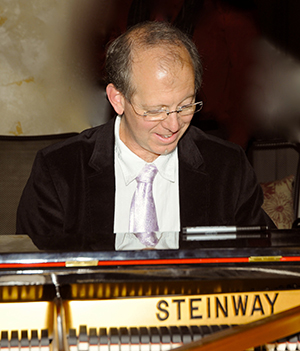 Contact Information
Name: Richard Cionco
Title: Professor of Music/Coordinator of Keyboard Studies
Office Location: Capistrano 423
Email: rcionco@csus.edu
Office Phone: (916) 278-7983
Education : MM, Juilliard
Courses Taught : Applied Music - Piano (classical), Chamber Music, Vocal Accompanying, Piano Pedagogy
Profile
Pianist Richard Cionco – praised by Donal Henahan of the New York Times for his "sensitive pianism" – first performed as soloist with orchestra at age nine, and has since performed with many orchestras including the Phoenix Symphony Orchestra and Chamber Orchestra, and with the Seijo Symphony of Tokyo in a Washington, D.C. concert that commemorated Japan's admission to the United Nations.  He has also performed with the Annapolis Symphony Orchestra, the Las Cruces Symphony (NM), the Camellia Symphony (CA), the Folsom Symphony (CA), the Auburn Symphony (CA), the Saratoga Symphony (CA), with orchestras in Oakland and San Diego, and has been featured with the Lawton Philharmonic in Oklahoma as a winner in the Louise D. McMahon International Music Competition.  In Europe, he has performed concerti with the Czech State Chamber Orchestra, and in Prague's Smetana Hall with the North Bohemian Philharmonic Orchestra as a winner in the Prague Spring International Music Competition. In 1996 he performed Rachmaninov's Piano Concerto No. 3 seven times on tour in Japan and Taiwan with the California Youth Symphony; the performance in Osaka was broadcast on Japan Television and has been released as a live and unedited compact disc. 
He has performed in recital in nearly every major U.S. city and his performances of Liszt's complete 12 Transcendental Etudes have brought him rave reviews.  Ed Roberts of the Washington Post wrote: "I have rarely heard as fine a piano recital as the one Richard Cionco gave on Sunday.  The program (Liszt Etudes) was difficult and unusual.  Cionco's virtuosity was impressive and he drew beautifully varied tone colors from the instrument." Another Washington Post review acknowledged "Richard Cionco is not just a terrific pianist.  He is that rarest of artists: a champion of twentieth century music.  Throughout his recital at the Phillips Collection Sunday, his coloristic sense and attention to structural clarity rendered even the thorniest of recent works accessible.  Most impressive was Cionco's work in the recital's centerpiece, Sebastian Currier's Piano Sonata."  Mr. Cionco has traveled three times to Denmark, performing in recital and master class; the Danish press called his most recent performance "dazzling"  (Fredericia Dagblad).
A Steinway Artist, Mr. Cionco graduated from the University of Maryland and The Juilliard School, and his major teachers include Rudolf Firkusny, Thomas Schumacher, and Audrey Bart Brown.  He studied chamber music at Juilliard under Albert Fuller.  A scholarship and fellowship recipient at Juilliard, he was also awarded the Carl M. Roeder Memorial Prize in Piano and upon graduation, the Helen Fay Prize, for exceptional achievement and character.  A winner of many competitions, he is also a recipient of a Solo Recitalists Fellowship from the National Endowment for the Arts and a career grant from the Bagby Foundation for the Musical Arts in New York City.
Important performances include those at New York's Carnegie Recital Hall and Carnegie's Isaac Stern Auditorium, Alice Tully Hall at Lincoln Center, Merkin Concert Hall and Steinway Hall, as well as The Phillips Collection in Washington, D.C. and the Chicago Cultural Center.  He has also been heard on public television and radio broadcasts such as National Public Radio, Czech National Radio, Danish Radio, and Capitol Public Radio in Northern California.  While living in New York, he was a frequent guest on the well-known WQXR live radio show "From the Listening Room ".  An enthusiastic promoter of new music, he performs annually at the Festival of New American Music in Sacramento, with several premieres to his credit.  As chamber musician, his many appearances include Lincoln Center's FOCUS! Festival, Music Now in California, and two performances at the Mozart Bicentennial Celebration at Lincoln Center.  He has been a guest artist of the Washington Chamber Society, the Sacramento Chamber Music Society, and at the American Liszt Society Festival in Dallas, as well as at dozens of universities.  He toured the U.S. as a founding member of the Juilliard Connection, which was a unique group of four pianists that gave 25 free concerts in 28 days in 12 cities; the tour was sponsored by The Juilliard School, Steinway & Sons, and the Presser Foundation.  While living in New York, he performed sixteen recitals in New York and New Jersey as touring pianist for Lincoln Center Institute. 
Mr. Cionco was a Teaching Fellow for David Dubal at The Juilliard School for four years and is presently full Professor of Piano at California State University, Sacramento, where he joined the faculty in 1993.  His students have won prizes in many national and international competitions and have performed concertos with orchestra on many occasions.
Recent appearances include those at the University of Alberta in Edmonton, University of Alaska, Western Washington University, Memphis State, New Mexico State, Kent State, Florida State, San Jose State, San Francisco State, the Chicago College of the Performing Arts (master class), the University of Nevada Las Vegas, Stetson University, University of South Florida, Tulane University, CSU Northridge, and in Santa Clara, CA at the 2005 State Convention of the Music Teachers' Association.  Other projects include two short films by Anders Østerballe and recordings of music by Daniel Kingman for Innova, music by Sunny Knable for Centaur Records, and music by Alec Wilder and Gabriel Faure for Cantilena Records.  His solo CDs, Latin American Music for Solo Piano and Beethoven's Late Piano Music on Centaur Records have received rave reviews, notably from the American Record Guide.  He teaches and performs each summer at the Orfeo International Music Festival located in the Italian Alps, for five years has performed at the Samsø Piano Festival in Denmark and formerly at the Sulzbach-Rosenberg International Music Festival in Germany.  During the summers of 2008 and 2009 he performed and gave master classes in China.  In 2009, 2012 and 2015 he adjudicated at the Hong Kong Schools Music Festival, and has given master classes at the Hong Kong Academy of Performing Arts, and in Tsuen Wan and Kowloon, and a solo recital in Tuen Mun.  In 2010 he was chosen by Steinway to record at Skywalker Studios for the digitizing of the Steinway sound.  Mr. Cionco's original compositions and arrangements have been performed in Italy, Germany, Switzerland, Brazil, and the U.S.  
Mr. Cionco can be heard on the following albums: