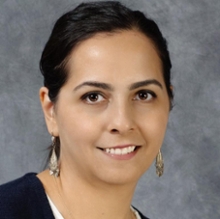 Contact Information
Name: Atousa Yazdani
Title: Associate Professor
Office Location: 5013 Riverside Building
Email: atousa.yazdani@csus.edu
Office Phone: 916-278-4964
Mailing Address: Sacramento State 6000 J Street Sacramento, CA 95819-6043
Office Hours: Tue 10:30am - 11:30 Thur 10:30 - 11:30 Or by appointment
Where to find me : RVR 5013
Courses:
EEE 130: Electromechanical Conversion
EEE 144: Electric Power Distribution
EEE 137:

Applications of Power Electronics in Power Systems

EEE 252: Power System Reliability and Planning

EEE 259: Transients in Power Systems
Research Projects/Interests
Dr. Atousa Yazdani, has many years of industry experience in design, modeling and analysis of power systems. Her main reseach interest is in the application of power electronic apparatus in power systems, dynamic system analysis and testing of power systems with the inclusion of novel technologies. She has received her PhD from Missouri University of Science and Technology in 2009. She has received her MSc and BSc in Tehran Polytechnics (2001) and Tehran University (1997), respectively.
Dr. Yazdani has been involved with several consulting projects both in USA and abroad. She has been instrumental in several utility scaled projects such as integration of renewable energy, and implementation of stability algorithms utilizing synchrophasors data. 
Professional Associations
Senior member of IEEE
IEEE Women in Engineering
IEEE Sacramento Valley PES Chair
The library quad
Guy West Bridge
Mariposa Hall
University Union