Hornet Kings: Sac State alums take their gifts to the biggest game in town
April 06, 2021
Jason Wise '10 (Communications) grew up in Redding and chose Sac State for his undergraduate studies to be near his beloved Sacramento Kings. His dream from childhood was to work for the NBA team.
In 2006, Wise went from being simply a fan in the stands to a Kings employee, starting out as an unpaid intern while still attending school. He now manages day-to-day operations of the team's digital channels and video productions.
He is among 11 Sacramento State alumni employed by the Kings, giving the team a distinctly "Made At Sac State" feel.
Mary Kober, senior employee relations and workforce analyst for Sac State's Career Center, called the Kings a "close partner" that has worked with the University for many years.
"They offer a robust internship program in a variety of operational areas, and each year, Sacramento State students are chosen for these internships," Kober said.
The result of that collaboration has been that many Sac State grads have enjoyed successful careers with the Kings.
"It is awesome that so many Hornets work here," said security manager Kayla Hicks '15 (Criminal Justice). "We may have different degrees, but (we) share many of the same experiences."
Hicks works to ensure the safety of basketball fans, event attendees, and Kings employees at Golden 1 Center, Sacramento's premier large-event venue. She took a different career path than most Criminal Justice majors, who often go into law enforcement or become lawyers.
She came into the Kings organization as a chat moderator and then became an inside-sales ticket representative before moving into security.
"The education I received at Sac State is one that I use on a regular basis," Hicks said. "I work with our law enforcement partners, and we assess security threats and are aware of international, national, or local events that may have an impact on us. I look at risk assessments from a different perspective than some people because of what I learned at Sac State."
Jessica Ravetti, a former Sac State softball player who graduated in 2017 with a degree in Kinesiology, also veered from her original career goal. Her job with the Kings is account manager for Member Services.
"When I started at Sac State, I wanted to be a physical therapist," she said, "but after learning about kinesiology and sports, I became intrigued with what happens behind the curtains at a sports game. I knew that working for a professional team was my end goal, and the fact that it happened right out of college was amazing."
Ravetti said she feels that the dedication it took for her to be an NCAA Division I student-athlete prepared her for working with season ticket-holders. She makes sure that they take advantage of member benefits and, of course, renew their seats for the following season.
"It's always fun when I get to work with someone who also went to Sac State," Ravetti said. "I love giving the 'Stingers Up!' sign."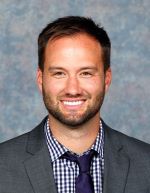 A 2005 graduate with a degree in Media Communications, Scott Freshour, is master of ceremonies for Kings home games. He is known for always putting on a show, even when Golden 1 Center is devoid of fans because of COVID-19.
"Who's ready for some Kings basketball, bay-beeee?" he hollered from mid-court before a recent game. "Right now, I need all the cardboard cutouts up on their feet! Stand on up, and let's get this party started in Sac Town! You are here at Golden 1 Center. Drink it in, man!"
Freshour began his Kings career in 2005 as an intern in the Game Entertainment department, work that ultimately led to his ongoing stint behind the mic.
Longtime Kings fans will remember when the previous owners, the Maloof family, decided to sell the team in a deal that would have sent the franchise to Seattle in 2013. The NBA board of governors, led by then-Commissioner David Stern, rejected the relocation bid, citing plans for building Golden 1 Center, which opened in 2016, and the team's strong fan base in Northern California. The Kings have called Sacramento home since 1985.
"I grew up in Sacramento, and I truly 'Bleed Purple,' " said Matt Johnson, who graduated from Sac State in 2010 with a degree in Business Administration and a focus on Accounting. He manages Inside Sales and Sales Enablement for the Kings.
"I started this role to help keep the Kings in Sacramento, and I continue to ensure that future generations will have a hometown NBA franchise to root for," he said.
Johnson, who has been with the team for 10 years, credits Sac State with preparing him for his dream job.
"Sacramento State constantly challenged me to try new and different things, and made me willing to give a career in sales a try. I will always be indebted to Sacramento State for that extra challenge," he said, noting the good memories associated with his Sac State experience, especially walks through the tree-filled campus.
"But my favorite part will always be the relationships I developed and have maintained to this very day."
Penny Chatzis '04 (Government) took classes at Sac State during her senior year at nearby St. Francis High School and had earned nine units by the time she started college in 1998.
"The campus is beautiful, and the school offers a wonderful learning environment," she said. "College was a long time ago for me, but in reflection, I think it prepared me for my professional career in important ways: It developed my ability to learn, heightened my sense of curiosity, and enhanced my social skills and emotional intelligence."
Today, Chatzis is executive assistant to Kings General Manager Monte McNair and oversees Player Services and Player Relations.
"I am responsible for onboarding players and welcoming them and their families to our incredible city," she said. "I enjoy taking care of them and making sure they feel that Sacramento is their home."
One of the team's highest-ranking executives is Maritza Davis '07 (Communications/Public Relations), who serves as vice president for Experiences and Social Responsibility.
"Basketball culture is a global influence that is not only a sport but spans fashion, activism, and art," she said. "I love working for the Kings because I can take on many of the areas I'm passionate about as part of a team and a league that unapologetically use their platform for good."
Before joining the Kings in 2018, Davis co-founded the marketing and events agency Unseen Heroes with her husband and fellow Sac State alum, Roshaun Davis. They were responsible for such large public events as GATHER: Oak Park, and the Midtown Farmers Market.
"Sac State does an amazing job in preparing students to become professionals," Davis said. "In my career, the education and guidance I experienced at Sac State has shown up in so many ways and continues to do so.
"From the professors who championed us as students and challenged us with real-life experiences we would face in our careers, to the network of peers I met while attending school, to the resources and support provided after, I am very proud to be a Sac State graduate. Go Hornets. Stingers Up."
***
Sac State alumni with the Sacramento Kings
In alphabetical order
Penny Chatzis '04 (Government): executive assistant to Kings general manager; administrator, Player Services and Relations
Maritza Davis '07 (Communications/Public Relations): vice president, Experiences and Social Responsibility
Scott Freshour '05 (Media Communications): home games master of ceremonies
Mike Herrera '97 (Business Administration: Accounting): senior director, Business Development
Kayla Hicks '15 (Criminal Justice): Security manager
Matt Johnson '10 (Business Administration: Accounting): manager, Inside Sales and Sales Enablement
Deuce Mason '12 (Journalism): Radio manager and on-air talent
Jessica Ravetti '17 (Kinesiology): account manager, Member Services
Alexander Sigua '06 (Communication Studies/Public Relations): director, Media Relations
Jake Soriano '19 (Cinematography and Film/Video Production): video producer
Jason Wise '10 (Communications): director, Digital and Content