Writer and comic store owner Brent Trayce Sands gives Sacramento a hometown hero
February 03, 2023
Brent Trayce Sands '10 (Digital Media) can't draw. But he definitely is sketching out a major role for himself in the world of comic books.
It was in 2018 that Sands thought up the idea for a Sacramento-based superhero. Two years later, Sands' creation, Anthony "Impound" Endsley, debuted as Sacramento's first superhero in the inaugural comic book from Sands' new company, Impound Comics.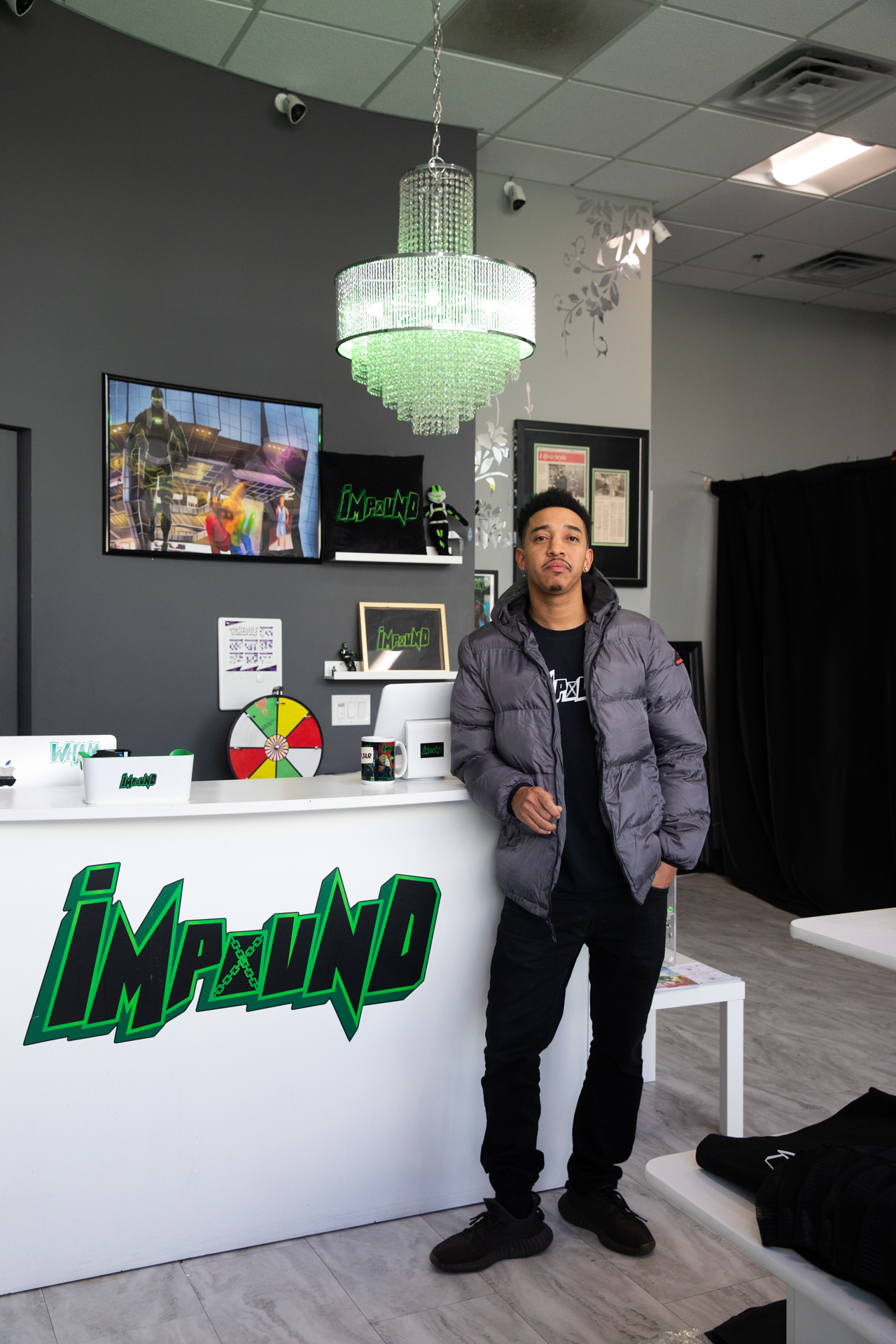 Today, Impound and his various friends, associates, and nemeses have been featured in more than a dozen comic books written by Sands and drawn by a team of illustrators. The company sells issues and merchandise out of its downtown store, and also produces video games and documentaries.
It's not a career Sands ever envisioned for himself. He credits Sacramento State with providing the marketing, networking, and – through his degree – storytelling skills necessary to make Impound Comics a success.
"It indirectly helped me, or shaped me, into what became Impound Comics," he said. "I would have never predicted that, I'll tell you that, and I would have never got here if it wasn't for going to college."
Growing up in Sacramento, Sands liked superheroes – the Incredible Hulk was among his favorites – but his entry points were movies and video games, not comic books.
At Natomas High School, he made short films as part of the school's TV club. When he enrolled at Sac State in 2006, he realized film was something he could major in. On the side, he wrote movie scripts and a pair of novels.
"Writing itself was always something I just did on my own. I wasn't really trying to get any professional training outside of writing essays in school, things like that," Sands said. "Later in life, I realized that was the only thing I was doing without money involved. So that was probably what I should be taking seriously."
In his film classes, Sands honed the skills he would later use to create the stories about Impound – "Comic book writing and movie script writing is the same concept" he says – and he credited one Communications Studies professor in particular for whipping his writing into shape.
"Jenny Stark was very knowledgeable, yet brutal on how she would criticize your work," Sands recalled. "I'm definitely more of a perfectionist after going through that helpful brutality."
That "brutality," he realized, had a purpose: "She was preparing us for what the professional world would demand from us."
In addition to his classes, Sands became involved in event planning on campus, learning marketing and networking skills that would prove essential to launching and promoting his own company.
Story continues below the video.
After graduating, he worked at Sacramento television station FOX40 and for a music label in Los Angeles. When, however, in 2018 he conceived the character of Impound – initially for a movie script – his career took a turn, and took off.
The character – who works for a towing company, hence, the nickname "Impound" – is a "melting pot of my favorite things," Sands said. He's a mixed martial arts fighter, a nod to what Sands called an "underappreciated MMA culture" in Sacramento. He was inspired by the film Black Panther, directed by Sacramento State alum Ryan Coogler. The character Butch Coolidge, the boxer from the movie Pulp Fiction played by Bruce Willis, provided another inspiration.
"I did later on realize calling him Sacramento's first superhero would be something that the city would gravitate to." -- Brent Trayce Sands, creator of Impound Comics
Impound's last name, Endsley, comes from Sands' grandmother, while his appearance comes from Sands himself. From there, it was a no-brainer to set the comic series in Sacramento.
"He already looks like me. Why wouldn't I do that? That was it. I didn't think too far on that particular part," Sands said. "I did later on realize calling him Sacramento's first superhero would be something that the city would gravitate to."
That it did. In November 2021, one year after Impound's debut and just three months after Sands opened his store in Sacramento's Downtown Commons (DOCO), the Sacramento Kings, DOCO, and Golden 1 Center launched "Impound Day." In 2022, Sands was recognized as one of the region's top young professionals.
For Sands, adding a brick-and-mortar store was an important component of his branching out beyond comic books. That expansion is similar to previous moves by media juggernauts Marvel and DC Comics, whose characters are in films, video games, and more.
Impound Comics has released "Impound Vengeance," a video game for mobile devices, and is working on a trading card game and documentary about the rise of minorities in the comic book world.
The company also released a conceptual trailer for – and is raising funds to make – a movie based on Impound, bringing the project full circle from its initial concept and back to Sands' original love of film.
As Sands continues developing the story of Impound, he has one guiding principle: He writes what he wants, regardless of what anyone else thinks.
"I try to just make different characters for different people," he said. "I know that no one's going to like all the stories. It's not possible. So, I just try to keep as many different types of people in mind when I'm writing characters.
"I don't bend them for what people think it should be. I write the characters in the story how I would like it, and then I just hope it's well received. And, fortunately, it has been."