When Art Is Our Connection to Something Greater
The College of Arts and Letters
November 18, 2020
Arts and humanities. We know the context of the academic construct. But consider for a moment the connection between art and our humanity. Art of all forms – photo, film, sketch, mural, music, stage performance – evokes in us the emotions that define us as human.
"Art allows us to find ourselves and lose ourselves at the same time," writer and activist Thomas Merton once said. 
The following six vignettes share insights from people representative of artistic excellence and linked by themes of inclusion, hope, and empathy – and perhaps offer openings to new perspective. 
(Photos by Andrea Price and Jessica Vernone)
Camera's Lens Gives Delta Preservation a Strong Advocate
Jenny Stark, Associate Professor of Digital Media and Film
"Making the Delta visible to the rest of California was a big part of it."
Two-thirds of California's nearly 40 million people and millions of acres of farmland depend on the Sacramento-San Joaquin River Delta for fresh water. It's California's ecological heart – and an enduring political hot button. 
Often forgotten in the debates over proposed tunnels and water conveyance and allocation are the Delta's more than 500,000 people. Jenny Stark, associate professor of Digital Media and Film, uses her camera and art in an attempt to fill that void and act as an advocate on tough issues. 
Despite the Delta's importance, she says, it remains little known or understood to many Southern Californians and even to people in the Bay Area, all of whom depend on its water. Stark suggests those people need to expand their perspectives. 
"It's not just L.A. people and San Francisco people who matter," says Stark, whose work has gained notice. 
Her narrative short film When You Leave, set in the Delta, in 2018 was named Outstanding NorCal All-Star at the Sacramento Film Awards, and won the shorts competition at the Sacramento International Film Festival. Stark's Delta photos were featured in 2012 at the Crocker Art Museum and in 2014 at the Verge Center for the Arts, with additional work and an accompanying documentary. 
Stark says outsiders generally are unaware of the toll political and environmental pressures take on Delta residents, who, because they are dispersed across a vast area, are not as visible as many other groups in California. A Houston native, Stark became captivated by the Delta in part because of how similar its terrain and people are to those of the Gulf Coast. 
"If you don't know something exists and you don't know the people who are there … then you don't care that you're taking something away from them," Stark says. 
Stark says she admires the people opposing possible construction of massive tunnels to take Delta water away, but wonders how long they can resist powerful interests such as industrial farming intent on having a greater role in determining the Delta's fate. Her assessment is grim. 
"They'll dig up all those little towns and cut a tunnel through it and turn their water into saltwater and kill their fish and kill their crops," she says, "and nobody will even know."
In art we find common ground, and through exposure to the stories artists tell through diverse mediums, we become more empathetic and our minds more open to the idea that we're part of something greater than ourselves. That, at least is the hope.
Music, Tragedy Help Define His Call to Teach
Luis Cruz, Senior - Clarinet Performance and Music Education"We want good musicians but we want great citizens. That's the goal."
"Making the Delta visible to the rest of California was a big part of it."
Luis Cruz plays clarinet and plays it well. To him, however, the instrument he picked up 12 years ago is meant for a greater purpose: teaching. 
"It's fairly simple to get a sound on the clarinet," says Cruz, who performs in the University's Symphonic Wind Ensemble and its Symphony Orchestra under the instruction of Music Professor Sandra McPherson. "I want to teach the passion and the discipline involved in music." 
Cruz, 21, was raised to have a wide worldview by parents who emigrated from Zacatecas, Mexico, to Oakdale, Calif., the "Cowboy Capital of the World," where he and four siblings were brought up. 
Cruz says teaching is his calling, and he is answering, teaching children from 4 to 8 years old at Mr. D's Music Studio in Folsom. Along with carrying a 13-unit academic load, Cruz drives for Lyft and Doordash, and recently was hired at an El Pollo Loco.
Choreography Has Become the Next Step in Her World of Dance
Alex Few, Senior - Dance
"When you dance you're really laying yourself bare for people in a way not many get to."
Alex Few is a delightful intersection of geek and grace. 
One side is the young woman who punctuates sentences with a nervous chuckle, writes fan fiction, and whose countenance suggests someone being approached by a secret crush at the middle school dance. 
Then there's the fearless side, the young artist who glides in front of audiences, executing twisting, twirling dance moves with awe-inspiring ease. 
Four years of dancing at Sac State have given Few confidence to make a statement through her movement – and through an ability to lead others. She'll always dance, Few says, but she sees her future in choreography. 
Few said choreography provides an avenue to connection. 
"With choreography, you touch parts of people they didn't know they needed to feel," says Few, who was exposed to it while helping establish a dance program at the K-12 River Springs Charter School in Temecula, her alma mater. 
Certain movement can trigger emotion in an audience member, she says, perhaps the memory of a parent's loving gesture. It creates an exchange between artist and audience, cultivating empathy and sympathy. "And maybe (crowd members) don't entirely get the message," she says, "but they get the feeling." 
It helps Few that choreography, unlike dance or gymnastics, which she did from age 3 to 11, is driven less by competition or a drive to outdo one's peers. She prefers a rising tide that lifts all boats. 
"I just want everybody to succeed," she says. 
Few is focused on her next big choreography opportunity, in spring's Dance Sampler, part of the University's annual Festival of the Arts. She envisions a piece conceived around the idea of Instagram filters as the masks of our technology-dominated age. 
Few, who came to Sacramento State for an experience apart from her relatively sleepy hometown, says she is grateful for what has been a warm, supportive Hornet Family. 
"They're really looking after you," she says. 
"He's been all about positivity and quality his entire time here, and no one works harder," says McPherson, his primary instructor. 
Eventually, Cruz wants to teach at a public school, ideally in a low-income area, and start a music program to expand access to the arts. "That's my passion," he says. "That's what I think about every day." 
A child who didn't get a chance to pursue life's passions also drives him. 
In November 2017, a drunken driver ran a stoplight and smashed into the driver's side of Cruz's vehicle. Had Cruz been in a more direct line of the impact, "I don't know where I would be," he says. 
A couple and their newborn were in the other vehicle, and the child was killed, Cruz recounts with an emotional catch in his voice. 
Cruz was not at fault, but he was nonetheless wracked by feelings of guilt. He pledged to become a better person. 
"Everyone says, 'Life is short, don't take it for granted,' " he says. "But we don't put deep thought into that."
As the World Turns, Music Helps Change It
Ardalan Gharachorloo, Second-Year Graduate Student - Music
"I want to inspire people through my music to think about unity."
For Ardalan Gharachorloo, the violin is much more than its sound. His grandfather, who was concertmaster of the Tehran Philharmonic before the Iranian Revolution of 1979, introduced him to the instrument at age 6, tying it to family legacy. 
To Gharachorloo, 24, it is indispensable, like a body part. Once bonded with it, "You can't let it go," he says. 
But he is most interested in the violin's potential to foster vahdat, the Persian word for "unity." It's what inspired him to establish the nonprofit Music Without Borders with cellist and fellow student Corey Oiler. He talks of changing the world through music as well as through teaching, which he does full time at Growth Public Schools in Sacramento. He also runs a private school in Carmichael. 
"I want the next generation to be inspired (and) think about how they want to change the world through music," Gharachorloo says. "This is going to be a movement." 
Musicians and music can be much more than commodities, Gharachorloo says. Take his friendship with Oiler. Gharachorloo emigrated in 2009 from Iran, an Islamic nation and U.S. antagonist; Oiler is from Missouri, considered one of the nation's more conservative states. Music brought them together to effect change. 
Anna Presser, an associate professor of Music with whom he consulted on starting his nonprofit, calls his perspective "unusual and beautiful." Gharachorloo is determined to spread that perspective. He offers the example of Earth as viewed from space. Humankind's rendered borders, over which so much blood is spilled, disappear. What remains is a gently rotating blue sphere where vahdat seems possible. 
"Regimes and governments can't change the way we think of ourselves as human beings," Gharachorloo says, "because, first, we are human beings, then we are citizens of whatever country. 
"I want to inspire people to think of our world that way."
Daggers, Football, and Fights – in the Name of Creating Art on Stage
Chris Kamas, Senior - Theater
"What we're seeking in our art, or any art, is honesty and authenticity."
The body, Chris Kamas says, is an actor's essential instrument. His aptitude for using his own body on stage is evident as he bobs and weaves while demonstrating creatures' movements that were seen in the University's fall stage production of She Kills Monsters. 
Movement is a longtime passion of Kamas, who grew up playing football and baseball, and running track. He began acting in 2011 at age 20. 
Kamas is fight coordinator for Monsters, directed by Michelle Felten. The funny but bittersweet story is about many things, including loss and forgiveness, but also monsters. And where there are monsters, there's fighting. 
Working on Monsters, which ran in October, allowed Kamas to engage his passions for movement and theater. During the show's run-up, he led actors' warmups and conditioning, including "a lot of squats," for a half hour before rehearsals. 
"The show demands them to move their bodies in such strange ways and then execute these fights and sell aggression," Kamas says. 
Youth sports drew a not-so-straight line to the stage, but Kamas, who has an extensive background in boxing, fencing and yoga, says they provided a light-bulb moment. 
During preparation for his first stage role, as Aramis in The Three Musketeers – for which he also was fight captain – Kamas realized the connection his on-stage work with rapiers and daggers had to his days as a football running back. 
"It was just athletics," he says. "I could understand what they were talking about physically, and how to hold my body and move through space." 
That understanding creates calm and an awareness within actors' bodies so they can meld seamlessly and genuinely to become an organic part of the stage production. 
All this corrals, calms, and creates awareness within the body, Kamas said, so actors can meld seamlessly and genuinely into the organism that is a stage production. 
"Because through honesty we reach empathy, and through empathy we engage in catharsis, and people can relate and experience and learn," Kamas says. "Even if an audience member is somebody who can't themselves get onstage, ideally they have an experience. 
"It's through that catharsis that they can process and acknowledge different dynamics of the human condition."
Seeing Clearly – Beyond the Colors
José Martinez, Spring 2019 Graduate - Studio Art
"I'm trying to connect everybody."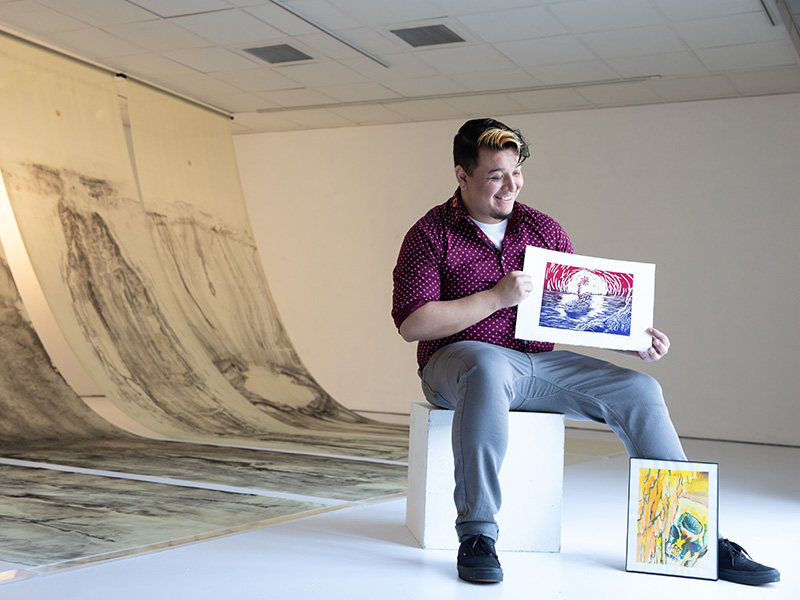 José Armando Martinez wants people to look beyond color and find commonality. He doesn't necessarily mean skin color – but that's not necessarily not what he means. 
Martinez's art goes under the skin, in a sense. Meme-making and advancing messages drives his art. 
Much of his inspiration derives from Mexican iconography, particularly the contrast of skeletons and flowers prevalent in celebrations of Día de los Muertos, the Day of the Dead. Bright shades common to sarape, cloaks commonly worn by men in Mexico, also run throughout in his work. 
Such markers are easily identifiable to many who are Latinx, but Martinez has noticed that others sometimes initially miss the mark. 
"Once they see the message behind it," he says, "they see more than colors." The skeletons are meant to be a linchpin of our commonality. And although his art is personal and hints at his own story and feelings, "It could be your story," Martinez says. "There's a struggle, but at the same time you're not alone in the struggle. I'm here with you." 
Current politics also guide his work. He held up as an example a piece called Lucha hasta el final. Translation: "Fight to the end." "It's what we have to do to succeed or help the next generation succeed," he says. 
Martinez was reared in Greenfield in Monterey County, where he says the most exciting event from his days growing up was the arrival of a Burger King franchise. He doodled in classes almost subconsciously as a boy and only formally took up art as a high school freshman in 2008. 
It took time for him to recognize his art could be more than a pastime or diversion. Now the mosaic is clear to him: He sees himself and his art as messengers for inclusiveness and understanding, regardless of what we see when we see colors. 
At his fingertips are pencils that can be mightier than swords. "We all should work for something," he says, "together."