75 Years, and So Much to Consider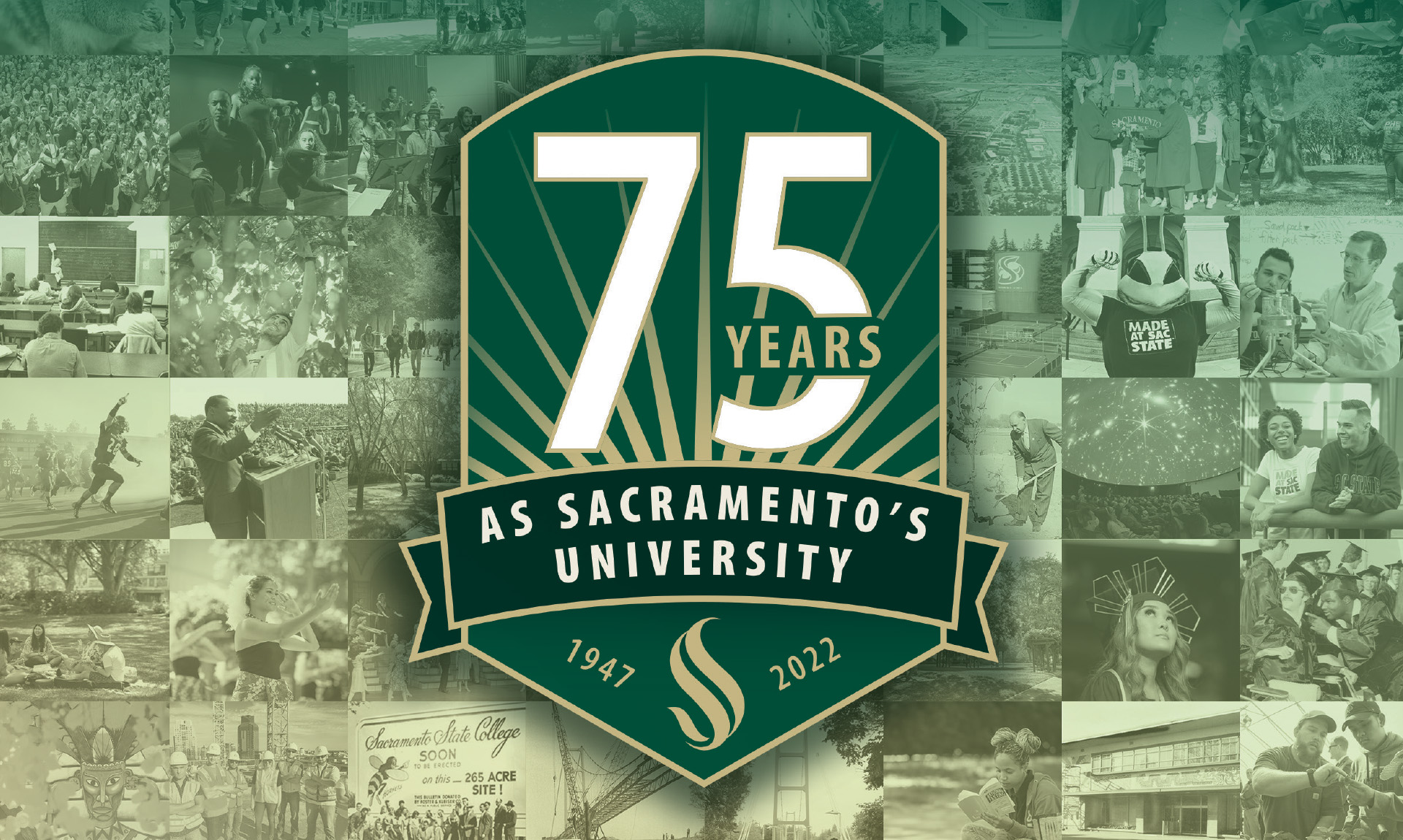 June 15, 2023
Since its founding in 1947, Sacramento State has been growing and evolving.
Celebrating its 75th Anniversary during the 2022-23 academic year, the institution that began as Sacramento State College in borrowed Sacramento City College classrooms has grown to occupy important physical and emotional space in Sacramento.
Far from an island unto itself, Sacramento State, which attained university status in 1972, is a full community partner, a source of educators, workforce, leaders, and innovators, all having an impact throughout the capital region and beyond.
This came about through intention, effort, intelligent decisions, and the work of students, faculty, staff, and supporters. Working together with leaders in politics, business, technology, education, social services, and nonprofit entities, Sac State has earned an important place in the community and its position as Sacramento's University.
Sac State Magazine presents numerous examples of the University's impact. We chose them for their demonstrated, ongoing, and potential long-term impact, rather than their place on a timeline. It is not a comprehensive account, and the order in which they appear is random, but the highlights included provide insights about Sac State's journey and the resulting good. This is how Sac State is making a difference in the region.
No. 1 — On-time graduation rates begin a steady climb, outpacing CSU targets and saving students millions of dollars and sending more educated workers into the region's economy sooner.
No. 2 — The University's striking Planetarium becomes a must-see amenity and introduces school children to astronomy. The fall 2022 displays of images from the James Webb deep space telescope dazzle crowd after crowd.
No. 3 — Environmental Studies students and faculty continue restoration of native wetlands and riparian habitat along the American River, while saving threatened turtles.
No. 4 — The Capital Fellows program, a natural fit for the state capital, continues to train generations of students whose impact on public life through their work with state legislators, court administrators, and executive staff members remains vital.
No. 5 — A film by Assistant Professor of Communication Studies Kathy Kasic documents researchers' exploration of a subglacial Antarctic lake to help increase understanding of the effects of climate change.
No. 6 — Sac State Downtown gives the University a significant city presence just blocks from the Capitol. 
No. 7 — During Alternative Spring Break, students fan out across the region to engage in community work. 
No. 8 — The University will host the 2023 Homeless World Cup in July 2023, bringing worldwide attention to the issue of homelessness. This worldwide event has been held in several great cities, including Paris, Mexico City, Amsterdam, Glasgow, Rio de Janeiro, and others. The 2023 event will mark the first time it has been held in the United States and at a university. 
No.  9 — When Parking Structure 3 is completed in 2007, it is the largest parking structure in the CSU system. 
No. 10 — Oct. 16, 1967, Martin Luther King Jr. enthralled a crowd of more than 6,000 with a 35-minute speech at what then was called Campus Stadium (now Hornet Stadium). The racial justice and civil rights giant made his Sac State stop while touring college campuses across the country and planning the 1968 "Poor People's Campaign." He transfixed the crowd with powerful words about Black Americans' struggles and urged listeners to be part of the fight against injustice.
Dean Dorn, a young professor, was sent to the old Sacramento Airport to transport King to Sac State.
"He was shorter, smaller than I expected," Dorn said. "In the car, he sat in the front seat. He had the opportunity to see a bit of Sacramento on the way. I told him I taught courses in race and ethnicity. I told him there was some activism on the campus over the struggle for civil rights and the Vietnam War. That changed the conversation to what he called 'the struggle.' "
A half-century after King came to campus, his visit is remembered as a significant moment in the history of Sacramento State, which was a 20-year-old college still five years from becoming a full-fledged university.
No. 11 — The Wide Open Walls (WOW) mural project comes to campus, and the first art to result is the "SACRAMENTO" mural, now a campus landmark. More public art on campus focuses on antiracism and inclusion.
No. 12 — Feria de Educación each year invites Spanish-speaking students and their families to campus to learn about Sac State and to receive information about resources to help them navigate California's education system.
No. 13 — In fall 2021, The WELL's expansion and renovation is completed, providing nearly 30,000 square feet of additional space to serve students.
No. 14 — Two significant buildings – one completed, the other still in planning – are part of a giving legacy unmatched in University history.
Ernest E. Tschannen gave $9 million toward construction of the Science Complex that bears his name. Last fall, he gave another $10 million to the University, money that will help build what is to be called the Ernest E. Tschannen Engineering Teaching and Research Building, which will replace Santa Clara Hall.
Opened in fall 2019, the Science Complex – which, in addition to vast teaching and lab space, includes the popular Sac State Planetarium, a rooftop observatory, and more – was Sac State's first donor-named building and is a University showpiece.
Tschannen, 98, was born in 1925 in Aarwangen, Switzerland. He moved to the U.S. in the 1950s, living in several cities before landing in Sacramento. He worked as a mechanical engineer while engaging in his hobby of buying residential properties, eventually becoming a full-time real estate investor. Tschannen has also donated to several other local causes, organizations, and education institutions.
He received an honorary Doctor of Humane Letters during the College of Engineering and Computer Science spring 2018 Commencement.
No. 15 — Sacramento State's student-run newspaper since 1949, The State Hornet has evolved into a multimedia digital content news source for the University community.
The State Hornet published a print newspaper for decades, detailing issues of the day and offering editorial comment. Social unrest, drinking water quality, University leadership, and police practices are among marquee topics the Hornet has scrutinized.
In 2019 – the year the newspaper celebrated its 70th anniversary – The State Hornet transitioned to an online-only publication.
Its claimed mission to "tell the world" and be the source for unbiased Sac State news remained the same, as staff posted stories to its website and added videos and podcasts.
The State Hornet revived a Spanish-language version of the news site in fall 2022, featuring translations of major stories and breaking news as well as original content on issues facing the Latinx community written in Spanish and English.
No. 16 — The opening of Riverview Hall in 2017 and Hornet Commons in 2021 adds significantly more housing space for students, and further pushes back the idea that Sac State is a "commuter" school.
No. 17 — The Institute for Social Research conducts studies that illuminate some of the region's most serious problems, including poverty, environmental challenges, and transportation issues. 
No. 18 — The Doctor of Physical Therapy program sponsors community clinics, offering services in neurology, geriatrics, pediatrics, and other areas.
No. 19 — The Sac State Library regularly opens its doors to the public for art exhibitions. 
No. 20 — The Festival of New American Music (FeNAM), a free public event, is the longest-running festival featuring contemporary work by U.S. citizens or residents, bringing cutting-edge classical music and jazz to multiple generations of Sacramento residents.
In addition to its public events, the festival also includes master classes and workshops allowing Sac State students to learn directly from participating composers and performers.
In recent years, event organizers have made it a priority to highlight the compositions and talents of Black, transgender, women, and other artists from underserved groups.
"In its fifth decade, FeNAM has shined the stage lights toward those whose voices were often unheard in the concert hall," said Tim Stanley, Music lecturer and festival co-director. "Now, our audiences are growing and seeing themselves more onstage."
No. 21 — The Sokiku Nakatani Tea Room and Garden is one of only a few such amenities on American college campuses, and allows the campus and community at large to experience Japanese tea gatherings and share the spirit of peacefulness embodied in the "Way of Tea."
No. 22 — Study of fly brains in the Biology department is leading to better knowledge about the origins of human conditions such as Alzheimer's disease and autism. 
No. 23 — Chemistry students are conducting lab studies that could lead to new drugs to fight viruses such as those leading to COVID-19 and AIDS.
No. 24 — Project Rebound offers support and housing for formerly incarcerated Sac State students as they integrate back into life outside of prison walls.
No. 25 — Professors and students visit prisons in the Sacramento area to help incarcerated men and women earn their degrees.
No. 26 — The annual Out of the Darkness Campus Walk for Suicide Prevention, one of the largest such events in the nation, brings community awareness to suicide prevention and mental health needs.
No. 27 — Sacramento State makes history in 2018 as the first four-year university in California to open an on-campus voting center, thanks to support from President Robert S. Nelsen, the divisions of Student Affairs, Public Affairs and Advocacy, and Associated Students Inc. (ASI).
"Sacramento State is deeply committed to the civic engagement of our students, and I am proud that ASI made participation in elections a priority for the student body," Nelsen said.
"The simple act of voting is the cornerstone of our democracy."
Sacramento County was one of five counties that instituted balloting under guidelines of the 2016 Voter's Choice Act, a model that replaces traditional polling places with Vote Centers.
No. 28 — Sac State is a founding member of the California Mobility Center (CMC), a nonprofit, public-private collaborative that seeks to speed development of electric vehicles and other green technology, and accelerate their paths to the market.
Launched in March 2021, the CMC brings together entrepreneurs, academics, businesses, and investors to build and support the innovative new companies and other organizations that will create the future of mobility.
The University is taking a leading role to ensure such organizations have a ready and well-trained workforce. Students from the College of Engineering and Computer Science and College of Natural Sciences and Mathematics receive hands-on experience developing technologies at the CMC, and will help the center's clients bring products to market more quickly.
"Sac State's efforts to cultivate purposeful, long-term and mutually beneficial partnerships through our Anchor University initiative is paying off," said Tony Lucas, associate vice president for Business and Administrative Services. "The CMC's workforce development efforts have already earned high praise from civic leaders in the region." 
Currently housed at a facility inside Army Depot Park, within a few years the CMC plans to move to University property along Ramona Avenue, just south of campus. There, The Hub: Sacramento State Research Park will serve as an incubator for startups producing everything from zero-emission vehicles to the batteries that recharge them.
The Hub will also house classroom space and a showroom.
No. 29 — Through the popular Summer Youth Academies, more than 400 middle and high school students receive weeklong immersive learning opportunities in a variety of fields, a glimpse of life on a college campus, and a preview of a wide range of careers.
No. 30 — The University's Male Empowerment Collaborative works with junior high students in the Twin Rivers Unified School District to encourage them to finish school and attend college.
No. 31 — More than 100 students are taking part in the state's #CaliforniansForAll College Corps fellowship, working on projects to uplift struggling neighborhoods and communities.
No. 32 — The women's basketball team wins the Big Sky Conference championship and plays in the NCAA Tournament for the first time.
No. 33 — The Hornet Express shuttle program continues to get the campus community from here to there and back, 34 years after it began.
No. 34 — In the middle of his rise as a musical legend, Jimi Hendrix performs in the Men's Gymnasium in 1968 in front of about 3,000 fans. Trivia note: Opening acts were the Creators (a band formed by Sac State students) and Soft Machine. Janice Joplin also played here, as did Tom Petty and the Heartbreakers, and other rock luminaries.
No. 35 — As part of its Antiracism and Inclusive Campus Plan, the University is actively recruiting faculty that more accurately reflect the backgrounds and experiences of its students and area residents.
No. 36 — For more than 50 years, students in Sacramento State's Ethnic Studies Department have studied what the department calls "past and present histories, cultures, and issues that define ethnic group experiences in the United States."
Ethnic Studies comprises four programs that include Asian American Studies, Chicanx/Latinx Studies, Native American Studies, and Pan African Studies, and is the only department and discipline at Sacramento State that has faculty and classes that focus primarily on race, class, and ethnicity.
No. 37 — ASI Peak Adventures has been a longtime presence on campus, offering vast recreational opportunities, discounts to students through grants, learning opportunities, leadership development for student employees, and other benefits.
No. 38 — Criminal Justice professors and students, working with the state Department of Corrections, are helping prisoners make restitution to those they have harmed through the Restorative Justice program.
No. 39 — The Avenue M project helps community college students interested in science prepare for medical careers in areas of California that are in dire need of physicians.
No. 40 — The College of Education provides support for new dual-language immersion (Spanish/English) programs for K-8 public schools.
No. 41 — Parking Structure 5 comes online in 2018 as a sustainability masterpiece, honored with Parksmart Gold status. It is followed by the Welcome Center in 2020. Both structures help transform the main entrance to campus.
No. 42 — The Construction Management program, which recently celebrated its 50th anniversary, continues to compete in several national competitions annually, and consistently wins significant awards and honors.
No. 43 — Education fairs attract more than 400 potential substitute teachers, emphasizing the University's commitment to providing educators to the community.
No. 44 — Sac State is the first and only CSU campus to offer a paramedic program for individuals looking to further their career in emergency medical services.
No. 45 — Through the Center for Counseling and Diagnostic Services, more than 60 faculty and students provide accessible counseling, educational, and reading support to members of the community, serving more than 600 clients annually.
No. 46 — The Sacramento State Placer Center, on 301 acres donated by the late philanthropist and businessman Eli Broad, will serve as a higher education hub in one of California's fastest-growing regions and as a centerpiece for the Placer One master-planned development.
In its initial phase, Placer Center will accommodate 1,500 full-time students in unincorporated Placer County north of Roseville. Over a period of 15 years, the campus is expected to serve as many as 12,000 students annually and will include a conference center as well as performing arts center.
It will also include the Sierra College Transfer center, offering a seamless transition to Sac State from the community college in Rocklin that is a key University educational partner.
Placer Center would utilize nearby resources such as the vernal pools, landfill, and casino to create academic clusters in areas of environmental sciences, forestry, and hospitality.
Serious discussions about a possible Sac State presence in Placer County began in 2002, progressing deliberately and then accelerating with the formation of an advisory committee, the signing of a letter of intent, and partnerships. All led to the CSU's acceptance of the Broad land donation in 2020, a swatch of land in the heart of the 2,213-acre Placer One on Roseville's northern border.
No. 47 — Thousands of runners, walkers, rollers, and strollers gather at the J Street entrance to campus every Thanksgiving morning for the annual Run to Feed the Hungry. Sac State is a yearly sponsor for the event, which raises money for the Sacramento Food Bank & Family Services and is the largest Thanksgiving run in the country.
No. 48 — The Mexican American Education Project is established in 1968 to address decades of educational neglect suffered by Mexican American students. Clark Taylor, a faculty member in the Department of Anthropology, founded the project that recruits Mexican American teachers and others to prepare them to be change agents in their communities.
In 1970, Sac State students Ricardo Favela and Jose Montoya and faculty member Esteban Villa create the art collective that becomes known as the Royal Chicano Air Force. Its stated goals were to foster the arts in the Chicano/Latino community, educate young people in arts, history and culture, promote political awareness, and foster support for Cesar Chavez and the United Farm Workers.
Collective members paint murals throughout the Western United States, including at Sac State, where student Ed Rivera's "La Cultura" adorns Lassen Hall.
No. 49 — After offering "The Liberation of the American Woman" to a class of approximately 300 students in 1970, Sacramento State in 1971 becomes the first University in the nation to offer a degree in Women's Studies. The Department of Women's and Gender Studies covers even more ground now.
Development of the program was a direct result of not only a national movement, but of direct student and faculty advocacy at Sacramento State.
A major and minor in Women's and Gender Studies are offered, as is a minor in LGBTQ Studies. The department's range includes Black and Latinx feminist studies, disability studies, gender and health, feminist activism and social movements, and other related areas.
The department is part of the College of Social Sciences and Interdisciplinary Studies. Its curriculum "prepares students to critically examine the world around them, to understand the structural inequalities shaping human relations across gender, sexuality, race, class, nationality, ability, age, and other categories of difference, and to identify strategies for empowerment and social transformation."
No. 50 — The Guardian Scholars program supports current and former foster youth and unhoused students, offering a sense of belonging and access to critical services. Starting in 2006 with an initial cohort of 12 students, the program now serves more than 100 students annually, the majority of whom are first-generation students from marginalized backgrounds.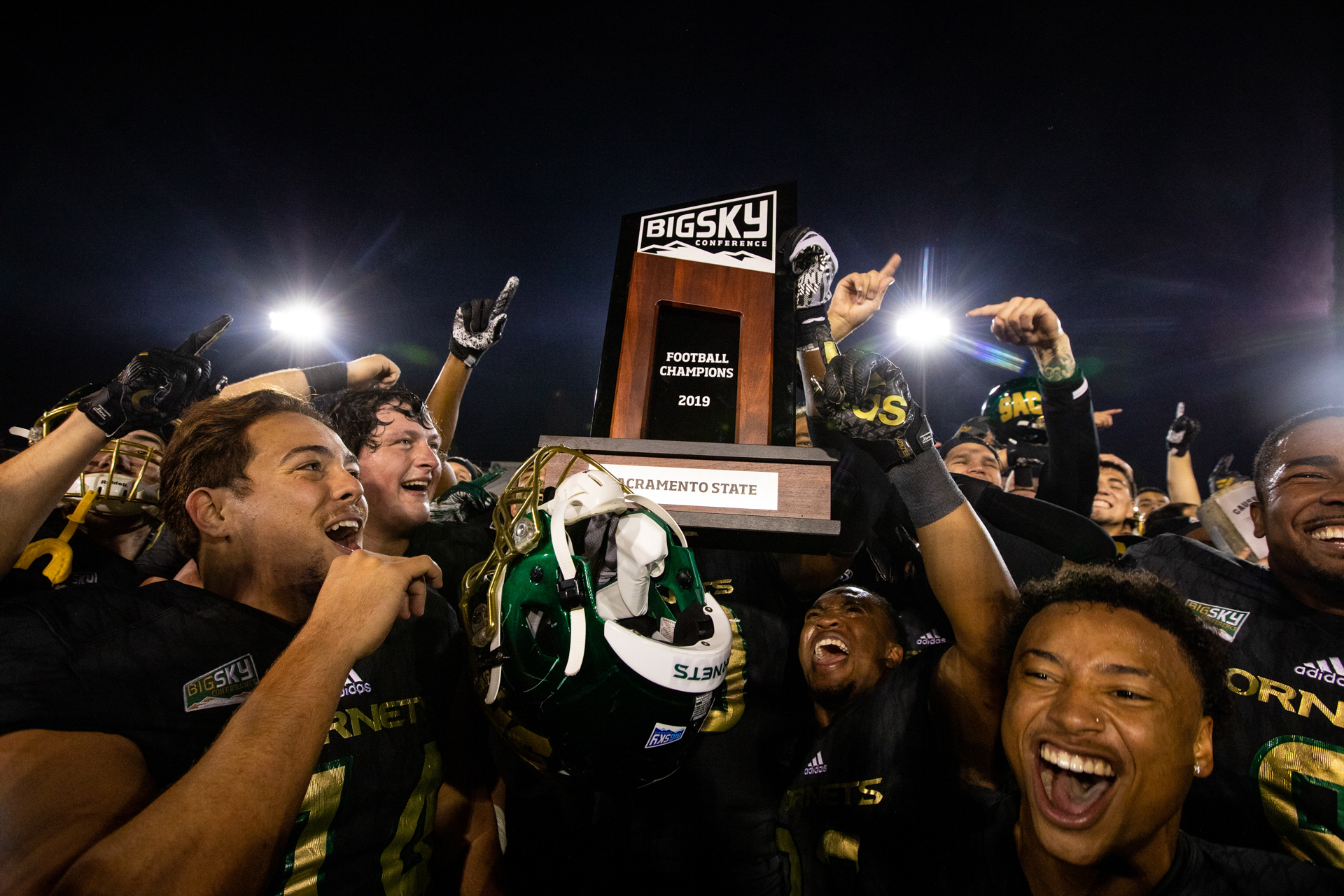 No. 51 — In 2022, the Hornets make Sac State football history after completing their first-ever undefeated regular season and winning a third straight Big Sky Conference title following a 27-21 victory over UC Davis in the Causeway Classic.
No. 52 — The Public History program partners with regional organizations to train the next generation of public historians. In recent years, students have worked to update the National Historic Landmark designation for Sutter's Fort to better reflect the realities of Native Americans' experiences, and partnered with the African American Experience Project to identify historically significant people and places in Sacramento's Black community.
No. 53 — Started in 1967, admittance of Black students increases through outreach and the Education Opportunity Program.
No. 54 — The University's emphasis on and support for alternative transportation options is rewarded with recognition as a Bike Friendly University and Bike Campus USA.
No. 55 — Sac State Sustainability works to decrease the University's carbon footprint and is a leading program for addressing environmental issues, from lighting improvement projects, construction of solar panels, water-saving projects, raising bees and composting at the BAC Yard, to maintaining the garden that provides fresh produce to the ASI Food Pantry. 
No. 56 — APIDA College Day and the Black College Expo bring resources to underserved students from Northern California who are interested in attending college.
No. 57 — Through the HornetAttain! initiative, Sac State is transforming lives and boosting the regional economy by helping working adults earn a college degree or certificate.
HornetAttain!, which provides support for returning, older, and other non-traditional students, is part of the regional ProjectAttain! initiative that aims to increase the number of working-age adults in the Sacramento area with a postsecondary degree or certificate to 60% by 2030.
Jenni Murphy, dean of the College of Continuing Education and ProjectAttain! founder, said the initiative's mission aligns with that of Sacramento State.
"We are aware of the everyday barriers our adult learners face, and we recognize the positive impact that degree and certificate completion has for individuals, families, communities, and employers," Murphy said.
According to the College of Continuing Education, nearly 900,000 working-age adults with the potential to complete a degree or credential are in the Sacramento region, including those who didn't finish high school, didn't go on to college, or who have credits but no degree.
The benefits of crossing the finish line are clear: Individuals with postsecondary credentials are 25% more likely to be employed, 47% more likely to have health insurance, and 72% more likely to have a retirement plan, Lumina Foundation figures show.
Those factors ripple throughout the region through an increased tax base, more direct spending on goods and services, higher levels of charitable giving, and a stronger ability to attract and retain employers.
On campus, the HornetAttain! program is helping working-age adults who left Sacramento State before graduating return to complete their degree. The program offers scholarships for returning students, and is raising funds to launch an adult learner success center.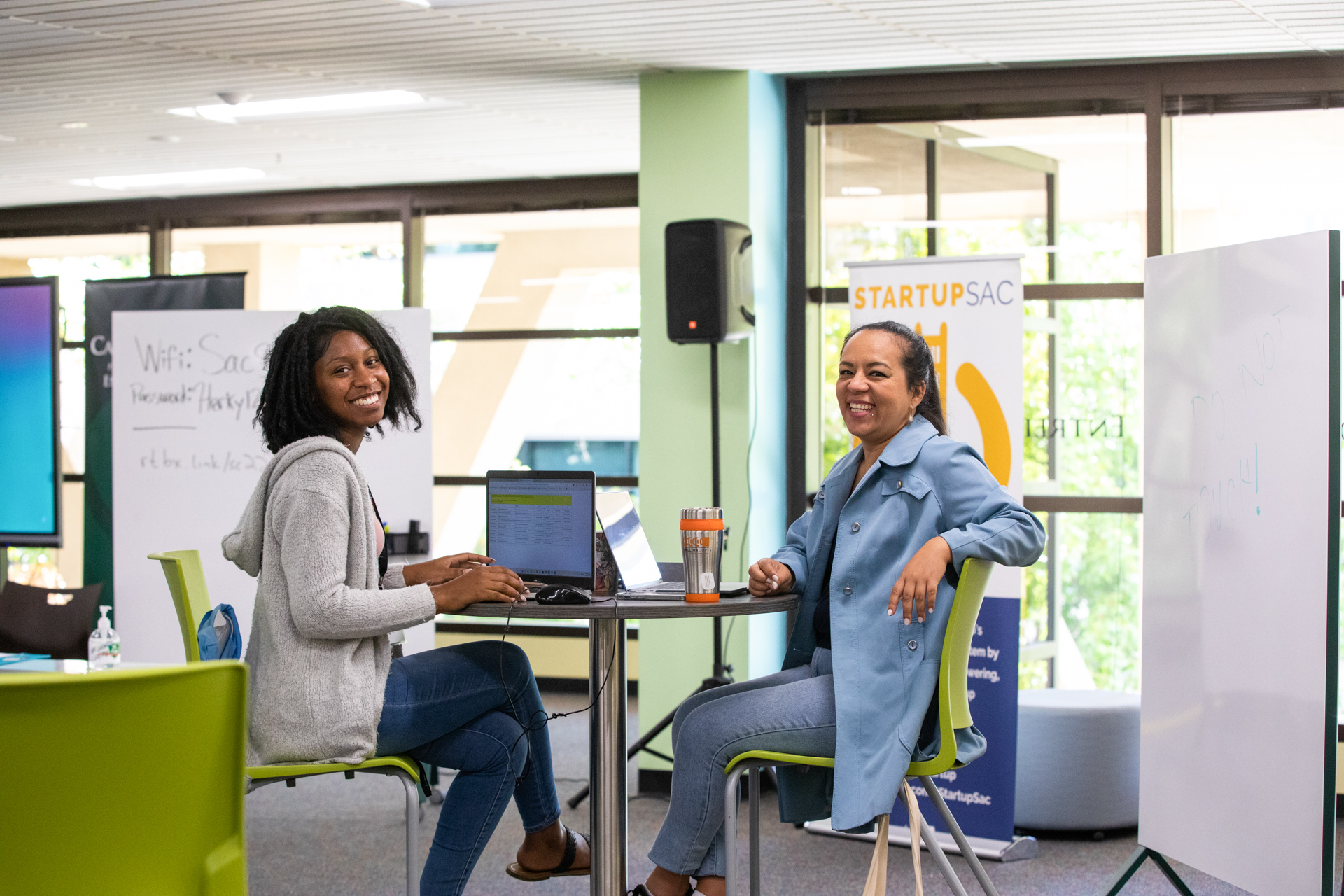 No. 58 — The Carlsen Center for Innovation and Entrepreneurship makes strides in positioning the University as a regional hub for business and economic growth.
A $6 million gift from Sac State alumnus and Sleep Train Mattress founder Dale Carlsen and his wife, Katy, helped establish the center in 2017.
Since then, the Carlsen Center has provided education, community, and support to startup founders as part of its mission to make innovation and entrepreneurship pervasive throughout the Sacramento region.
In addition to collaborating with organizations such as FourthWave to boost women-led businesses, the Carlsen Center offers resources and mentorships to area businesses as well as student entrepreneurs.
Executive Director Cameron Law also takes a leading role every year in Sacramento's Global Entrepreneurship Week activities, bringing hundreds of business leaders and innovators on campus to participate in the worldwide event.
The Carlsen Center occupies a 10,000-square-foot space in the University Library.
No. 59 — Sacramento State's Dreamer Resource Center provides services for undocumented students who are navigating college life. It represents a statement about the University's belief in providing educational access, as well as a critical resource for a vulnerable student population.
An estimated 800 to 900 undocumented students attend Sac State, and the University has a longstanding commitment to serve them.
Students receive academic and financial guidance, take part in internships and volunteer activities, and obtain free legal services and consultations through Sac State's partnership with local nonprofit groups and the Coalition for Humane Immigrant Rights.
Incoming freshmen and transfer students receive ongoing support from the center through the admissions process.
"I want our DACA, Dreamer, and mixed-status students, staff, and faculty to know that they are, and always will be, important members of the Hornet Family," President Robert S. Nelsen said. "We will continue to advocate for their rights and push for a permanent path to citizenship."
No. 60 — Associated Students Inc. (ASI) opens its student Food Pantry in fall 2015 to address the growing concern over food insecurity. Since then, the pantry's benefits have come to thousands of students.
During the 2021-22 academic year alone, the ASI Food Pantry served 8,700 students, an average of 167 a week, Student Engagement and Outreach director Wil Chen said.
Fallout from the pandemic and higher costs of essentials drove that number to 500 students a week by fall 2022.
Students who fill out an annual registration form can obtain groceries from the pantry once a week. In addition to staples such as rice, pasta, canned veggies, and beans, students have access to fresh produce and nonperishable food from a variety of ethnic cultures.
The Food Pantry, open Monday through Friday, also supplies ready-to-eat meals, healthy snacks, and menstrual products and toiletries.
No. 61 — Two College of Arts and Letters events showcase student and faculty work and engage the community. U-Nite! brings Sac State into the heart of downtown through an evening of programming at the Crocker Art Museum, and the Festival of the Arts invites the community onto campus for a week of performances, exhibits, family-friendly activities, and more. 
No. 62 — The nationally recognized Gerontology department keeps innovating and helping ease the state's shortage of experts in the aging process. During the height of the pandemic, Gerontology students created an online resource guide immediately used by Sacramento County and other agencies.
No. 63 — Face-to-face interaction that exposes K-12 students to Sac State students is one of the great benefits of the Partnerships to Advance the Value of Education (PAVE).
The program began in 2018 to address a need to help build a stronger pipeline from high school and community college to Sac State, particularly in trying to attract a more diverse group of individuals in education professions.
PAVE trains and prepares students to be mentors and tutors before they begin classroom and tutoring work with K-12 students. PAVE serves multiple sites within six local school districts and is accredited by the National Tutoring Association.
PAVE also has received multiple program-of-the-year recognitions and several awards.
Chao Vang, the program's director, said he wants to see it expand.
"It's really fostering a pipeline and really driving home this idea of going to college and really reaching for another opportunity that maybe your family may not have seen," Vang said. "I think that the core of the PAVE program is ensuring that students at least have a role model inside a classroom that is actually a Sac State student."
No. 64 — Sac State's Vocal Jazz Ensembles are among the nation's best, appearing on local TV and radio and regularly traveling to statewide and national competitions.
Comprised of the ensembles Vox Now, C-Sus Voices, and Sac State Jazz Singers, as well as the beginning ensemble Vocal Jazz and Acapella Lab, the groups tour colleges, high schools, and jazz festivals while performing on campus and recording each semester. In addition, the program holds a benefit concert every fall supporting local nonprofit organizations.
The ensembles perform vocal jazz standards from both past and present, while also striving to explore new and innovative approaches to contemporary jazz, said Gaw Vang Williams, Vocal Jazz program director. Their concerts feature student compositions and arrangements.
The groups have received more than 20 student music awards from Downbeat Magazine, known as "the bible of jazz."
No. 65 — Sac State's strong tie to the Sacramento region receives recognition with the Carnegie Foundation's Community-Engagement classification. The University earned the five-year designation in 2010, 2015 and 2020.
No. 66 — Through the International Programs and Global Engagement office, each year the University enrolls approximately 600 international students from more than 80 countries, while dozens of Sac State students study abroad for anywhere from a month to up to a year.
No. 67 — Sac State's strong tie to the Sacramento region receives recognition with the Carnegie Foundation's Community-Engagement classification. The University earned the five-year designation in 2010, 2015, and 2020.
No. 68 — The Japanese American Archive Collection, part of the Donald and Beverly Gerth Special Collections and University Archives, chronicles the Japanese American experience of immigration and settlement to the United States, World War II internment, redress, and reparations.
No. 69 — A volunteer effort that started in 1978, UNIQUE Programs provides activities and events for the campus community, including music shows that highlight local bands as well as alumni.
No. 70 — The Full Circle Project (FCP) is a comprehensive academic support program for student transition from high school and community college to Sac State.
Primarily serving low-income, first-generation Asian Pacific Islander Desi American (APIDA) and other underserved students, FCP was created to help counter the belief that all Asians do well in school and need little help.
Professor of Ethnic Studies Tim Fong founded FCP and serves as its director. He said FCP was created to address needs of APIDA students, who are a significant presence at Sac State.
The program helped boost four-year graduation rates and "basically closed the equity gap or opportunity gap between APIDA and the rest of the University," Fong said.
Students in the program participate in a two-semester learning community where they take ethnic studies courses and learn about campus resources, and adjust to college life.
--
Want to learn more about Sac State's history? Our interactive 75th Anniversary Timeline tells a dynamic story of the University's growth and development. See it at csus.edu/experience/75th-anniversary.