Click here for more art news: Sac State Art History on Facebook

Art 1C student Lillian Phan at the Crocker with Initiation (Liberia)
by Lois Mailou Jones. Lillian comments, "I can feel the struggle
of a woman coming from the painting."

Elisa Riley, student of Modern & Contemporary Art History, with the artwork that stood out for her in the Crocker Art Museum: a 2009 acrylic on canvas by Guy Colwell titled Epidemic. Elisa comments that, "The painting seems to be responding to an epidemic of a physical nature, however on another level.... It speaks to the epidemic of alienation that infects us all."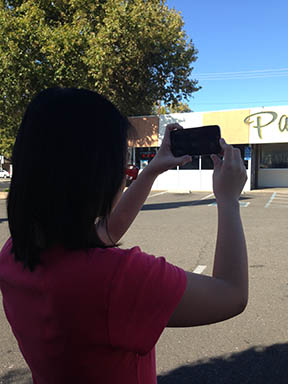 Maria Pulido, Art 1C student, viewing virtual sculpture
by Giona Fonda in Broadway Augmented

15 Virtual Public Artworks Unveiled on Broadway!
BROADWAY AUGMENTED on view starting September 13
For more information go to Broadway Augmented




Contact:
Elaine O'Brien Ph.D.
Professor of Modern & Contemporary Art

Office: 190 Kadema
Hours: TuTh 3-4, W 6-7 pm, and by appt.
Phone: 916 278 5704
Email: eobrien@csus.edu
Mailing address:
Sacramento State University
6000 J Street
Sacramento,CA 95819-6061
Professor O'Brien offers a sequence of undergraduate and graduate courses in theory and criticism, the art of the nineteenth, twentieth, and twenty-first centuries, and a survey of Latin American and Latina/o art. Dr. O'Brien has lectured locally, nationally and internationally on global feminisms, global modernisms, and the work of under-represented artists. She was the lead editor of the 2012 anthology textbook, Modern Art in Africa, Asia, and Latin America: An Introduction to Global Modernisms, published by Wiley Blackwell and distributed internationally. Elaine's current research project situates art produced and taught in California's new public university art departments in the 1960s and '70s within the global and local context of that era's sociopolitical revolutions: a theme that will be explored in her 2015 CAA session titled: Patron of Diversity: The Golden State, the People's University and the 'Rise of the Rest.'
Advanced Screenings
Art in the
Twenty First Century
Season 7 (2014)


Joan Jonas conducts a rehearsal for a reconfigured
version of Mirror Piece I in Art 21 episode "Fiction"

TWO THURSDAY EVENINGS:
7:30 - 9 pm, October 23
7:30 - 9 pm November 6
Mariposa Hall 1000
Sacramento State
Free and open to the public
The Art department will screen the episodes, "Investigation," featuring artists Thomas Hirschhorn, Graciela Iturbe, and Leonardo Drew; and "Fiction" with Katharina Grosse, Joan Jonas, and Omar Fast.

Click here for the "Investigation" trailer.
Click here for the "Fiction" trailer.
***

See the Crocker Art Museum Exhibition:
Our America: The Latino Presence
in American Art

SEPTEMBER 21 - January 11, 2015



Luis Jiménez, Man on Fire, 1969, fiberglass in acrylic urethane resin on painted wood fiberboard base, 106 x 80 x 29 in.