!Apply now!


Awards & Scholarships:


Art Studio, Art History and Art Education:
How to apply? Click Here



Talia and Saemoni after the Film Screening of Hairy Who & The Chicago Imagists, Thursday night, December 4
Post-Screening Discussion with Suzanne Adan, Irving Marcus and Mike Stevens
Film Trailer: click here
* * *
Click here for Sac State Art History on Facebook

Contact:
Elaine O'Brien Ph.D.
Professor of Modern & Contemporary Art

Office: 190 Kadema
Hours: TuTh 3-4, W 6-7 pm, and by appt.
Phone: 916 278 5704
Email: eobrien@csus.edu
Mailing address:
Sacramento State University
6000 J Street
Sacramento,CA 95819-6061
Professor O'Brien offers a sequence of undergraduate and graduate courses in theory and criticism, the art of the nineteenth, twentieth, and twenty-first centuries, and a survey of Latin American and Latina/o art. Dr. O'Brien has lectured locally, nationally and internationally on global feminisms, global modernisms, and the work of under-represented artists. She was the lead editor of the 2012 anthology textbook, Modern Art in Africa, Asia, and Latin America: An Introduction to Global Modernisms, published by Wiley Blackwell and distributed internationally. Elaine's current research project situates art produced and taught in California's new public university art departments in the 1960s and '70s within the global and local context of that era's sociopolitical revolutions: a theme that will be explored in her 2015 CAA session titled: Patron of Diversity: The Golden State, the People's University and the 'Rise of the Rest.' In May, 2015, she is presenting a keynote address at the NORDIK 2015 art history conference, Mapping Uncharted Territories, in Rekyavik, Iceland titled "Towards a Global Regionalism: Art History at the Crossroads."
Towards a Global Regionalism: Art History at the Crossroads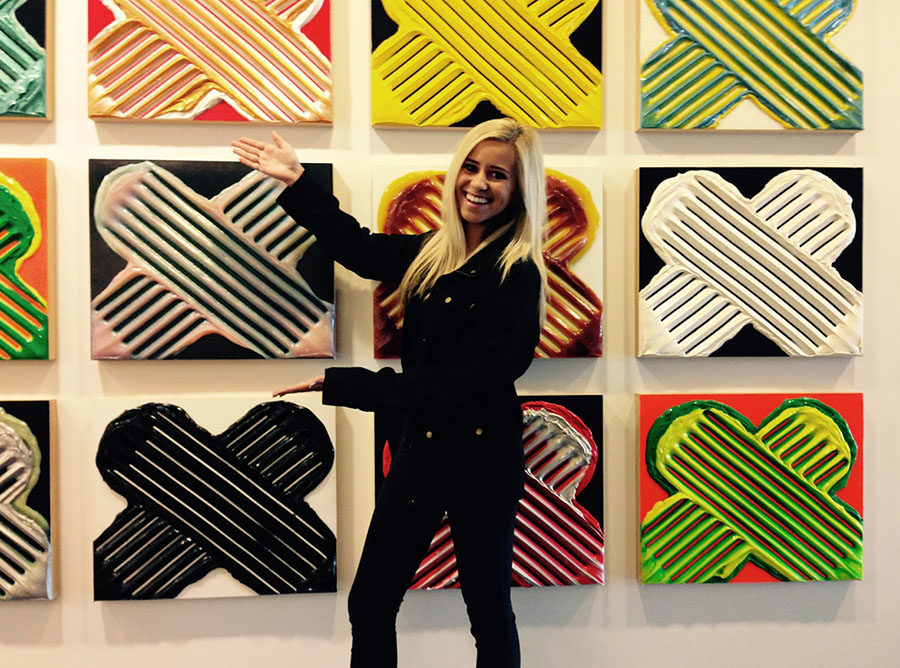 Art 1C student, Kendal Geist, at the Crocker Art Museum with an acrylic on panel painting by Albert Contreras, 2010. "I chose this artwork because when I first laid eyes on it, I fell in love with the brightness."
On view: Through April 26, 2015

Hours: Open daily except Thanksgiving Day, Christmas Day, and New Year's Day

Admission: Adult and Junior (12–61): $30; Child (5–11): $18.25; Senior (62+): $28.25; Family (2 adults + 2 children): $90.25; Children 4 and under: Free

At: Alcatraz Island


* * *




See the Crocker Art Museum Exhibition:


Our America: The Latino Presence
in American Art

SEPTEMBER 21 - January 11, 2015


Luis Jiménez, Man on Fire,

1969

, fiberglass in acrylic
urethane resin on painted fiberboard base,

106x80x29 in.