Robert Arneson, Texas Saddle, 1961, ceramic sculpture on view in the Treasure Revealed exhibition, University Union Gallery. Photo by Victoria Neuenschwander, 2015

See Treasure Revealed: Art from The Sacramento State Collection
University Union Gallery
August 31 - September 24, 2015
Reception: Thursday, September 3, 6-8 pm

A panel discussion will take place on Thursday, September 17 from 5:00–7:00 pm in the Orchard Suite of The University Union

* * *

Keynote speaker, Michael Schwager, at the 2015 Art History Symposium, Here as Everywhere: Northern California Art of the 'Sixties and 'Seventies. Photo by Dylan McManus.
* * *
For a Slide Show of Art 1C Students at the Crocker,
Click Here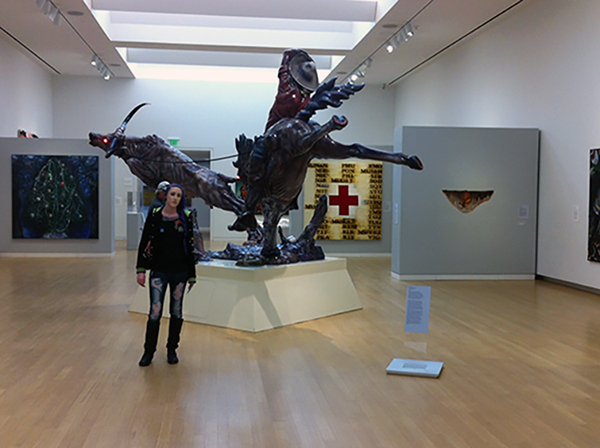 Art 1C student, Megan Tedrow, with Progress II by Luis Jimenez, 1976. The medium is fiberglass, resin, and acrylic paints. "

It looks like they literally just leaped straight out of hell, with their dark colors and glowing red eyes, and the great sense of motion.

...

Thanks to the large size, the unique and dark color palette, and the powerful hellish figures, this was my favorite modern artwork at the Crocker

.



Contact:
Elaine O'Brien Ph.D.
Professor of Modern & Contemporary Art

Office: 190 Kadema
Hours: TuTh 3-4, W 6-7 pm, and by appt.
Phone: 916 278 5704
Email: eobrien@csus.edu
Mailing address:
Sacramento State University
6000 J Street
Sacramento,CA 95819-6061
Professor O'Brien offers a sequence of undergraduate and graduate courses in theory and criticism, the art of the nineteenth, twentieth, and twenty-first centuries, and a survey of Latin American and Latina/o art. Dr. O'Brien has lectured locally, nationally and internationally on global feminisms, global modernisms, and the work of under-represented artists. She was the lead editor of the 2012 anthology textbook, Modern Art in Africa, Asia, and Latin America: An Introduction to Global Modernisms, published by Wiley Blackwell and distributed internationally. Elaine's current research project situates art produced and taught in California's new public university art departments in the 1960s and '70s within the global and local context of that era's sociopolitical revolutions: a theme that will be explored in her 2015 CAA session titled: Patron of Diversity: The Golden State, the People's University and the 'Rise of the Rest.' In May, 2015, she is presenting a lecture at the NORDIK 2015 art history conference, Mapping Uncharted Territories, in Rekyavik, Iceland titled "Towards a Global Regionalism: Art History at the Crossroads."

* * *



Crocker Art Museum Exhibition:
Toulouse-Lautrec and La Vie Moderne:
Paris 1880–1910
FEBRUARY 1 – APRIL 26, 2015


Henri de Toulouse-Lautrec (French, 1864–1901), Le Divan Japonais, 1892/93. Color lithograph, 31 x 23 3/8 inches. Gemeentemuseum, The Hague.

Contemporary Art History student Shelby Reeves with Arin Rungjan's Golden Teardrop, 2015, at the Yerba Buena Center, San Francisco.

* * *


Contemporary Art student, Arleen Simbe
with Ellen Van Fleet's The Bowerbird's Sister,
part of the LUMPEN installation in the
Robert Else Gallery, Kadema Hall (closed)