Visit Sac State Art History
on Facebook




Contact
Elaine O'Brien Ph.D.
Professor of Modern & Contemporary Art

Office: 190 Kadema
Hours: TuTh 3 - 4:30
Phone: 916 278 5704
Email: eobrien@csus.edu
Mailing address:
Sacramento State University
6000 J Street
Sacramento,CA 95819-6061
Professor O'Brien offers a sequence of undergraduate and graduate courses in theory and criticism, the art of the nineteenth, twentieth, and twenty-first centuries, and a survey of Latin American and Latina/o art. Dr. O'Brien has lectured locally, nationally and internationally on global feminisms, global modernisms, and the work of under-represented artists. She was the lead editor of the 2012 anthology textbook, Modern Art in Africa, Asia, and Latin America: An Introduction to Global Modernisms, published by Wiley Blackwell and distributed internationally. Elaine's current research project situates art produced and taught in California's new public university art departments in the 1960s and '70s within the global and local context of that era's sociopolitical revolutions: a theme that will be explored in her 2015 CAA session titled: Patron of Diversity: The Golden State, the People's University and the 'Rise of the Rest.'
O'Brien's Art 112/212 teaching blog

Viewing a painting by Sam Francis

Sam Francis: Five Decades of Abstract Expressionism from California Collections
on view at the
Crocker Art Museum, Sacramento
January 26 – April 20, 2014
For more information, go to:
https://crockerartmuseum.org/sam-francis


To attend THIS week:
Remembering TB9: Artists Steve Kaltenbach, Peter VandenBerge and Jerry Walburg in Conversation

Thursday, March 6, 2014
6-7:30 pm
NOTE ROOM CHANGE: Mendocino 1003

TB-9 is the legendary UC Davis "Temporary Building 9," the art building where, in the 1960s and '70s, a ceramics revolution began, conceptual art was born, and art history was made by Robert Arneson, his colleagues and their students. Among the first generation of TB-9 graduate students are retired Sac State professors, Steve Kaltenbach, Peter VandenBerge and Jerry Walburg. The audience will listen in as they exchange memories of their years at TB-9.

Sculptor Ann Weber with Shannon Veach after
Weber's talk, "Art and Life," on February 27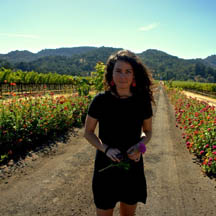 Meagan Doud
Careers in Art & Art History:
Meagan Doud
April 7, 6-7 pm
Kadema Hall 170
To help students think about life after graduation, the Art History faculty is inviting
our recent alumni back to Sac State for conversations about finding a job in the field. The second conversation in the series is with Sac State alumna Meagan Doud, Curatorial Assistant at the Di Rosa, who will tell us about her CSUS education in art history, her career search, and her job. For information about the Di Rosa, click here.


The Testimony No. 1 by Jung Won Chul

The Land and the People
Contemporary Korean Printmaking

University Library Gallery
Sacramento State
February 6 - May 17, 2014
For more information click here