ABA AWARDS & RECOGNITION
Public Safety Awards Recognize Employees, Students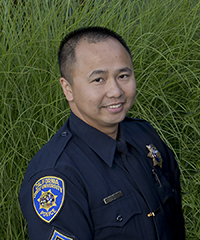 Employee of the Quarter, 3nd Quarter 2013 - Doug Nguyen
"Corporal Nguyen has demonstrated exceptional professionalism and leadership. His ability to listen to other's ideas with concern and an open mind has created an environment of mutual respect where relationships flourish.
In addition to supervising his team, Corporal Nguyen also had the responsibility of supervising the range program. We recognize and appreciate his dedicated efforts."


Student of the Quarter, 3nd Quarter 2013 - Eric Ortlinghaus
"Eric's leadership of the Community Service officers (CSOs) is reflected in their enthusiastic pursuit of professional service to the community. Eric sets a fine example for others to emulate. He is always receptive to feedback and delivers exceptional service. Eric can be relied upon to handle short notice details and gives timely, relevant feedback to supervisors related to assigned tasks."
ABA Staff Honored for Career Milestones
Sacramento State held its Annual Service Awards event in September, recognizing faculty and staff who have reached significant milestones in their careers. Employees were honored for their 10, 15, 20, 25, 30, 35, and even 40 years of service to Sacramento State.
Many ABA employees were also recognized at this event. We took the time to collect some of their thoughts on being recognized, as well as their most memorable experience on campus:
Nancy McCarty, 30 years of service - "I can't believe I have been here 30 years. I'll never forget the early years when I worked in the Administration Building (now Sacramento Hall). We disbursed financial aid checks through the windows of Admin (now SAC) 110. We didn't have computers out our desks, only ten-key calculators. Now, we have electronic refunds. We have come a long way." I will never forget all the wonderful people I have gotten to know along the way. I never would have made 30 years if it wasn't for all my friends here at CSUS."
Stacy Hayano, 25 years of service - "The most memorable experience was probably the opportunity to produce the campus' first financial package for the Parking Structure I project, which was submitted to the Chancellor's Office for Board of Trustees approval. This was my first 'big' project and it gave me the opportunity to work with the Chancellor's Office Finance and Treasury unit and many people on campus. It was a very rewarding experience."
Facilities Management Awards Recognize Staff Monthly

September 2013 - Nat Martin, Energy Conservation Coordinator
"Nat has a very strong work ethic. He is very conscientious about his assignments, takes them very seriously, and is diligent to complete them. Nat is among the most congenial people in the department. He naturally gets along with managers and staff. 
With the completion of the Smart Grid project, Nat recently took over the HVAC time clock programming. He takes extreme care to program these systems for class times and office use and then turns them off when classes are not scheduled. This care and attention to detail means the University is saving more energy with this program than ever before – we saw a 10 percent reduction in natural gas usage so far this year and anticipate similar savings with electricity once a full year of his oversight is complete." Congrats Nate!
October 2013 - Kurt Dingmann, Locksmith
"If it has anything to do with lock work, Kurt is the person to get the job done. He has had excellent focus, completes a lot of work very quickly, and is quick to get out of the shop and start getting his work orders completed. 
Kurt is willing to help all of those around him learn new skills, and our customers feel that he genuinely cares about their concerns. He is very helpful to all, and we feel very lucky to have him on our team."
November 2013 - Michael Mene, Lead Electrician
"Mike's pre-planning and AiM work order checking allows the employees under his direct supervision a clear path to work completion. Mike's dedication starts with an early morning arrival each day to prepare the day's work for his shop.
Mike is easy to work with and treats others respectfully. Mike is someone who we can plan on for future work events with confidence."

December 2013 - Claria Casipit, Custodian
Clarita, or "Tat," is a true professional!  She leads the day-shift custodial crew with sincerity, and takes the utmost pride in performing all of her responsibilities, from overseeing warehouse operations, to cleaning the campus, and supporting her crew. She firmly believes that her work is a direct reflection of her personal integrity and expertise. Her duties are always completed on time, no matter how stressful things get, and (her work is of) superb quality.
Compliments are regularly forwarded after her crew completes an assignment. Tat can be considered a feather in Facilities Management's cap. The University benefits from Tat's great service.
Life-Saving Actions Awarded
Sacramento State drew praise in September for the quick action of its Public Safety staff in responding to a critical emergency on campus.
On September 8, 2013, 47-year-old Anibal Rubina, who was participating in a soccer game on Sac State's Intramural Fields, collapsed suddenly. Team-mates contacted the campus Police dispatch center while a friend began performing CPR.
On-call dispatcher Keegan Hironaka dispatched police units and Officer Thelma Matthews arrived and assessed the victim to be unconscious and not breathing. Using an Automated External Defibrillator (AED), she was able to re-establish a heartbeat. The victim was transported to a nearby hospital where he recovered.
Officer Thelma Matthews was recognized for her actions by the California Highway Patrol (CHP) with the Commissioner's Medal of Distinction, which recognizes the heroic acts of civilians and non-CHP public safety officers.
In addition, Matthews and Dispatcher Hinonaka were recognized by On Scene Event Medical Services, and Cardiac Science, for their quick actions, and were reunited with Mr. Rubina, who had made a complete recovery. "It was very special to meet Anibal and his family. Since the moment I helped Anibal, I feel that I knew him for a long time." said Matthews. "Anibal and I created a very strong bond with each other. We will always have a special place for each other."
Matthews recognized the importance of her colleagues during the event, who were just as instrumental. "My team members Sergeant Vic Vinson, officers Parker and Martinez...dispatcher Keegan Hironaka...I could not have done it without my team members' assistance! I am proud of them!"
Mr. Rubina was fortunate enough to be released from the hospital the day before his 48th birthday. "Now I have two birthdays," said Mr. Rubina.
Pictured, from left to right: Lynn Egen, Keegan Hironaka, Thelma Matthews, Anibal Rubina, Joey Bombara, Daryl Junnila