Impact Statements
Meet Azriel (A.Z.)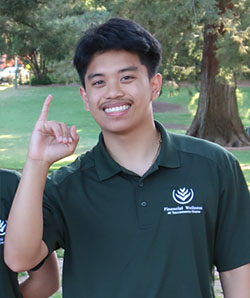 Azriel, known by many as A.Z, is no stranger to the mantra, "The whole is greater than the sum of its parts." As a dependent of a veteran, student worker, mentor and aspiring venture capitalist with goals of becoming a software company owner, A.Z outlines what benefited him most in his academic and professional career: "I don't think about the positions I've held, but the people I've worked with." His grounded approach toward the roles he plays – now including scholarship recipient – has helped fuel his passions and add definition to his goals. A.Z describes how receiving a scholarship at Sacramento State has been transformative—both financially and professionally.
"I don't think about the positions I've held but the people I've worked with."
As a scholarship recipient, A.Z is now able to explore what the Sacramento area has to offer, including sustainable grocery options and local activities. He has utilized earning a scholarship in interviews and networking opportunities to highlight his academic successes and unfettered drive toward his future. With the assistance of his scholarship awards, A.Z. is excited to take advantage of all the world has to offer.
Meet Manvee
As an international student from India, Manvee's journey to Sacramento State required she leave the familiarity of her home country and travel to California's capital city of Sacramento. The transition wasn't easy. With little financial support from family and the unshakeable desire to succeed, she built a name for herself as a stellar student, community advocate and full-time student employee balancing school and work life. Manvee reflects on the overwhelming feeling of receiving several scholarships at Sacramento State, including the Nakatani Asian American Scholarship. "I didn't think I'd get it, because I wasn't American and didn't know if I fit into that bubble." As someone often residing in the margins, Manvee is determined to use this newfound financial freedom to actualize her goal of supporting women, who like her, have big dreams and often nowhere for them to grow.
"I didn't think I'd get it, because I wasn't American and didn't know if I fit into that bubble."
She hopes to support women in gaining financial, social and political independence by eventually earning a PhD researching Dalit women in northern India and starting a non-profit for domestic violence victims. Her time in the CSUS system is one of many steps toward fulfilling her dreams— with earning scholarships at Sacramento State a strong indication she is well on her way.
Meet San
Meet San. As a first-generation international student, becoming the Biology Laureate was not only a testament to her merit as a student, but also a nod to the power of community. Born and raised in Vietnam, San flew to the United States to begin her long trek to higher education. "My grandmother really invested a lot into my future," she reflects, citing her grandmother as one of the key players in her journey toward Sacramento State.
With the cost of tuition fees as an international student, the possibility of education for many students like San is daunting. However, in the midst of COVID, she received an email reading, "Congratulations, you've been selected…" it was an email that would change her life. San says, becoming the Laurate scholarship recipient was, "a huge relief for me and my family."
Now, she reflects on the possibilities of her future.
"Having the opportunity to receive a Sac State scholarship, has not only benefited my undergraduate academic pursuits, but it has also encouraged me to work toward my career goal of becoming a surgeon."
With financial support from the institution, San is ready to embark on her journey to becoming a surgeon.