1 Million Cups (1 MC) Sacramento Weekly Event for Entrepreneurs
A weekly, coffee-fueled event
Every Wednesday morning, 2 founders present their startups to their peers for advice and feedback.
It's not a sales pitch, and it's not an investor pitch. The goal is to have people understand what you do and some of the challenges you have had in building your business.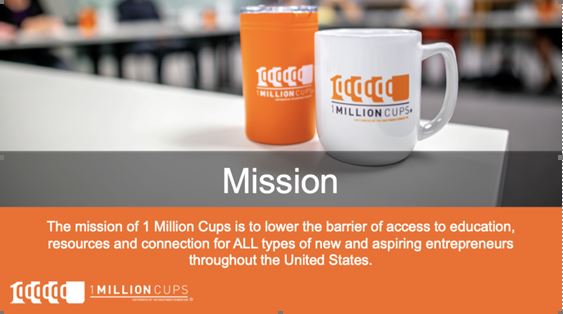 Why Present?
Opportunity to refine your presentation and elevator pitch
A network for support, including coaching from 1 Million Cups organizers
Access to online training programs designed to help you create a powerful presentation and master the Q&A
Opportunity to present again and again—after you made significant changes, or in another city
A diverse audience to engage with and the opportunity for exposure to new markets and people
The potential to receive local, regional or national media coverage on your startup
Schedule + Hy-Flex Viewing
Join us for HyFlex* viewing of 1 Million Cups at the Carlsen Center!
Sacramento's 1MC Chapter meets up online every Wednesday morning from 8:45 – 10 a.m. on Zoom.
Join us at the Carlsen Center, Library 1520, to view this event on Wednesdays at 8:45 a.m.
*Hy-Flex is Hybrid-Flexible, in class and online synchronous video sessions.