Jazz Studies
Greetings prospective students,
Thank you for your interest in the jazz studies program at Sacramento State. To learn more about our jazz degree offerings, entrance auditions, ensemble placement auditions, performing opportunities, and general degree requirements, please review the Jazz Studies Handbook.
To hear a variety of recordings and videos from Sacramento State Instrumental and Vocal Jazz Ensembles, please visit our YouTube Channel
Program Overview
The Bachelor of Music degree in Jazz Studies is designed to produce performers of unique versatility and flexibility. The program offers a balance of instruction in traditional music and jazz performance and a thorough grounding in the fundamentals of music. Students can also specialize in education, and we also offer the Master of Music degree in Performance. Our award-winning ensembles perform multiple concerts each semester and often welcome renowned guest artists to perform.
Jazz Festivals
The Jazz Studies program hosts two non-competitive educational festivals each year, the Teagarden Jazz Festival in February and the Winter Jazz Festival in Decmeber. For more info, click the links below:
Jazz Faculty
Here are the current faculty members of the Jazz Studies program
Jazz Ensembles
The Sacramento State Jazz Ensembles are active in performing a wide variety of styles, from cutting-edge contemporary composers such as Maria Schneider, Florian Ross, Jim McNeely, Vince Mendoza, Bill Holman, and Bob Brookmeyer to the classics of Count Basie, Benny Carter, Duke Ellington, Thad Jones, and Charles Mingus.
The Ensembles comprise standard big band instrumentation of five trumpets, four or five trombones, five woodwinds, piano, bass, guitar, drums, and miscellaneous percussion. Music majors, non-music majors, and students enrolled through the College of Extended Studies may participate in the Sac State Jazz Ensembles.
Both large group ensembles perform regular concerts on campus and at top local, regional, and international jazz festivals. In 2016, Jazz Ensemble I received the college division's Outstanding Downbeat Student Music Award. And in 2010 & 2017, the ensemble took 1st place in the annual Reno Jazz Festival in the college division. Other accolades include being selected as a finalist in the Monterey Next Generation Jazz Festival numerous times.
Prominent guest artists who have performed with the Sacramento State Jazz Ensemble include Jeff "Tain" Watts, Dick Oatts, Dave Douglas, Eric Marienthal, Donny McCaslin, Ernie Watts, Kenny Werner, Carl Allen, Jon Faddis, Bobby Shew, Mark Levine and the Latin Tinge, Conrad Herwig, Bob Mintzer, Wayne Wallace, Ingrid Jensen, Tim Ries, John Fedchock, Geoff Keezer, Dave Pietro, Paul McKee, Wayne Bergeron, Terell Stafford, The New York Voices, Steve Turre, and Wycliffe Gordon.
Vocal Jazz Ensembles
The Vocal Jazz program consists of three advanced ensembles; Vox Now, C-Sus Voices, and the Sac State Jazz Singers all of which are formed by audition. The program also has a beginning ensemble called the Vocal Jazz and Acapella Lab. This ensemble introduces new students to vocal jazz concepts and repertoire and is directed by Sac State student directors.
The sounds of the Sac State Vocal jazz ensembles are influenced by the great vocal jazz groups of the past and present: The Hi-Lo's, Singers Unlimited, Take 6, New York Voices, The Real Group, Manhattan Transfer, and others. Additionally, the ensemble strives to explore new, innovative approaches to contemporary vocal jazz and features student compositions and arrangements.

The advanced ensembles tour to different colleges, high schools, and jazz festivals throughout the year. The ensembles have appeared on local TV and radio stations, placed first consecutively at the 2016 and 2017 Monterey Next Generation Jazz Festival, and took first place at Reno Jazz Festival in 2017. The Sacramento State School of Music vocal jazz program has been awarded over 20 Downbeat Magazine Student Music Awards, including a 2018 Downbeat Magazine Student Music Award for Vox Now.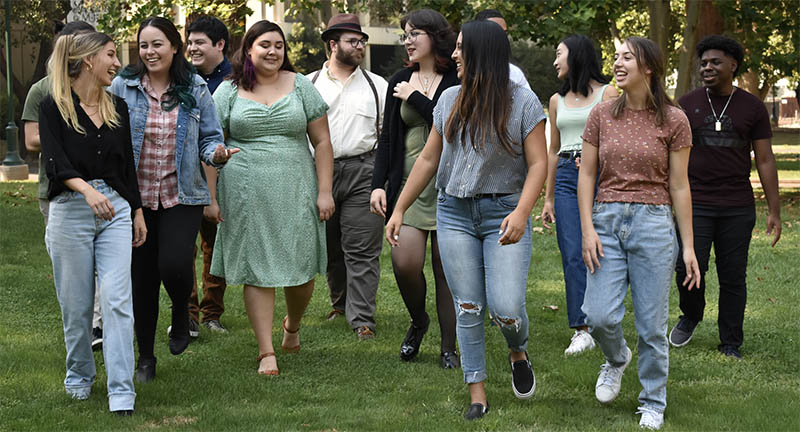 Jazz Combos
Our jazz combos provide a creative outlet for the beginning improviser as well as the advanced. Under the guidance and direction of the Sacramento State Jazz Faculty and graduate assistants, students work together within assigned combos to develop proficiency in the art & craft of jazz improvisation and small group jazz ensemble playing. Groups are often organized according to themes, where the repertoire of a specific jazz composer or genre is addressed.
To prepare students for professional performance situations, the memorization of standard jazz repertoire is expected. Combos perform frequently on and off campus for a variety of different functions and events. Music majors, non-music majors and students enrolled through the College of Extended Studies may participate in the Sac State Jazz Combos.