String Project
The String Project is a flagship program that provides affordable, carefully-structured group lessons in violin and cello for children in the fourth- to eighth-grade, taught by the dedicated and talented School of Music undergraduate and graduate teachers.
Our mission is to:
Create a partnership by providing accessible string education and mentorship for the community and teaching experience for School of Music students who may be pursuing a career in string education
Provide our participants with an opportunity for musical enjoyment and education through the study of stringed instruments
Encourage the personal development of our participants by providing them with an outlet for self-expression in a structured environment
Encourage student leadership in our participants' school music programs
Share our accomplishments within the community, acting as a supplement to the current string programs in the school systems, or as a substitute string program for children who do not have access to a program

The String Project at Sacramento State is administered by master teachers Judy Bossuat and Tim Stanley.
Fall 2019 Schedule
Monday, September 9 - auditions for students new to the string project who already play violin or cello: 5pm in Room 227 AND New Parent meeting: 6pm, Room 227
Wednesday, September 11 - first class meeting for new beginners only
ALL STUDENTS: Monday, September 16 - classes for all levels (first class for intermediates and orchestra)
Robla Bell Ave Elementary classes will meet on the following Fridays from 4:00-4:50pm: 9/20, 9/27, 10/4*, 10/18, 10/25, 11/1, 11/8, 11/15, 11/22*, 12/6 (*indicates 3:00 start time)
NOTE: No classes held on Monday, November 11 or Wednesday, November 27
ALL STUDENTS: Monday, December 2 - Our dress rehearsal on stage (come in concert dress)
ALL STUDENTS: Wednesday, December 4 - everyone meets in Room 143
ALL STUDENTS: Monday, December 9 - 7pm Free Concert - students arrive early - by 6PM! A reception will follow the concert. Cello families please bring drinks. Violin families please bring snacks.
|   | Regular Class Meetings | Individual lessons (Optional but highly recommended) |
| --- | --- | --- |
| Instrument | Violin or Cello | Open |
| Days | M, W | M, W |
| Times | 4:45 - 5:35 p.m. | 5:45 - 6:35 p.m. |
| Location | Capistrano Hall, Room 223 | TBD |
About Our Program
Parking Pass Form (needed only if you will be attending classes with your child; not needed if you are only dropping off and picking up your child from Sac State)
Contact
Since 2001, the String Project has been training students and teachers in the joys of playing and teaching stringed instruments. The String Project is a quintessential model of service-learning, allowing both undergraduate and graduate students the chance to learn new skills, think critically, and test their roles as professionals while offering low-cost instruction in stringed instruments to area children of all social strata. Learn more about the String Project via the National String Project Consortium.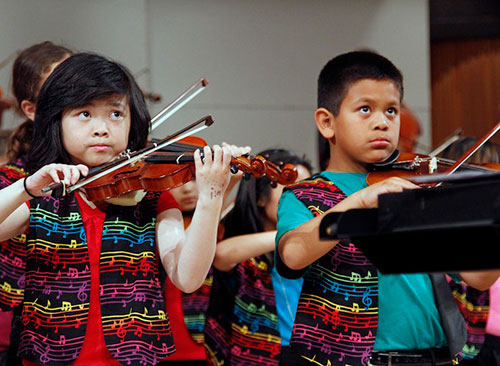 Program Progression
String Project participants typically follow this progression:
Beginning Violins
Beginning Cellists
Intermediate Room
During their first year, students learn the basics of string playing in a heterogeneous or homogeneous class of between fifteen to forty students. During the school year, students can pre-register and be put on a waiting list for the beginner's class which starts in September of every year. Interested students should register from May-August. Students are accepted on a first come, first served basis.
2nd Year & Up

Students are grouped in a heterogeneous group to create an orchestral experience. Occassionally, some students are taken out of the large orchestra to work in a smaller chamber orchestra setting.
Program Notes
Parents are encouraged to attend classes whenever possible.
Parents of the third graders with special permission to register are required to attend classes.
Students need to provide their own instruments. Information about obtaining an instrument is given at registration. Please do not buy an instrument until we have sized your child. Purchased instruments must meet the approval of the Master Teachers.
During the summer and winter breaks, we encourage participants to contact one of the apprentice teachers to further their study on an individual basis.
View the Spring 2017 String Project Concert
Project Benefactors
The Sacramento State String Project  is made possible through the generous support of The Sacramento State Associated Students (ASI), String Letter Publishing, the Robla School District, Twin Rivers School District and the National String Project Consortium, and various individual donors. The Teichert and Heller Foundations have given support in previous years.
String Project needs your support!
Email Director Andrew Luchansky at: aluchansky@csus.edu

Or mail contributions to:
Sacramento State School of Music
ATTN: String Project
6000 J Street • MS 6015
Sacramento, CA  95819
Please make your check payable to "Sacramento State String Project". Any amount helps a child learn!