Students Succeeding in Arts & Letters
Hunter Kiley
Department of Art
Professor Rachel Miller: "Ms. Kiley is tenacious, hardworking, and determined; she has overcome significant familial and financial hardship to succeed. She conducts herself in a very professional and confident manner and responds well to constructive criticism, actively seeking out both instructor and peer feedback to improve her work."
Major: Art History
Minor: Italian Studies
Honors: Recipient of Jose and Juanita Montoya Memorial Scholarship, recognized with Provost's Award for Research Excellence 2019
… tenacious, hardworking, and determined … very professional and confident …
Corrina Rodacker
Department of Communication Studies
As a student, Corrina demonstrates academic excellence in every sense. After graduating high school at the age of 16, she attended American River College before transferring to Sacramento State.
Major: Communication Studies
Campus Life: Member of Lambda Pi Eta
Community Service: Volunteers for Front Street Animal Shelter and Nation's Finest
Cory Stephens
Department of Design
Professor Emily Potts: "Cory is a passionate and dedicated student who demonstrates the ability to think critically and share honestly in their courses. Cory's enthusiastic participation and consistent work ethic sets them apart as a leader amongst their peers...Cory has proven to be an intelligent and empathetic young designer with a lot of promise.
Major: Interior Design
Community Service: Volunteers for Happy Tails
Aaryn "AJ" Adams
Department of English
"One day I hope to return to school once more, in order to receive a Doctorate in either Education or English Literature, to help show that foster youth can achieve academic success at the highest level. Many foster youth, including my past self, can feel as though they are facing impossible odds, and I plan to help them have the opportunity to overcome those odds."
Major: English
Honors: Recipient of Benjamin A. Gilman International Scholarship
Harvey Jones
Department of History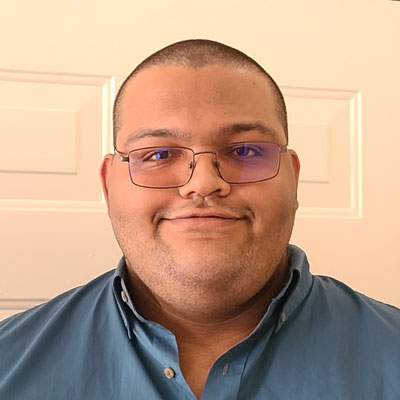 "I was fortunate to be taught by instructors who have greatly improved my writing and taught me historical skills. Although I had not planned to attend graduate school for most of my time in college, I saw that I could help to promote a more rounded understanding of history in our society through a career in public history. I look forward to learning how to make historical knowledge accessible to the public in the public history program."
Major: History
Minor: Military Studies
Currently enrolled in public history master's program
Hannah Van Vleet
Department of Humanities & Religious Studies
Department Chair Alyson Buckman: "She shines within our department. The faculty easily decided Hannah should received the designation of Honor Student since we all have been impressed with her work. She is articulate in her classroom participation, speaking easily and knowledgeably about the works we are engaging."
Major: Humanities & Religious Studies
Minor: Philosophy
Amanda Lopes
School of Music
Professor Ari Micich: "Amanda has uplifted and supported her colleagues, as well as the faculty and staff at the School of Music...When working with colleagues, Amanda has been quick to lift up the accomplishments of other students and to recognize the contributions of faculty and staff.
Tiara Alston
Department of Philosphy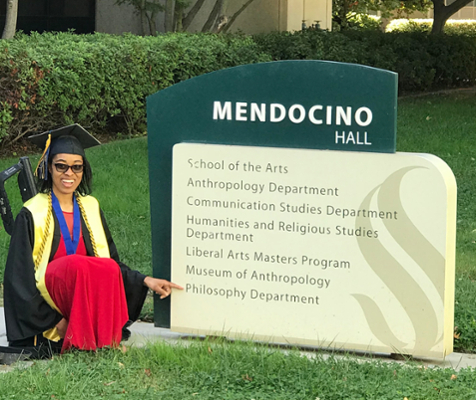 Professor Chong Choe-Smith: "Tiara started in our four-year promise program, but she didn't finish in four. She finished in three and a half years! Tiara is exemplary in having the foresight and determination to achieve her goals, despite any personal and academic challenges. "
Major: Philosophy: Ethics, Politics, and Law
Honors: Recipient of Professor Ian McGreal Memorial Scholarship, recipient of Philosophy Department Scholarship
Campus Life: Phi Alpha Delta Society of Scholars, Phi Kappa Phi Honors Society, Philosphy Club
Currently enrolled in UC Berkeley Law School for Fall 2021
Joyce Vang
Department of Theatre & Dance
Department Chair Lorelei Bayne: "The personal artistry and complete confidence that Joyce was able to develop and hone during her time at Sacramento State was nothing short of astounding to faculty and staff. We were all deeply moved, along with audiences, each time she stepped on stage or had her choreography performed. She is truly a poet, possessing immense physical intelligence.."
Alondra Gonzalez
Department of World Languages & Literatures
Professor Rachel Miller: "Ms. Kiley is tenacious, hardworking, and determined; she has overcome significant familial and financial hardship to succeed. She conducts herself in a very professional and confident manner and responds well to constructive criticism, actively seeking out both instructor and peer feedback to improve her work."
Major: Spanish
Minors: Biology, Music
Campus LIfe: National Collegiate Hispanic Honor Society (Sigma Delta Pi), National Alliance on Mental Illness (NAMI), Student Health Advisory Committee (SHAC), Club de Espanol, Vocal Jazz Club