Equity-In-Motion
An Evaluation of the SAYS Partnership with San Juan Unified School District
New Report Launched Highlights Need for Equity-Based Education Practices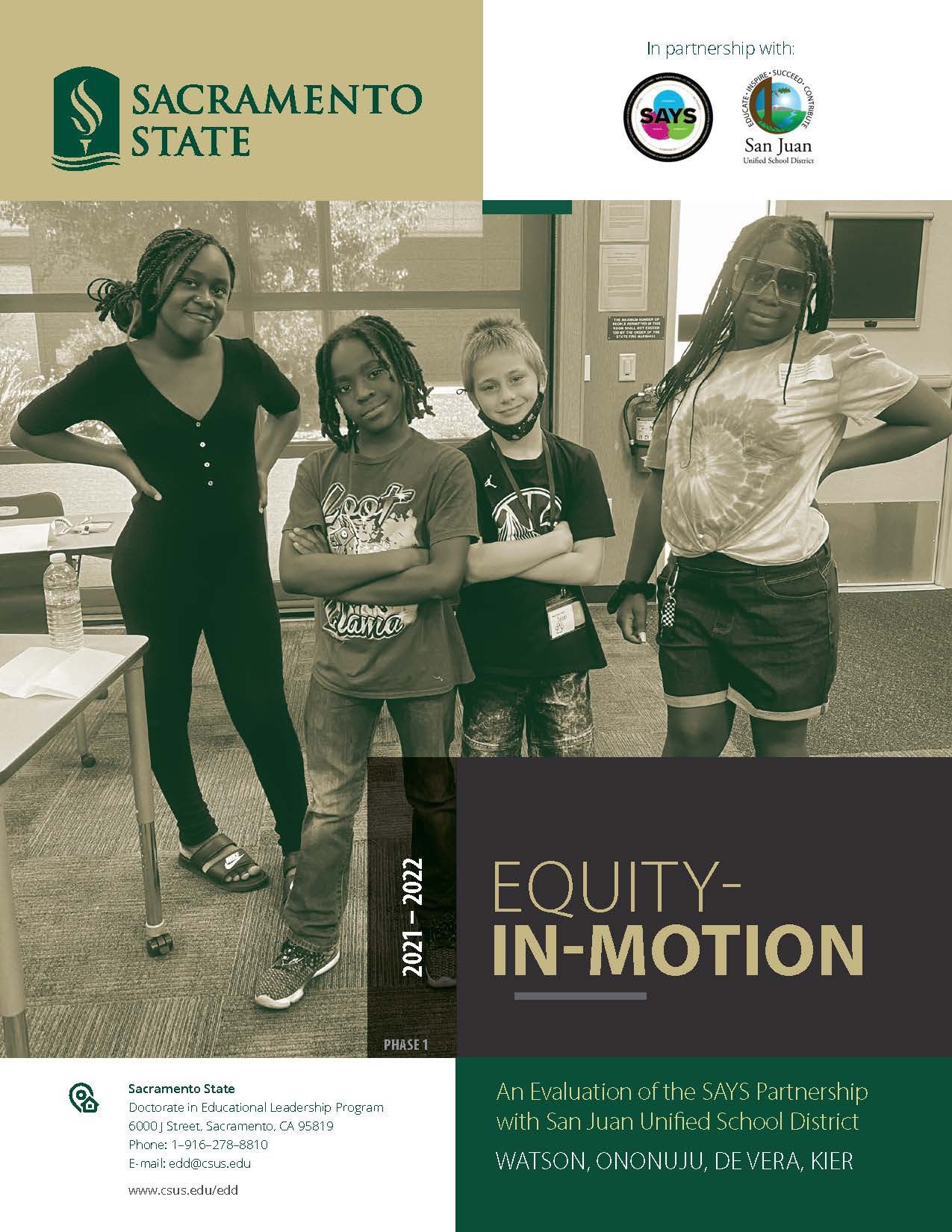 A new report by Dr. Vajra Watson (Faculty Director, Ed.D. Program), Dr. Ijeoma "IjO" Ononuju (Touro University), Shaun de Vera and Angelina Kier (current Ed.D. students at Sac State) focuses on a partnership between the UC Davis Sacramento Area Youth Speaks (SAYS) organization and San Juan Unified School District during the 2021-2022 school year. Sacramento Area Youth Speaks (SAYS) is a community-based critical literacy and literary arts program that fosters pedagogies of racial justice. Students are guided through culturally relevant writing workshops that support them as authors of their own lives and agents of change.
This report—created for the students of San Juan Unified School District and their families, the teachers and community-based educators who work face-to-face with young people every day, the school board at the helm, and various school and district leaders—aims to help inform the ways this district will learn, move, and grow through intentional and strategic partnerships with community organizations.
The research team approached the creation of the report using two main guiding questions:
In what way, if at all, is the district actualizing its principles of equity?
How, if at all, does the partnership with SAYS impact class climate, student outcomes, and school culture?
Their findings include four data collection methods: Secondary School Data, Primary Survey Data, Interviews, and Observations. A quick glimpse into the data reveals that out of 806 high school teachers, 600 are White, and only 32 are Black. Further still, of 29 administrators, 3 are Chicanx/Latinx, and only 1 is Black; while BIPOC students represent over 50% of the student body.
The report includes Survey Data from the schools/classes where SAYS programming occurred and hopes to provide a glimpse into the impact that effective community-based partnerships have on the climate of equity at school for students.
The SAYS model showcases a way to incorporate transformative schooling and is an example for districts to work towards a model of racial justice. The lessons are not just for Sacramento.
Across the country, business as usual is not working and the status quo of school systems is imploding. This crisis provides an opportunity for innovation and bolder partnerships. The report highlights that to develop new education models, educators and communities must work together in new, collaborative ways.
"Grounded on values of social justice, diversity, equity, and inclusion, Equity-in-Motion goes beyond merely observing the process of anti-racism work to issue actionable recommendations that will deliberately address the hurdles obstructing equity in education. This report comes at a critical juncture in the movement to address educational equity, when promising partnerships such as the one between SAYS and San Juan Unified School District need to be nurtured and guided by qualitative analysis and meaningful feedback to achieve lasting outcomes. The research methods and compelling narratives on display here allow a thorough understanding, not only of how inequality impacts educational outcomes, but how to finally dismantle that inequality."

Dr. Carlos Nevarez
Sacramento State University
Interim Provost and Vice President for Academic Affairs
---
Become an Equity Warrior
Interested in finding out more about the Doctorate in Educational Leadership program and becoming an Equity Warrior for Education? Dr. Watson hosts regular information sessions reviewing the Ed.D. program at Sac State details.
View the schedule and RSVP for a session