Graduation Awards
Each year the College of Education recognizes two outstanding graduate awards, for their excellence in academic performance, commitment to the community, and passion in the field of education.
The Dean's Award is given annually to an undergraduate student graduating with honors. Faculty from the College of Education recommends top graduates and the winner is then interviewed by the University President for a chance to be awarded the President's Medal.
The Outstanding Graduate Student is awarded annually by the College of Education. Faculty recommend top graduates who are then interviewed by the SSOAR committee. This award recognizes a graduate student that best represents the mission, principles, and values of our College.
2021 Dean's Awardee
Shamona Thompson
Ms. Thompson Ross is graduating this Spring from the American Sign Language and Deaf Studies program. Her academic journey represents one that is typical for many Sacramento State students—beginning at community college, supporting a family alongside pursuing higher education, and transferring to Sacramento State to complete her B.A. In her pursuit of a bachelor's degree, she has shown tremendous academic growth. As Ms. Thompson Ross is quick to point out, this has not been without barriers, as she survived breast cancer, food insecurity, and supporting her family. Nonetheless, Ms. Thompson Ross exemplified resilience in finding resources across our campus, from the CARES office to the McNair program, to support herself, her family, and her pursuit of academic excellence. In our interview, she stated, "what has been most impactful has been the resources, and the people I have made connections. It has been being able to navigate and being able to get the support I need across campus. I would not be able to get through if it wasn't for the programs and the faculty [at Sacramento State]."
Ms. Thompson Ross first pursued higher education after experiencing the barriers nonverbal adult clients faced at the group home where she worked. With the passion to work with families to enhance their access to resources, she pursued Deaf Studies. Upon transferring to Sacramento State this passion to work with others to support their access to resources and overall wellbeing can be seen in her leadership as an ISA peer-mentor, support of the development of the re-housing program with the CARES office, and coordination of the book fund with her McNair program class. This is all alongside her coaching local youth basketball, supporting food programs with Fishers of Men Ministries, and acting as a board member for CROWNS community advocacy. Through her work across Sacramento State and in the community, Ms. Thompson Ross exemplifies what it means to be an anchor institution – marrying her academic studies with local needs. As she graduates, Ms. Thompson Ross has set her sights higher, describing her interest in applying to a PhD program in social work so she can make changes that positively impact our local community.
Shamona Thompson Ross represents some of the best aspects of our dedicated undergraduate student body. We honor her with the College of Education Dean's Award.
---
"I started my educational adventure by stepping out on FAITH. This journey has taken me to places that I never have dreamed of...I keep asking myself, 'how did I get here?' and 'why me?' But My God said, 'WHY NOT YOU?'"~ Shamona Thompson Ross
2021 Outstanding Graduate Student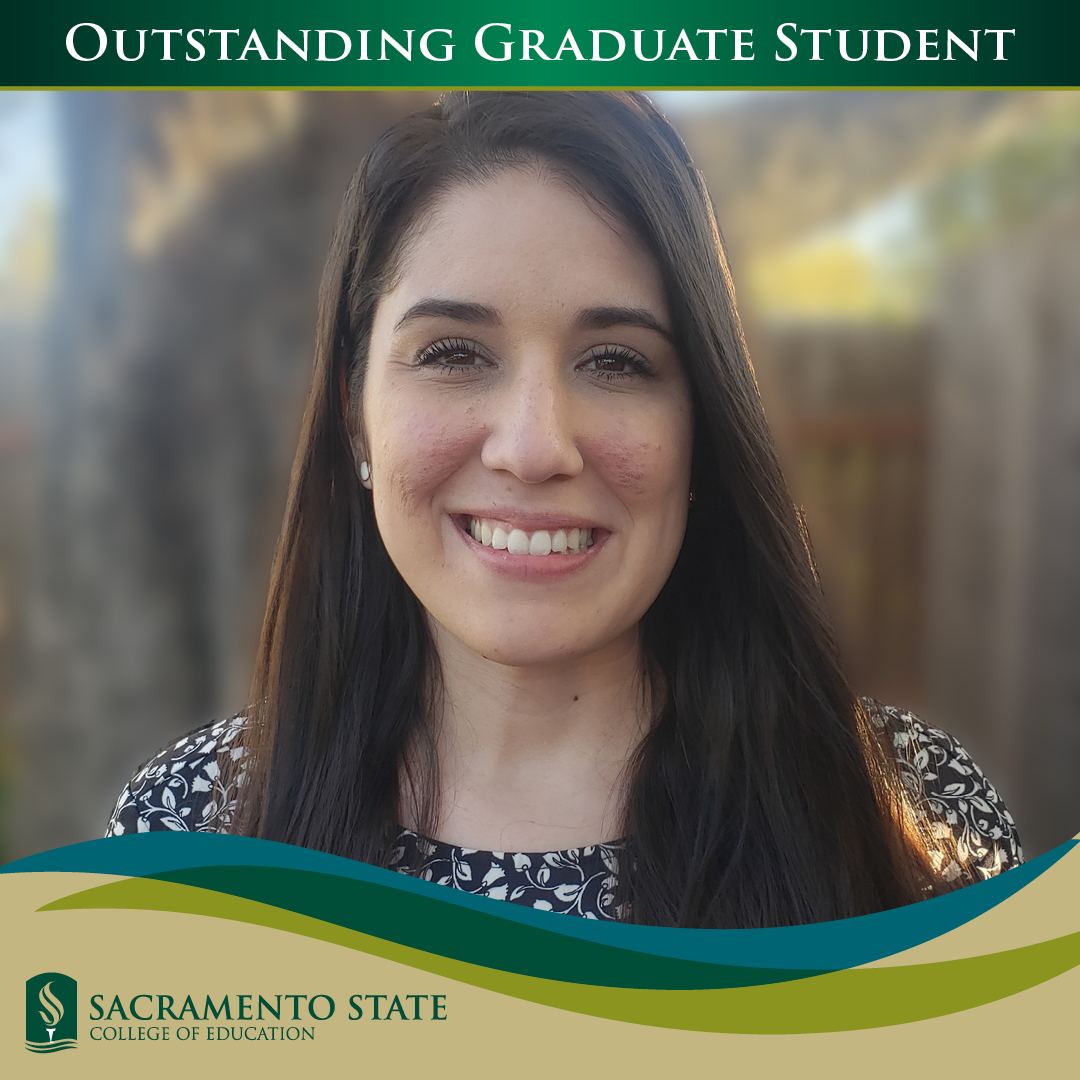 Joann Ramirez
Ms. Ramirez is "made at Sac State," having received both her undergraduate degree and Masters in Counselor Education at our university. She exemplifies all that we would hope as a representative of our college. Her personal background and story are inspirational, compelling, and include a critical role of Sacramento State in supporting her journey. She demonstrates a passion and commitment to educational equity through her dedication to supporting first-generation students, especially undocumented students, in pursuit of their higher educational goals. She has worked extensively with higher education Dreamer Resource Centers in California and is the Dream Center liaison for Consumnes River College. Due to her expertise and commitment to this work, Ms. Ramirez was chosen to co-author a toolkit to be used state-wide to support undocumented students at the college level. In addition, she serves as the Sacramento State Counselor Education Ambassador, and in this capacity works to assist prospective students to explore advanced degree paths. Interpersonally, Ms. Ramirez is passionate and incredibly articulate about her goals of supporting her community and her future ambitions. It is plain to see in speaking with her that there is no limit to what she can and will achieve.
---
"..I recognize that many of us stand on the shoulders of our loved ones and their sacrifices...The individuals who came before us believed that challenging systems and creating opportunities for the generations that followed was worth the fight, and I am proud to be part of this vision." ~ Joann Ramirez