Master's of Criminal Justice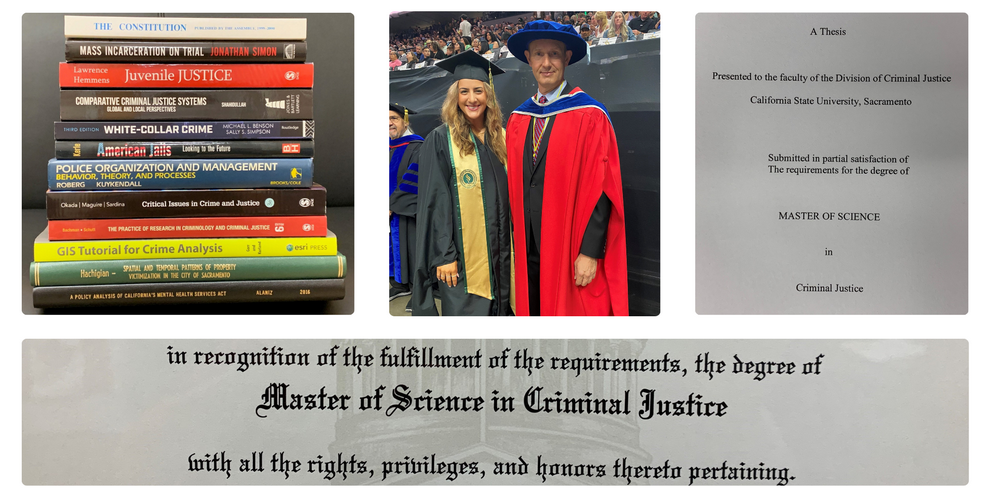 The Master of Science program in Criminal Justice offers a 'generalist' degree focused on a variety of areas within the field of Criminal Justice.
The breadth of the curriculum and faculty training is evident in the variety of courses taught by instructors with training in criminal justice, criminology, sociology, psychology, political science, public administration, social work, and law. Faculty members teaching in criminal justice have both academic training as well as practical experience in the criminal justice system. This training enhances the depth of knowledge that is shared with students. In addition, all faculty members that teach in the graduate program have earned doctorates in their respective disciplines.
Contact for Master's Program
Dr. Yvette Farmer
Graduate Coordinator
(916) 278-5062
drfarmer@csus.edu
A Contemporary Curriculum
The table below reflects the Academy of Criminal Justice Sciences (ACJS) required content areas to meet the Master's Degree standards for Criminal Justice.
The content described in this table is contained in the Criminal Justice Master of Science program course offerings. For example, our core courses include criminological theory, research methods, criminal justice administration, and advanced research design. We also offer courses in corrections, policing, juvenile justice, and law and justice. In addition, we have offered elective courses in areas with a growing body of research such as Psychodynamics of Confinement, and Comparative Analysis of the Criminal Justice System.
| Content Area | Related Topics |
| --- | --- |
| Administration of Justice | Contemporary criminal justice system, major systems of social control and their policies and practices; victimology; juvenile justice; comparative criminal justice |
| Corrections | History, theory, practice and legal environment, development of correctional philosophy, incarceration, diversions, community-based corrections, treatment of offenders |
| Criminological Theory | The nature and causes of crime, typologies, offenders, and victims |
| Law Adjudication | Criminal law, criminal procedures, prosecution, defense, and court procedures and decision-making |
| Law Enforcement | History, theory, practice and legal environment, police organization, discretion, and subculture |
| Research & Analytic Methods | Quantitative - including statistics - and qualitative, methods for conducting and analyzing criminal justice research in a manner appropriate for graduate students |
How to Apply: Domestic Applicants
A baccalaureate degree in Criminal Justice or its equivalent. Applicants with degrees in related fields (sociology, psychology, public administration, political science, government, or the like) will be considered and must be adequately prepared for graduate study. Such students may be required to complete a course of study or a pro-seminar course in criminal justice as a prerequisite to being admitted to the Criminal Justice Graduate Program.
A GPA of 3.0 in the major and 3.0 in the last 60 units attempted.
Apply to the University at CalStateApply. Approximately 3 business days after submitting your application, you will receive instructions from the Office of Graduate Studies regarding the process to create a SacLink account and a link to a website where you can upload the following supplemental documents. Please note that transcripts cannot be uploaded and official copies must be submitted to the Office of Graduate Studies.
A letter outlining in some detail the applicant's experience, interests, goals, and expectations in pursuing the MS in Criminal Justice.
Three letters of recommendation from the student's former faculty who can evaluate the applicant's potential for graduate study. Applicants applying after having been out of college for several years may have recommendations submitted by their employers or other professionals. Applicants do not upload letters of recommendation; instead, they will receive a link via email from the Office of Graduate Studies for their letter writers to submit on their behalf.
Submission of Graduate Record Examination Analytical Writing score of 4.0 or higher.
The application filing period for Fall 2023 begins on October 1, 2022, and ends on March 1, 2023.
How to Apply: International Applicants
Must apply through International Admissions.
Above listed items 1-6.
TOEFL Test - Students that earned a degree from an institution located in a nation where English is not the official language must take the TOEFL Test and earn a Graduate score of 550 on the paper-based test, or 80 on the internet-based test.
All files will be ranked in order of recommended admissions. A list of ranked applicants will be sent periodically to the Office of Graduate Studies (OGS) for processing. Some applicants may receive an offer of admission from OGS prior to the application and document submission deadline. Other applicants may be placed on a waitlist if there are more qualified applicants than the number of spaces available in the program.
Accepted applicants will be enrolling in courses offered Monday through Thursday evenings.