Advising
Important Operations Information
The Physical Therapy Department office has re-opened, with limited in-person availability. Appointments are encouraged to ensure staff are available.
If you have questions or concerns, staff can be reached during business hours (M-F, 8am-5pm) at the contact information below:

Fall 2022 Application Exceptions and Adjustments in Response to COVID-19 **Updated 5-10-2022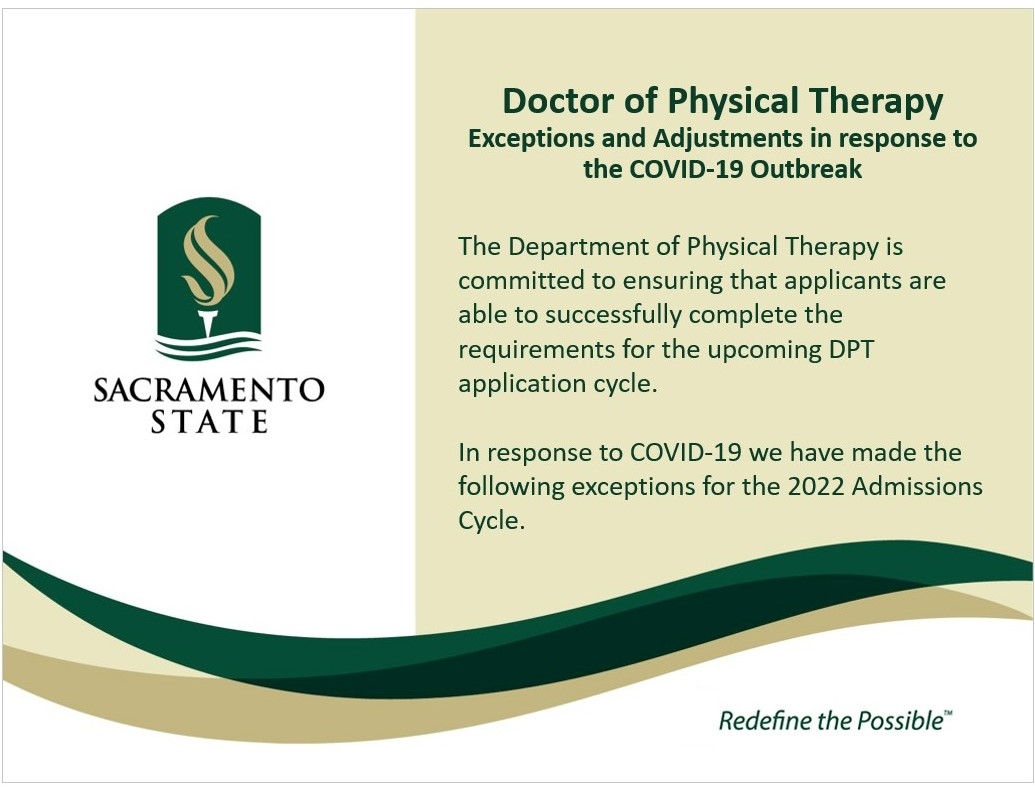 Information Session and Tour
Students interested in the Doctor of Physical Therapy program are encouraged to attend one of the monthly information sessions. The sessions will include information on all aspects - of the application process, prerequisite requirements, and the admissions criteria. If time permits, individual questions will be addressed and a tour of our facilities will be conducted.
Starting in the Spring of 2022, the Department of Physical Therapy will resume monthly in-person information sessions. Registration and proof of vaccination are required to attend.
In-Person information sessions are scheduled at Folsom Hall, Suite 1054. Please arrive a few minutes early and check in at our front desk. Driving directions to the university and a campus map are available at the Parking and Transportation Visitor Information webpage.

Please be advised that parking permits are required and can be purchased at the ticket machine outside our entrance to the building, or via the PayByPhone app. You may purchase either a 2-hour permit for $4, or a daily permit for $7.

If you have any questions, please email us at hhs-pt@csus.edu or call us at (916) 278-6426.
Note: The Department of Physical Therapy is not on the main Sacramento State campus. We are located at 7667 Folsom Blvd., Sacramento, CA 95826.
How to Find Us
7667 Folsom Blvd. Room 1054
Sacramento, CA 95826
(916) 278-6426
Office Hours
Monday - Friday 8 a.m. - 5 p.m.
Advising Session Dates
If you are unable to attend one of the Group Advising Session you can review the admissions slideshow at the following link.
| Date | Time |
| --- | --- |
| Thursday, June 23, 2022 | 2:00 pm |
| Thursday, July 7, 2022 | 3:00 pm |
| Thursday, August 25, 2022 | 1:00 pm |
| Thursday, September 8, 2022 | 5:00 pm |