Commit to Study
Who We Are
Commit to Study is a peer mentoring program dedicated to helping students taking classes in the College of Natural Sciences and Mathematics to improve their study skills. Commit to Study offers one-on-one peer mentoring sessions to students in improving their study skills and efficiency. Commit to Study utilizes an assessment tool called the Learning and Study Strategies Inventory (or LASSI) that covers ten different categories to identify areas of strength and areas for improvement. In this way, the Peer Mentors can tailor the curriculum to best fit student needs.
Weekly Presentations Information
Workshop recordings available on Canvas: C2S has a Canvas course that lists all upcoming workshops, past workshop recordings, and additional resources on study skills. Please fill out the form to be added to the Canvas course.
Signing Up For an Appointment
You can make your appointment online. From the series of pull-down menus:
Select "Advising", then "Center for Science and Math Success", and then "Commit to Study". Then click on the "Next" button.
Once again select "Center for Science and Math Success" and when it asks you to pick a staff member, just leave it as "any staff".
You'll then have options for picking days and time periods. We've been filling up quickly, so you may need to scroll out a few weeks before you find any that are not marked "N/A" (not available).
Once you have a time/date selected, click on the "Next" button one last time.
In-person and virtual appointments are currently available. Zoom links will be emailed after an appointment is made.
Meet the Commit to Study Program Director
Dr. Sayonita Ghosh Hajra
Dr. Ghosh Hajra is an associate professor of mathematics in the Department of Mathematics & Statistics at Sacramento State. sayonita.ghoshhajra@csus.edu
Meet the Commit to Study Mentors
Zarina
Pronouns: She/Her
My name is Zarina Zaki and I'm currently a Biology major wanting to concentrate on Biomedical Sciences. I'm hoping to pursue a career in healthcare in the future. I became a part of Commit to Study as a peer mentor because I met with one of the commit to study mentors freshman year and they were so motivating, and it inspired me to implement that towards other students. I would recommend scheduling an appointment and coming to our workshops because we have a supporting, and motivating community to keep you on track with your studies. A fun fact about me is that I like fashion and coffee.
Ally
Pronouns: She/Her
Hello, I am Ally! I am majoring in Biology with a concentration in Clinical Lab Science, and I am looking forward to a career working in a research lab. My decision to become a Commit to Study peer mentor stems from my passion for creating, sharing various learning techniques, and team building ways which enhance the learning experience. Being able to share with others supporting resources such as, effective note taking, time management, and tips to prevent anxiety helps students to be more successful in college and to enjoy the overall experience. Activities that I enjoy outside of studying are bike riding, reading, and taking day trips to explore the Northern California coast and its unique beach towns.
Jesus
Pronouns: He/Him/His
Hello Everyone, my name is Jesus and I'm a third-year transfer. I'm currently double majoring in Mathematics with an emphasis on pure mathematics and Physics. I became a peer mentor for the Commit to Study program to share the resources and strategies I learned with other students to succeed in their classes. Feel free to make an appointment with any of the peer mentors. Fun fact I enjoy biking, I play goalkeeper and I watch anime.
Ruqshana
Hello everyone! I am studying Mechanical Engineering and learning how the world around me works. I see Mechanical Engineering as a combination of creativity, knowledge, and the right tools to turn any idea into reality. This major requires a lot of math to sharpen your skills, and by the end of my studies I will also earn my minor in mathematics. I hope to teach others that some of these challenges with STEM are fun to learn and overcome, and that the world around us is a plethora of knowledge that we can ascertain within the pursuit of STEM studies.
Saniya
Pronouns: She/Her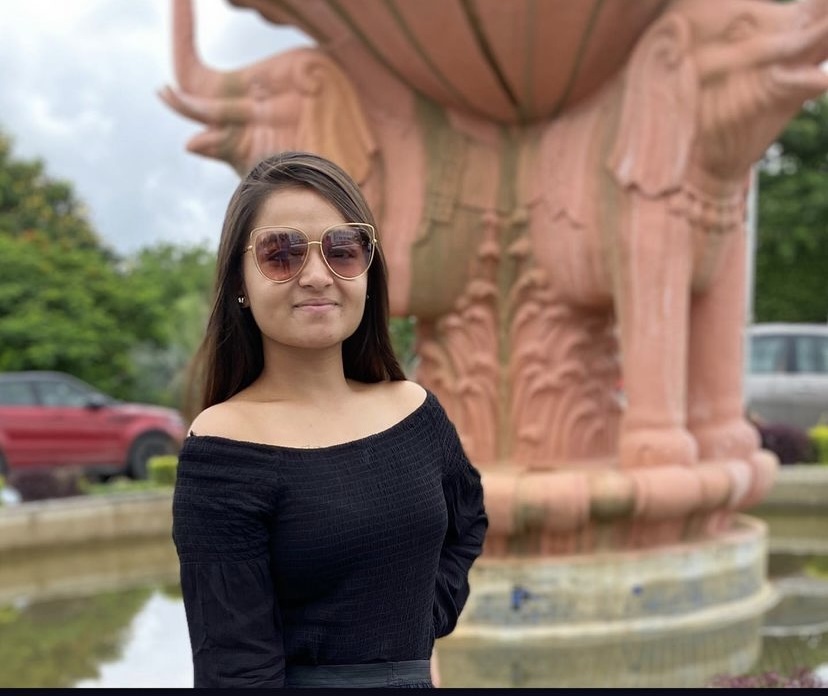 Hey there !! My name is Saniya Patel and I am international student from India. I am pursuing my bachelors degree in computer science with minor in mathematics. With the passion for technology and love for problem solving , I knew that STEM career is right path for me. I will be your mentor to help you support academically and provide mentoring sessions and our team brings a wealth of knowledge and experience to the table with various backgrounds. I love travelling and I know two more languages which are Hindi and Gujarati.
Miren
Hi, I am a pre-med student, a standing junior majoring in Biological Sciences. Since childhood, I was cultured in an environment where everyone has a background and life that revolves around healthcare professions, and growing up I started to find medicine and physiology interesting. I can think of no other professional avenue more challenging, rewarding, and evolving. My role as a peer mentor for Commit to Study will not only encourage me to greatly support your academic development but also provide you with the rewarding experience of having a positive influence in your life. My entire team has the potential to tailor the curriculum in accordance with each student's areas of strength and need, ensuring individualized support which fosters a constructive learning atmosphere. Fun fact, MESSI is the G.O.A.T.
Jesse
Hi, there! My name is Jesse (pronouns: they/them) and I am a senior mathematics student here at Sac State. I am on my way to becoming a high school teacher, and I am also hoping to get a masters in mathematics in the future. I am glad to be working at Commit to Study because as a disabled student, I can really appreciate the obstacles that come along with getting an education, and I want to share the tricks and tips to overcoming them that I have learned over the years. When I am not nerd-ing out about math and science, I also like to go hiking, play board games, and attend drag shows.
Uyen
Hi everyone! I'm currently a Biology major with a minor in Chemistry. My goal is to become an optometrist, which fuels my passion for academic excellence. This is why the Commit to Study Mentor role caught my attention. I've personally felt the challenges that come with rigorous studies, and I'm eager to share practical learning approaches and valuable insights with my peers. Being part of the Commit to Study program would not only let me assist fellow students but also contribute to building a thriving academic community. Fun fact: I love to bake and experience new recipes, but my favorite treats are profiteroles and cookies!
What We Do: Appointments Structure
Commit to Study requires two appointments – virtual or in-person. If virtual, the student will be given a Zoom link once they schedule an appointment. In-person meetings are held in Sequoia 320.
During the first appointment, lasting 1 hour, the student will:
Discuss the Learning and Study Strategies Inventory (LASSI) which covers topics such as time management, anxiety, motivation, and test strategies.
Select 2-3 LASSI worksheets on areas that you want to work on before your next appointment.
Develop a concrete plan for improvement using strategies discussed with your peer mentor.
Set SMART goals so that you and your peer mentor will have a marker for measuring success.
During the 30-minute follow-up appointment, the student will reflect on the impact of the completed LASSI worksheets and decide whether there is a need to set up additional appointments.
LASSI Worksheets
Commit to Study utilizes the 10 domains from the Learning and Study Strategies Inventory (or LASSI) to identify areas of strength and areas for improvement, and thus tailor the curriculum to best fit students' needs.
SMART goals video describing the concept and theory behind it
Signing Up For A Class Presentation
Do you want a Commit to Study Peer Mentor to stop by and offer your class a presentation? Fill out the short form below: