Regenerative Medicine Lecture Archive
View our past regenerative medicine lectures from 2017 to the present.
Flame of Hope: A Stem Cell Therapy for Diabetes
Wednesday, November 17, 2021
Dr. Julie B. Sneddon, Assistant Professor, Department of Cell & Tissue Biology, Diabetes Center and, Broad Center of Regenerative Medicine and Stem Cell Research, University of California, San Francisco discussed her stem cell research with the potential to revolutionize the treatment of diabetes.
This year, we celebrate the 100th anniversary of the discovery of insulin, which was a triumph of science and medicine. Insulin treatment meant that type 1 diabetes, a disease that had been universally fatal for millennia, was no longer a death sentence. While lifesaving, insulin therapy still does not prevent the debilitating complications, including organ damage and premature mortality, that result from chronic blood sugar instability. Thus, better forms of insulin replacement are desperately needed. Dr. Sneddon highlighted exhilarating progress in stem cell research that has the potential to revolutionize treatment by overcoming some of the most significant challenges currently facing cell replacement therapy for patients with diabetes. This work represents a tangible path towards the holy grail of diabetes treatment: the restoration of blood sugar control without the need for injecting insulin.
Video not available
The Secret Lives of Stem Cells: Lessons from the Humble Fruit Fly
Wednesday, April 21, 2021
Dr. Lucy O'Brien, Associate Professor, Department of Molecular and Cellular Physiology, Stanford Medical School, will detail her current research using the adult fruit fly to model the dynamics of organ cell populations over time.
Our organs contain multitudes of cells: Mature cells that execute organ function, stem cells that generate new cells, immature cells that are differentiating, and spent cells that will soon be lost. Dr. O'Brien will discuss the demographics and dynamics of these cell populations––their sizes, compositions, and spatial distributions over time--how these demographics shift as organs adapt to new environmental demands, and what happens to cellular demographics when organs become damaged or diseased.
Making Heart Muscle Cells from Stem Cells
Wednesday, November 18, 2020
Dr. Deborah Lieu, Assistant Professor, Department of Internal Medicine, Division of Cardiovascular Medicine, University of California, Davis, will address current research on treating heart disease using stem cells.
Heart disease is the leading cause of morbidity and mortality in the United States. The successful derivation of heart muscle cells, or cardiomyocytes, from human pluripotent stem cells presents a new regenerative medicine strategy for treating heart disease patients. However, not all cardiomyocytes are the same in the heart! Dr. Lieu will discuss the issues, progresses, and challenges involved with making the right type of cardiomyocytes for the right job in the heart.
View Heart Muscle Cells Lecture
Stem Cells and Autism: From Brain Development to Therapy
Wednesday, November 20, 2019
Dr. Konstantinos Zarbalis, Associate Professor, University of California, Davis, will address current research on autism spectrum disorders and the use of stem cell therapies.
Autism spectrum disorders are one of the great health care challenges of our time. Over recent decades, autism prevalence has continuously risen in the U.S. with currently one out of 59 children being diagnosed with a disorder on the spectrum. Both the very diverse presentation and complex developmental course these conditions can take pose major hurdles in understanding their causes and devising therapies to combat them. Dr. Zarbalis will present data that illustrate the role that neural stem cells of the developing brain play in promoting autism spectrum disorders and how this insight may help early diagnosis and prevention. He will also discuss the current use of stem cell therapies in clinical trials.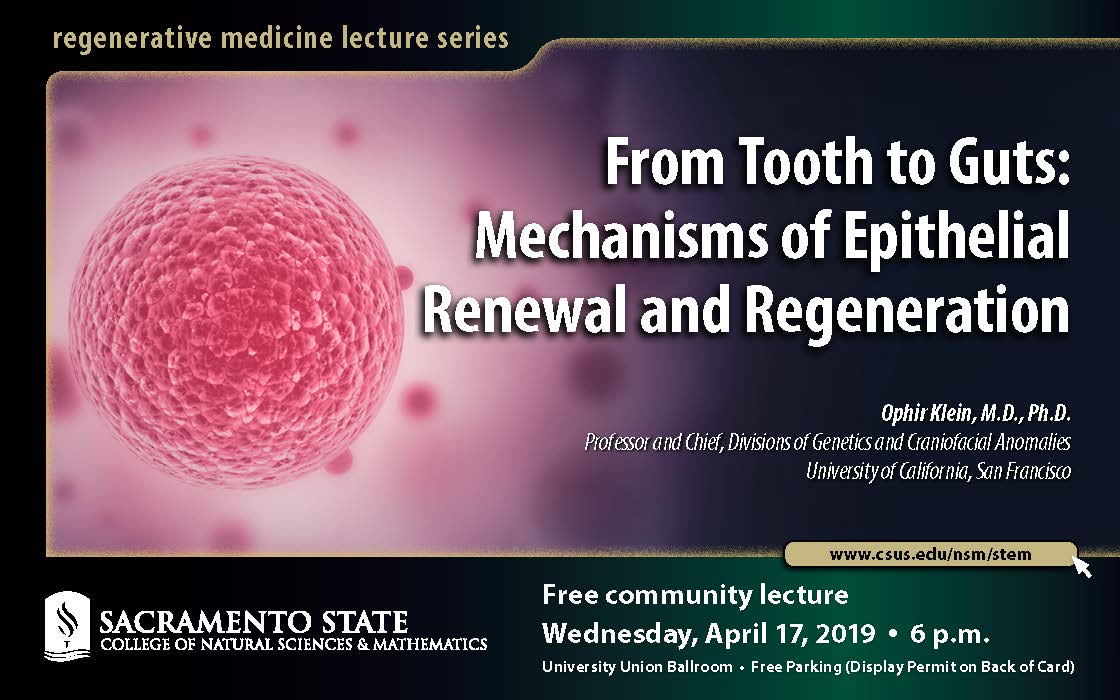 From Tooth to Guts: Mechanisms of Epithelial Renewal and Regeneration
Wednesday, April 17, 2019
Dr. Ophir Klein, Professor and Chief, Divisions of Genetics and Craniofacial Anomalies, University of California, San Francisco, will address current research on stem cell regeneration mechanisms in mammals.
A central challenge facing medicine today is the development of strategies for organ regeneration and repair, and an important next step for regenerative medicine is to understand the mechanisms by which mammals naturally use stem cells to renew and heal tissues. Dr. Klein will present data focusing on stem cells in teeth and the gastrointestinal tract as two examples of organs that undergo constant renewal. He will discuss studies of the continuously growing rodent incisor, a model that allows for powerful integration of investigations into how stem cells function, evolve, and coordinate behaviors across tissues. He will also discuss recent work from his lab examining the response of gastrointestinal epithelial stem cells to injury.
Innovations in Tissue Regeneration
Wednesday, November 7, 2018
Dr. Kevin Healy, Professor, Bioengineering and Materials Science & Engineering Departments at UC, Berkeley, will discuss current research on stem cell regeneration including applications addressing ischemia,
Highly regulated signals in the stem cell microenvironment have been implicated in modulating stem cell differentiation, maturation, and ultimately tissue function. The Healy Lab has used the "design for optimal functionality" process to develop semisynthetic microenvironments called extracellular matrix hydrogels. These hydrogels mimic the microenvironments of specific tissue types in order to instruct cell responses. This presentation will address the progress his team has made in developing these hydrogels to coordinate tissue regeneration or survival of transplanted stem cells.control of diabetes, and muscle regeneration.
Stem Cell Therapy for Parkinson's Disease
Tuesday, April 10, 2018
Dr. Dustin Wakeman, Adjunct Assistant Professor in the Department of Psychiatry at Yale School of Medicine and a Senior Research Scientist at RxGen, Inc., will address current research on stem cell usage in the treatment of Parkinson's and other neurodegenerative diseases.
A major challenge for the clinical application of stem cell therapy for Parkinson's disease is largescale manufacturing and preservation of neurons that can be prepared for surgery. To address this obstacle, midbrain dopamine neurons were derived from human induced pluripotent stem cells production lots for biochemical and transplantation studies.These neurons retained high viability, demonstrated appropriate neuronal characteristics, and significantly reversed functional behavioral deficits when transplanted into a rat model of Parkinson's disease. These findings demonstrate a simple and efficacious surgical intervention to deliver preserved iPSC-derived neurons for brain disorders and support translational development of pluripotent cell-based therapies in neurodegenerative disease.
A New Perspective on Stem Cells in the Liver
Wednesday, October 18, 2017
Dr. Roel Nusse is a professor in the Department of Developmental Biology at Stanford University School of Medicine, the Virginia and Daniel K. Ludwig Professor of Cancer Research and a Howard Hughes Medical Institute Investigator. He is a member of the Institute for Stem Cell Biology and Regenerative Medicine at Stanford and the Stanford Ludwig Center for Cancer Stem Cell Research and Medicine. His talk titled "A New Perspective on Stem Cells in the Liver" will address current research on stem cell behavior in the liver.
The growth, development and integrity of animal tissues, with a focus on stem cells, is the core interest of research done in the lab of Dr. Roel Nusse. Wnt signaling is widely implicated in stem cell control, as a mechanism to regulate the number of stem cells in tissues. Using various cell labeling and lineage tracing methods, this work has described novel populations of stem cells in various tissues, including in the liver. In that tissue, they found that hepatocytes that reside in the pericentral domain of the liver demonstrate stem cell behavior and characterized these unique cells in various ways.
Scar Wars
Tuesday, March 14, 2017
Dr. Michael T. Longaker, Professor and Vice Chair, Department of Surgery Stanford School of Medicine and Co-Director of the Institiute for Stem Cell Biology & Regenerative Medicine, will address current advances in the treatment of wound healing and scar formation.
Dermal fibroblasts represent a heterogeneous population of cells with diverse features. Lineage tracing and transplantation assays demonstrate that a single fibroblast lineage is responsible for the bulk of connective tissue deposition during embryonic development, cutaneous wound healing, radiation fibrosis, and cancer stroma formation. Lineage-specific cell ablation leads to diminished connective tissue deposition in wounds and reduces melanoma growth. Flow cytometry is used to identify a surface marker that allows for isolation of this lineage. Small molecule- based inhibition of CD26/DPP4 enzymatic activity during wound healing results in diminished cutaneous scarring.