Introducing the STEM VISTA Program
The CSU STEM VISTA Program
CSU STEM VISTA (Volunteers in Service to America) members volunteer full-time for one year in science, technology, engineering, and math (STEM) departments, colleges, and institutes across the CSU campuses. The CSU STEM VISTA volunteers work to eliminate race, class, and gender disparities in the STEM undergraduate programs, and focus on increasing retention rates and completion rates of underserved communities. For more details on the CSU STEM VISTA initiative, click here. To see what other volunteers across the CSU campuses members are doing, visit the CSU STEM VISTA Instagram account @csustemvista.
Applications for the 2022-2023 CSU STEM VISTA
Applications are being accepted until June 3, 2022 on the Americorps Website
APPLICANT QUALIFICATIONS:
A bachelor's degree in any field (STEM degree not required)
Experience working with young people or college students
A track record of managing shifting priorities and handling numerous time-sensitive projects with multiple deadlines
Ability to manage complex relationships and work well with diverse communities, management styles, and personalities
Progressive experience in problem-solving and project management
Demonstrated ability and commitment to continuous learning
Outstanding oral and written communication skills
Passion for education, equity, diversity, and inclusivity
High levels of determination, perseverance, and initiative
Hold one of the following citizenship or legal residency statuses: US citizen, US National, Lawful Permanent Resident (i.e. Green Card status), and persons legally residing within a state (e.g., DACA, asylee, etc.).
BENEFITS
Biweekly living allowance of $580.00
Relocation allowance (if relocating 50+ miles)
Limited health coverage
Professional and personal development
10 sick and 10 vacation days = 20 Paid Days Off
Loan deferment/forbearance (if eligible)
Upon completion of service, choice of:

$6,495 education award or
$1800 end-of-service stipend check
STEM VISTA at Sacramento State
The CSU STEM VISTA at Sacramento State is part of a four-year grant, which started in the 2019 - 2020 academic year to support the expansion of services offered by the Natural Sciences and Mathematics (NSM) Advising Center and Center for Science and Math Success (CSMS). The VISTA member functions as the NSM Student Success Coordinator and works to increase synergy and cooperation between the two Centers to increase the persistence and improve graduation rates of NSM students.
The NSM Student Success Coordinator: 1) supports all CSMS programs by enhancing communications and outreach to stakeholders across campus, 2) studies the impacts of Center activities to inform improvements and influence long-term student success strategies, and 3) supports the newly expanded NSM Advising Center, which serves 1st-year and transfer students from all six NSM departments and all biology pre-major students in their first two years.
STEM VISTA, Current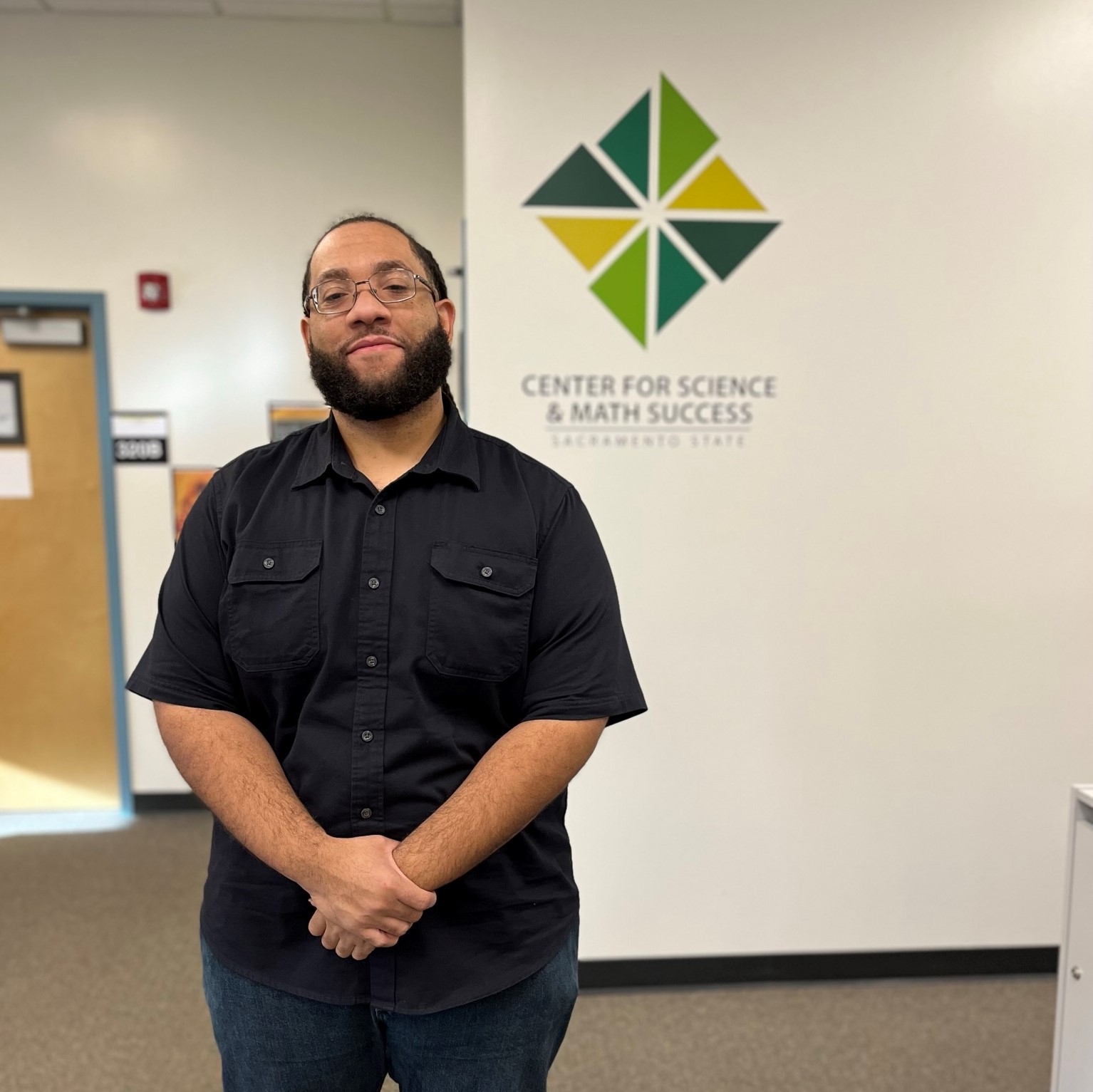 Lyndin King is serving as our current STEM VISTA member. He is an alumni of Sacramento State graduating with a Bachelor's in Sociology. He has previous work experience in social work and the K-12 system. His goal is to improve the support and experience of underrepresented STEM students at Sac State.
STEM VISTA, 2020-2021
Noor Sulaiman graduated from Sacramento State in May 2020 with a BS in Biological Sciences, concentrating in Cell and Molecular Biology, and minoring in Chemistry and Studio Arts. She was a peer mentor with Commit to Study for three years and decided to come back and served as a VISTA Ambassador for the second year of the grant. As an undergraduate, Noor was involved in various leadership, social justice, and equity positions and was the Associated Students, Inc. Natural Sciences and Mathematics Director for the 2019 – 2020 academic year.
STEM VISTA, 2019-2020
Nick Fortna served as the Sacramento State CSU STEM VISTA for 2019-2020. Nick is a Sac State graduate. He studied Biological Sciences and is pursuing a career in the medical field. Nick previously worked for several of the CSMS programs, including Peer Assisted Learning and Commit to Study. We were very fortunate to have someone with Nick's background and experience serving as our first-year VISTA.