Program Highlights
Encouraging and supporting student participation in international science activities is a new Senior CSU-LSAMP program emphasis, and we are pleased to report that there has been a high level of interest and activity in this area. Between 2008-2013, 127 students have engaged in International Activities.
CSU Santa Barbara in Korea
Christian Guerrero, Denise Martinez, Miguel Pinto and David Ruiz from CSU San Bernardino participated in a visit to the University of Incheon in South Korea, where they participated in a short internship, and learned about Korean culture.
"I really enjoyed the neuroscience center. I got a real in depth look at the facility and the equipment; it still amazes me. Visiting the neuroscience research institute has dramatically changed my educational plans. After seeing how amazing the institute was and meeting Dr. Cho, neuroscience has been on my mind and will potentially be in my future educational career." — David Ruiz
CSU Dominguez Hills Students in Costa Rica
Opportunities exist through the CSU Dominguez Hills Biology Department for students to gain research experience at La Selva Biological Station in Costa Rica. La Selva is owned and operated by The Organization for Tropical Studies (OTS), a consortium of universities in North America and Latin America dedicated to promoting research, education and conservation. A CSUDH faculty member has an NSF grant to do research at La Selva (Terry McGlynn, International Research Experiences for Students: Tropical Ecology Mentorship Program of Southern California, National Science Foundation Grant Nos. OISE-0526551; OISE-0749047).
Although ordinarily offered as a summer-long research opportunity, a shorter (two-week) research activity was conducted at La Selva (Jan 5-18, 2009)
San Jose State University in India
Having been given the privilege of attending the Global Technology Initiative to India, I feel fortunate for having been able to experience firsthand the differences and similarities between America's and India's technological methods and culture. By seeing the ways in which high-tech companies in India attract employees and attitudes in which students enrolled in IIT's approach their academics, I feel more well rounded in a professional sense. I so often go through my routine days in academia without so much as questioning the true intentions of my studies or what will be the inevitable benefits from my education. India helped me gain an understanding of issues which need to be faced on a global scale. — Alan Velasquez
Cross-Alliance Group in Austria
For three weeks in June and July, six LSAMP students visited the Medical University of Innsbruck as part of a global awareness trip sponsored by the California State University Louis Stokes Alliance for Minority Participation (CSU-LSAMP).
The students participating in this year's pilot program included Alessandra Altamirano (Biochemistry, CSU Fullerton), Wendy Avila (Biology, CSU Pomona), Rebeca B. Pereira (Biology, CSU Los Angeles), Melinda Mendolla (Chemical Engineering, San Jose State University), Kevin Park (Mathematics, CSU Fullerton), and Kwame Wiafe (Biochemistry, CSU Fullerton.
The students were mentored by Professor of Chemistry and Biochemistry, Katherine Kantardjieff, a biophysical chemist and structural molecular biologist, and Director of the Keck Center for Molecular Structure at CSU Fullerton.
The principal investigators whose laboratories in Innsbruck participated in this year's program included Lukas Huber, Gottfried Baier, and Hans Dieplinger. The CSU-LSAMP group was welcomed to Innsbruck by University Chancellor, Professor Dr. Manfred Dierich, and Division of Human GeneticsStudents on Trip to Austria Director, Professor Dr. Johannes Zschocke.
In addition to conducting scientific research in Austria, the students also experienced first-hand the culture and beauty of the Tirol, including hiking in the local mountains and hunting mushrooms, as well as taking train trips to Salzburg and Vienna.
CSU-LSAMP Student Jovani Tafoya
Jovani Tafoya has one more year until he graduates and has been researching schools to further his studies with a master's degree. He has been attending professional engineering conferences to learn more about what engineers do in society. In the summer of 2009, Jovani was able to meet the European industry in Aerospace Engineering in Versailles, France. His goal is to one day work for either NASA or ESA as an Aerospace Engineer.
Jovani had the following to say about his experience in France:
"This conference helped me as a student determining the career for my master's degree. With several presentations in propulsion I have seen that I would like to get my masters degree in that field. I made many contacts in this conference and will keep in touch with them for the purpose of research and other school projects I will be working on during the school year."
CSU San Bernardino in Thailand
Five LSAMP students, Sabrina Aviany-Cerveni, Sepideh Homayoni, Denise Martinez, David Ruiz (pictured right) and Diana Romo, participated in a visit and in short internships at hospitals in Thailand. This trip was organized by the CSU San Bernardino College of Natural Sciences, and took place during spring break, March 27 to April 3, 2010.
Theo Crouch II, UCM PROUD Scholar 2015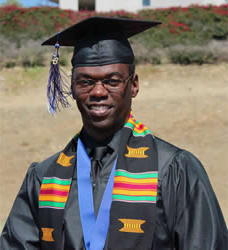 Becoming a Scientist or Engineer: Your Pathway to the Future with LSAMP
Becoming a Scientist or Engineer: Your Pathway to the Future with LSAMP is intended primarily for high school and lower division college students from racial/ethnic groups historically underrepresented in STEM fields. The goal of this video is to motivate these students to pursue majors and careers in STEM, and to encourage them to seek out LSAMP or other programs that provide support and enrichment experiences to help facilitate their success.
A video to motivate students to pursue majors and careers in STEM.