Geography Labs
The Department has multiple labs that support teaching, research, and training. Two computer labs support our geotechnology emphasis in GIS, GPS, computer cartography, and remote sensing, and they allow students to pursue independent research projects. Available software in these labs include ESRI's ArcGIS (including 3-D, Network Analyst and Spatial Analyst extensions) and ERDAS remote sensing programs. The Department also hosts the campus's Paleoecology Lab, but perhaps the most important facility is found outside—in the field. Our location in Sacramento provides our field courses access to a wide range of landscapes and environments relating to urban, rural, and physical geography. Our Geography program emphasizes many educational goals and objectives including one that gives students field experience in as wide a variety of natural and cultural environments as possible. We hope to instill in students the skill of observation and an appreciation for the importance of working with other cultures in a variety of places to ensure the understanding of environmental and cultural relationships and processes.
Paleoecology Lab
The Sac State Geography Department also hosts the Paleoecology Laboratory. The lab is located on the 3rd floor of Amador Hall and was established in 2004. The mission of the laboratory is to conduct environmental research to further our understanding of past and present physical landscapes and to promote student education and research. The lab emphasizes sediment research and tree-ring research. The Paleoecology Lab allows motivated students hands-on experience in field sampling techniques and laboratory processing and analysis of various environmental data. The Paleoecology's primary focus is on tree ring and pollen analysis with the goal of examining climate and environmental change over centuries to thousands of years.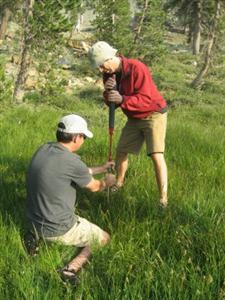 Lab Equipment
Sedimentology Equipment
Livingstone-type piston corer with 50of extension rods ·
1.6 cubic ft lab oven 127.5 cubic in muffle furnace
Analytical balance with 0.1 mg readability
10-45X stereo microscope
Compound microscope with 10X, 40X, and 100X objectives
Bartington MS2 magnetic susceptiblity meter
Dendrochronology Equipment
10", 14", 16", and 20" Haglof tree increment borers
24" Travel Velmex Measurement System with 0.001 mm Accu-Rite readout
10-40X Stereozoom binocular microscope with boom-arm and fiber optic illuminator
Voortech Measurement Software
Bosch 3" X 21" belt sander
Bosch oscillating sander
About Sedimentology
Sedimentology is concerned with the use of lake and marsh deposits in reconstructing past environments. Layers of lake sediment can accumulate undisturbed over long periods of time, forming a repository of information about changing environmental conditions. When carefully collected and examined, these layers can be read like pages in a book describing the environmental history of a region. Sediment characteristics such as grain size, organic content, magnetic susceptiblity, and elemental composition give insight into past climate and erosion in a watershed. The study of microfossils in lake sediments, such as pollen and charcoal, allows for the reconstruction of regional vegetation patterns and fire frequencies. Continuous sediment records spanning time periods from decades to hundreds of thousands of years have been used to study changing environments around the world.
Geographic Information Systems (GIS) Lab
The Geography Department is the home of Geographic Information Systems (GIS) at Sacramento State. The focus of the focus is to help students develop both a theoretical understanding of and practical experience using GIS that prepares them for the job market or graduate work. Our students have opportunities to develop these knowledge and skills in traditional lecture and lab courses in GIS, Remote Sensing, Cartography, and Spatial Analysis. They also have the opportunity to participate in project-based courses,where they are able to apply their understanding by designing and implementing solutions to real world problems.
Sacramento State students learn not only how to do GIS, but also when and why. FACILITIES The GIS facilities at Sacramento State give students exposure to industry standard GIS, Remote Sensing, and GPS hardware and software. The Geography Departments GIS lab has 30 PC workstations (12 with dual monitors) divided between instructional and student research labs, color scanners and printers, a large format color plotter, and 20 Trimble Juno SB GPS receivers. Software includes a campus site license for ESRI's ArcGIS products, ERDAS IMAGINE, Trimble's GPS Pathfinder Office, and other data analysis and productivity software such as SPSS/PASW, GeoDa, Adobe Creative Suite, and Microsoft Office.
About Dendrochronology
The science of dendrochronology is based on the doctrine that the "the past is the key to the future." By evaluating annual growth rings of suitable tree species we are given a glimpse of past environmental conditions. Knowledge of past environments helps us to better understand the environments in which we currently live and how these environments may change in the future. By evaluating changes in annual growth rings dendrochronologists are able to create records of environmental change that may extend back hundreds or even thousands of years. Tree rings have been used to study population dynamics of forests, volcanic eruptions, the rise and fall of ancient cultures, changes in insect and fish populations, earthquakes, tsunamis, river flow, atmospheric and soil pollution, deception in art masterpieces, radiocarbon dating, sunspots, and more.