A Community Cultural Wealth Study
Project Description
We are Dr. Alma Flores, Dr. Heidy Sarabia, and Dr. Nancy Huante-Tzintzun, and we are professors at California State University, Sacramento, in the college of education (Dr. Flores), the department of sociology (Dr. Sarabia), and the department of ethnic studies (Dr. Huante-Tzintzun). We are conducting a research study about the aspirations, plans, and goals among high school recent graduates who attended a public high school in one of the following districts/areas: Stockton, Lincoln, Lodi, or Manteca Unified, or San Joaquin County.
CSUS IRB protocol number: Cayuse-20-21-159
Contacts Us
If you have any questions about the research, please contact us.
Dr. Flores at alma.flores@csus.edu or (916) 278-4007
Dr. Sarabia at heidy.sarabia@csus.edu or (916)278-7574
Dr. Huante-Tzintzun at nancy.huante@csus.edu.
In addition, if you have any questions about your rights as a participant in a research project please call the Office of Research, Innovation, and Economic Development, California State University, Sacramento, (916) 278-5674, or email irb@csus.edu.
If you have any questions about the Stockton Scholars program, contact us at: info@stocktonscholars.org
Sign up to receive updates from this research project
If you are interested in receiving updates about the findings from this project, please fill out this form.
Meet the Research Team
Dr. Alma Flores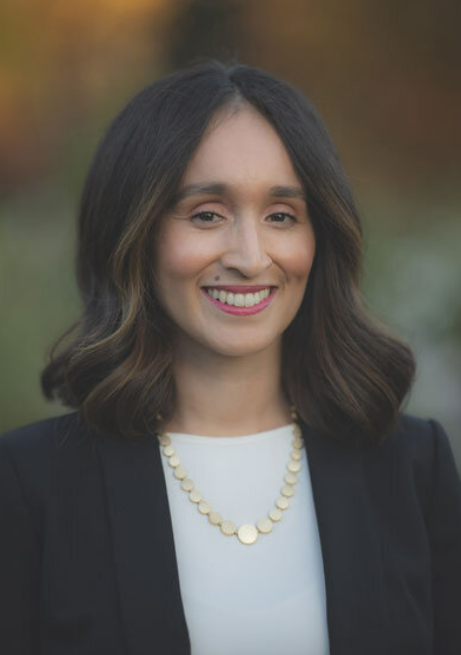 Alma Flores is an Assistant Professors in the College of Education at California State University, Sacramento State. She earned her B.A. in Sociology with a minor in Eduation Studies at UCLA, her M.A. in Bilingual and Bicultural Studies at the University of Texas, Austin, and her Ph.D. in Race and Ethnic Studies in Education at UCLA. As a Chicana feminist teacher-scholar, her research examines the educational pathways of Chicana/Latina first-generation college students, Chicana/Latina mothers, and the development and analysis of Chicana/Latina feminist pedagogies and research methodologies. Her work has been published in Chicana/Latina Studies. The Chicana M(other)work Anthology, and most recently in the edited book, Teaching Gloria Anzaldúa. Dr. Flores' experiences as a first-generation college student, immigrant, and mother inform her teaching, research, and community commitments. She is passionate about doing antiracist work both within and beyond the classroom.
Dr. Heidy Sarabia
Heidy Sarabia was born and raised in Mexico City, and migrated to Sacramento, CA, in the 1990s with her family. She is now Assistant Professor in the Department of Sociology at California State University, Sacramento. Her research focuses on globalization processes such as global stratification, borders and borderlands, border violence, transnational adaptation and incorporation in the U.S. She received her Ph.D. from the University of California, Berkeley, and holds a B.A. from the University of California, Los Angeles. She was a postdoctoral fellow at the University of Pennsylvania from 2014-16. She returned to Sacramento in 2016. Her work has been published in Sociological Forum, Ethnic and Racial Studies, Citizenship Studies, Analyses of Social Issues and Public Policy, American Behavioral Scientist, Latin American Perspectives, Migration Letters, Social Science & Medicine, and Carta Economica Regional.
Dr. Nancy Huante-Tzintzun
Dr. Huante-Tzintzun is an Assistant Professor of Practice for the Learning, Leadership, and Change Programs and former Ethnic Studies Instructor at Sacramento State University. She drives her work further as Co Director at Nopal. Community, Culture, Activism, and Education through her well-versed social justice theoretic and civic engagement policy and practice work. Dr. Huante-Tzintzun also participates on the Board of Directors for Little Manila Rising. Born in Michoacán, Mexico and raised in Stockton, she believed in the transformative power of education and received a Doctor of Philosophy and Education from the University of Utah. As a Chicana scholar-activist and community organizer in Stockton she finds passion and purpose through multiple disciplines to represent her city and people in everything she does.
Student Research Assistants
Elizabeth Delgado
Elizabeth Delgado is a 2021 Sac State Pathways Fellow, where she is eager to provide research support to the Stockton Scholars research team. She holds a BA in Political Science with a minor in Human Rights from UC Davis and a Master's in Public Policy and Administration from Sac State. Elizabeth previous research experience focused on institutional factors that support Latinx students in CA Community Colleges, given her experience as a first-generation college graduate and former transfer student.
Itzaes Flores
Itzaes Flores is a senior at Sacramento State studying Ethnic Studies and Philosophy, he is interested in campus culture and climate, and how they affect a student's college experience and overall success. He was a part of the Students Affairs Leaders of Tomorrow (SALT) program, where he learned the history of higher education and student development theories that help contribute to student success. Additionally, he was a resident advisor for three years, where He learned the impact of on-campus housing in higher education.