Pan- African Graduation Celebration
Pan African Graduation Celebration 2023
Interested in being a Graduation Speaker?
All graduating student scholars are extended the opportunity to actively participate in the graduation ceremony as a "Graduation Speaker."
If you are interested in speaking at the African-American Graduation Celebration, please adhere to the following speech guidelines:
Submit a 3-5 minute typed speech.
The speech must follow the graduation celebration theme, "Black Reemergence: Elevation & Evolution"" and must be clear, concise, and to the point. The speech must also be typed in a 12 point font using APA format with one inch margins (top & bottom).
Lastly, please include a cover sheet with your full name; theme title; telephone number; major; degree, and graduating term. The deadline to submit your speech is Friday, March 29th at 5pm.
Upload document: https://surveys.csus.edu/jfe/form/SV_4ZQLr3U8sNqZAtE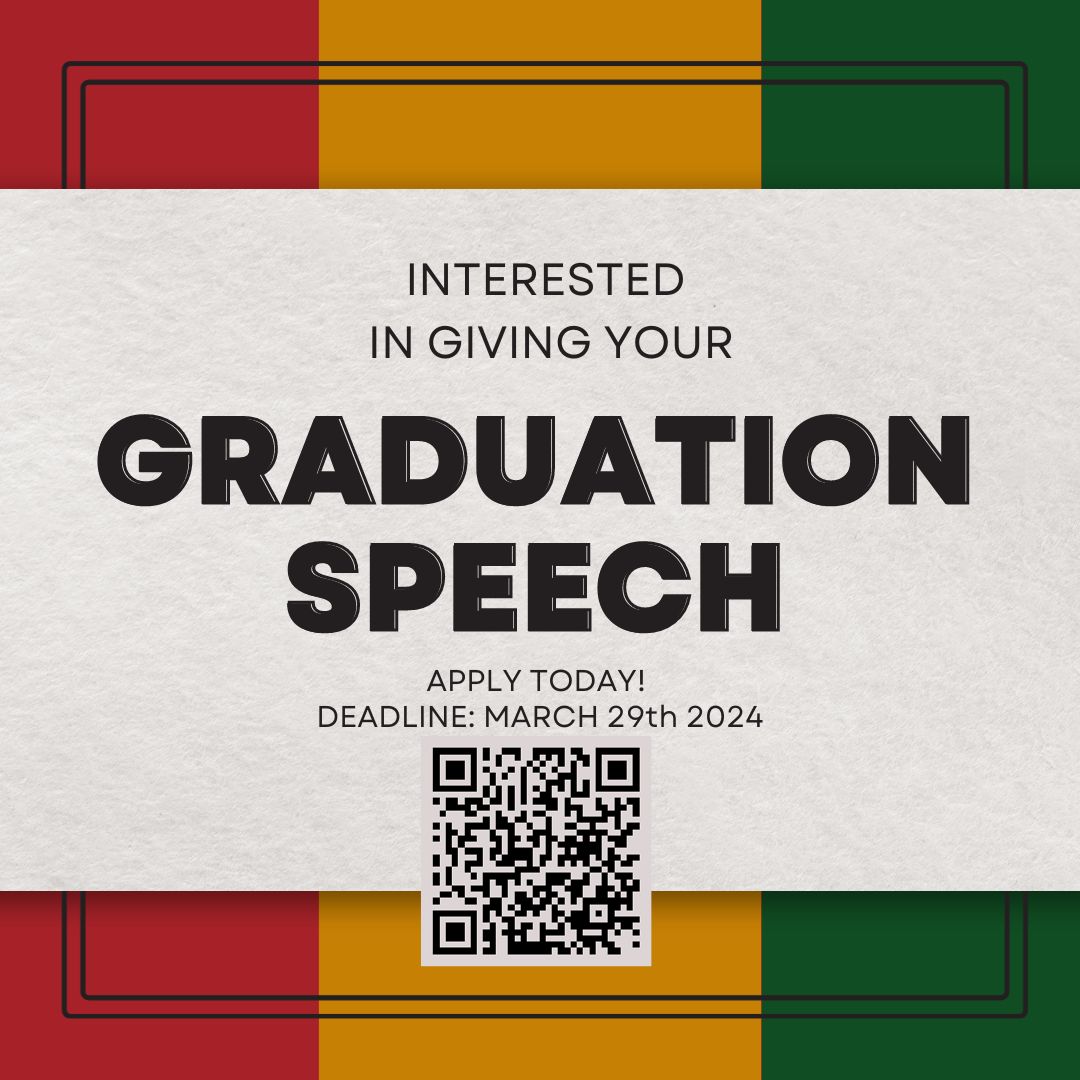 ---
Interested in Volunteering for PAGC?
Before the Celebration FAQs
How do I register for this event?
You can register by clicking the link below! Registration Deadline is April 17th, 2024
Register to Attend the Celebration!
Who can participate in the celebration?
This celebration continues to honor and acknowledge African American students on campus.
Does it Cost?
No, this celebration is completely free!
How do I change my name or use my preferred name for the event?
Please include your preferred name when you register for the PAGC.
How does the Student Conduct Code apply to the celebration?
Students will be removed from the celebration if they are not adhering to the Student Conduct Code.
Do I need to apply to graduate?
Yes, Undergraduate students should go to the Graduation Advising webpage for information on applying to graduate. Graduate students must apply to graduate through the Office of Graduate Studies.
Can I purchase a cap and gown?
Yes. Beverly Jones – AN ETHNIC CELEBRATION will be accepting orders.
Packages include:
2 piece set includes a Graduation Hat and Scarf; the price is $72.00 plus tax/postage. Finally,
3 piece set includes a Graduation Hat, Scarf, and matching mask for $84.00 plus tax/postage.
4 piece set includes a Graduation Hat, Scarf, Mask, and Tassel for $93.00 plus tax/postage.
To order: please contact Ms. Beverly Jones; her number is 925-372-7612. However, if you wish to pay through Venmo, her cell phone number is 510-943-22465. Last day to order: April 28th, 2023
Please come into the Cooper-Woodson office to check out more prints:
Mondays: 10am-4pm, Tuesdays: 10am-1pm and Fridays: 10am-2pm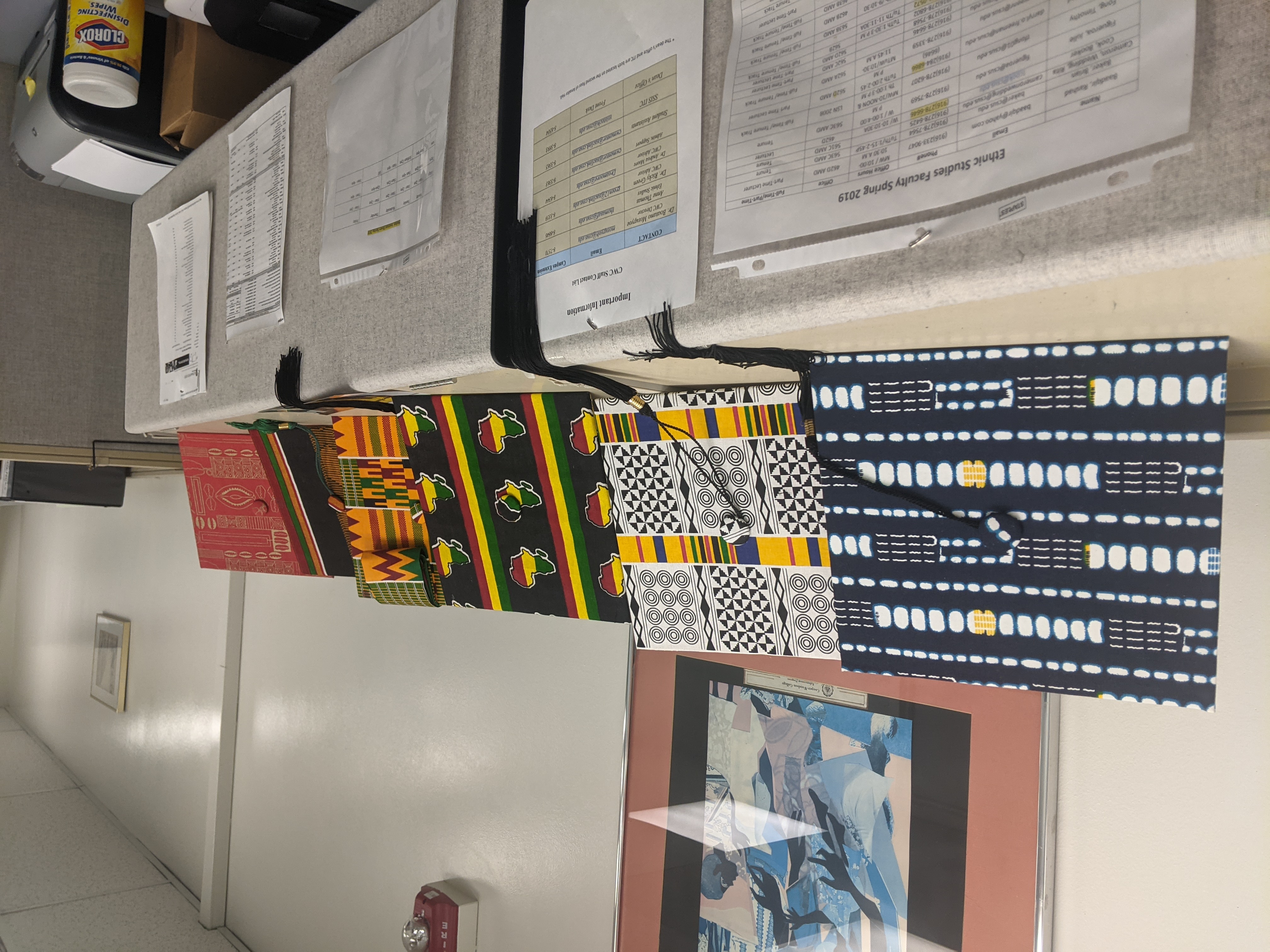 GRADUATION KENTE
A division of African Imports, LLC
They offer one of the largest inventories of graduation kente stoles. They sell Graduation, Sorority, Fraternity, Traditional, Multicultural, LGBT, Serape and Satin stoles.
Most of their stoles can be custom designed and/or logos added.
If product is avaibale online, next day shipping
Custom orders, 2-week shipping
Phone: 270-684-1818
Email: victor@african-import.com
---
Need Graduation Photos?
Book your session with Nicole Fowler Photography
Still need to upload your graduation photo?
---
Event- Day FAQs
What day/time is the celebration?
Sunday May 12th, 2024 from 6:30pm-8:30pm, doors open at 6:00pm
Graduation Rehearsal
PAGC rehearsal is MANDATORY for all Graduates, rehearsal will take place in the University Ballroom, on May 12th, 2024 at 10AM-11AM.
Graduate Group Photo
4:30pm-5:00pm outside the University Union
Will there be a commencement program?
Yes. Digital programs will be sent to each graduate. Programs will also be avaliable at commencement.
---
PAGC Planning Committee
If you are interested in becoming a part of the Spring 2024 PAGC Planning Committee, join us for our virtual meetings every 2nd and 4th Friday of the month, from 11-12 pm.
Zoom ID: 885 2684 8409
https://csus.zoom.us/s/88526848409
---
Tech Check
10am-11am
2024 Gradfest
CWC Gradfest was held on March 7 and 8 from 12-2pm.
Grad Fest is a huge event for graduating students happening in the Hornet Bookstore!
Graduate school programs and more!
Alumni Association membership and gear!
Commencement registration
ASI Student Shop regalia (cap and gown) purchases
Graduation portraits
Class rings, diploma frames, announcements, and other merchandise!
---
Graduate Slides
You can now view the 2023 Pan African Graduation slides here.
Pan-African Graduation 2023 Slideshow
To view the graduate slides in slideshow mode, click the button above, then open the PDF from your computer's Downloads folder.