About the Initiative
Community engagement has long been a hallmark of Sacramento State. Since the University's founding, thousands of faculty, staff, and students have worked with community partners through service learning, research, creative, and community collaborations, and donated their time and resources to nonprofit organizations, local and state governmental agencies, and community-based initiatives.
In his 2018 Fall Address to the campus community, Sacramento State President Robert S. Nelsen outlined a vision to deepen and strengthen the University's engagement with the community by transforming the campus into an "anchor university."
As an anchor university, Sacramento State has a vested interest in the well-being of the Sacramento Region and strives to support and improve the quality of life in the community in which we serve. As a place-based institution, the University aims to bring the full weight of its intellectual and economic readiness to support the growth and flourishing of the city and region -- most especially, to address those neighborhoods and communities that have historically been underrepresented and underserved.
In sum, embracing the anchor mission fundamentally transforms Sacramento State's relationship with the community: It sets the University on course to align our resources and efforts so that we cultivate and develop long-term and mutually beneficial relationships with our community partners in pioneering endeavors to address our community's priorities.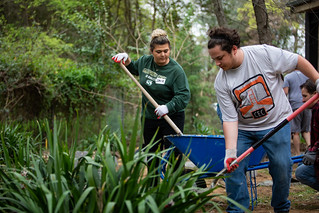 Anchor University Task Force
To initiate the anchor mission, President Nelsen established a 50-member Anchor University Task Force and charged the Task Force to conduct a comprehensive review of the University's existing community engagement efforts, conduct an assessment of community needs, and make recommendations on an organizational infrastructure that would develop and support the University's anchor mission.
To undertake its work, the Task Force sought input from stakeholders internal and external to the University through community and faculty convenings and electronic surveys. The convenings informed our community and campus about the anchor initiative, solicited input and insights about how we should move forward as an Anchor University, and suggested priorities of action for deepening the University's engagement with Sacramento and its residents. Two of the convenings were held in the community and a third was held on campus.
Finally, the Task Force also completed a cross-sector literature review to identify those issues that are of collective concern within Sacramento. Findings from all of these data sources - along with the recently completed reclassification of the Carnegie Foundation's Classification for Community Engagement – were incorporated into an Anchor University Task Force Report presented to President Nelsen in late August 2019.
The next steps include the adoption of an organizational structure and the appointment of a lead administrator, along with the appointment of a permanent Anchor University Advisory Council, which will include community representation.