From hoops star to high school mentor: Jameel Pugh pays it forward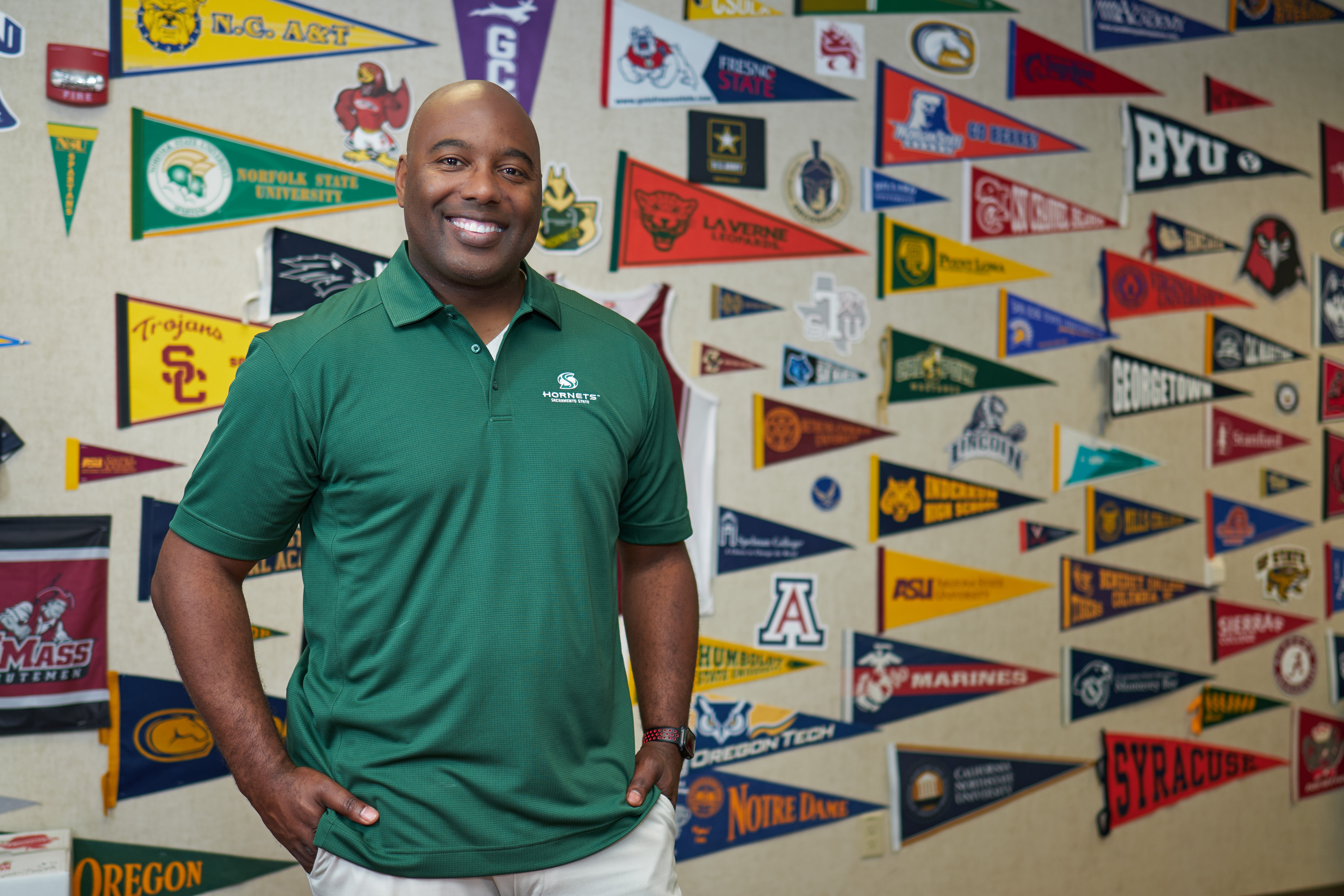 August 12, 2020
Sacramento State basketball standout Jameel Pugh '05 (Child Development) twice received assists from Bill Macriss. 
The first time was when Macriss, then Sac State's associate athletic director, caught Pugh breaking into the gym for extra practice. Instead of punishing him, Macriss promised to open the building early. Pugh finished the season strong, helping launch him into a professional basketball career. 
The second came when Macriss and Athletic Director Terry Wanless interrupted practice to present Pugh with an academic award for achieving a 3.0 GPA. 
"It was the first academic award I had received, and that propelled me forward to think about my future as a scholar," Pugh said. "Having people who saw and recognized and supported my academic abilities, alongside my athletic abilities, was instrumental in preparing me for life." 
Pugh now plays a similar role for hundreds of Sacramento teenagers. As the college and career counselor at Inderkum High School in Natomas, he prepares students for what comes after graduation – guiding and shaping lives just as Macriss and others did for him. 
When Pugh looks at his students, he sees himself. Perhaps more importantly, they see themselves in him. 
"It's a mutual relationship," he said. "When we connect, it's like I got their ear, I got their respect, just like my mentors did for me." 
He spent most of his childhood in Fremont, and his early school years were defined by dominance on the basketball court and struggles in the classroom. When he was 15, his mother moved to Sacramento while he stayed behind to live with a mentor. Shortly after, his inability to follow rules got him kicked off the basketball team and out of the house on the same day. He then joined his mom in Sacramento. 
At Grant High School, he had a notable basketball career, which included winning the Nike World Dunk tournament in France and being named by SLAM magazine the best dunker in the world. He accepted a scholarship to the University of Massachusetts, but when the head coach was fired, he decided to come home and play at Sacramento State. 
The presence at Sac State of a heavily recruited star like Pugh had a significant impact on the basketball program, said Macriss, now the University's associate vice president of Student Affairs and interim dean of students. But Pugh thrived off the court as well.
"The same work ethic that he brought to the basketball court he brought to every aspect of his life, including academics," Macriss said. "Not only was he bright and a hard worker, but there was just a charismatic nature to him." 
After taking a Child Development course, Pugh realized that helping young people thrive was his mission in life and chose the field as his major. He spent hours working with kids at the campus' child development center. 
"That kind of hands-on experience gave me a sense of where I felt comfortable," he said. "That let me know that this was something that I could do." 
Pugh had found his passion for working with young people, but that pursuit was put on hold for 2 1/2 injury-plagued years while he pursued a professional basketball career. He was drafted into the NBA Chicago Bulls' development league team, then played overseas in New Zealand – "probably the best cultural experience of my life," Pugh said – and Australia. 
When his playing days ended, he returned to Sacramento and began his work with the region's youth, first with the City of Sacramento and then with the Sacramento City Unified School District. After managing a development program for college students in Philadelphia and serving on a workforce investment board in the south Bay Area, Pugh in July 2016 began his role at Inderkum. 
"He's a person who probably could stake his claim just about anywhere in the world, but he wanted to come back to Sacramento, and he wanted to work with students and work with this community," Macriss said. 
Pugh is responsible for preparing students for whatever comes after high school – four-year college, community college, vocational school, the military or the workforce – and giving them the tools to make the best choice. Crucially, students are involved in and, in many cases, leading every aspect of this work. The College and Career Readiness Team (CCR), made up of nearly 30 seniors and juniors, produces a wide range of material and programming, including videos on scholarships, podcasts featuring college and career professionals, and blog posts for parents. 
It has paid off in a big way. When Pugh arrived, just half of Inderkum's seniors were accepted into college, he said. Four years later, that number has risen to nearly 70%. 
Pugh lights up when talking about his students, eagerly pointing them out in photos: This one was the first in Inderkum history to be accepted into Harvard and Yale (he went to UC Berkeley); this one got a full ride to Georgetown; this one wouldn't leave Pugh alone until he let her onto the team – and raised her GPA from below 2.0 to 4.0 in just one semester. 
Reina Villongco was an Inderkum junior when Pugh spoke at the semiannual "class meeting." Intrigued by the opportunity to help others, she applied for and was accepted to the CCR. The following year, she served as its chief of staff. 
Being part of CCR introduced her to important information about applying to college and helped her gain new skills and confidence. Pugh, she said, sets the tone by empowering students to create content and programming in their own voice, and is a mentor they can count on even after they graduate. 
"He really loves his work and values it more than just a job, and you can tell by the way that not just me but other CCR students, he's gotten to know us for who we are, not just as a student, not just for how we can benefit the program," said Villongco, now a Sacramento State sophomore studying Human Resources and Organizational Behavior. "Not a lot of people naturally do that, and I think that's why, as students, we keep that bond with him past high school." 
Outside of his job, Pugh's other passions are photography and videography. He got his start in the former at Sac State, when the Athletics office gave him a media credential to cover a football game against Fresno State. Today, he photographs professional sports including the San Francisco 49ers, Oakland Raiders and Sacramento Kings – impressive for someone largely self-taught. 
He also has released two documentaries and continues his own education. He holds an executive master's degree in Organizational Leadership from the University of Southern California and is pursuing his doctorate in Human Resources and Workforce Development online though the University of Arkansas. 
Pugh doesn't forget his time at Sac State, however. The University, he said, is a "hidden gem" that made his academic and basketball dreams come true. It's where he met so many of his lifelong friends (and where his wife got her master's in Social Work). 
And it is, of course, where he found some of the mentors who helped keep him on the right path, mentors who inspire him to give back to today's young people. 
"As a kid who grew up with a single parent, I am the benefactor of so many amazing mentors, people who stepped in for me and made sure that I never lacked for support, resources or guidance," Pugh said. "When you have that at your disposal and you realize how that's changed the trajectory of your life, you realize you can never pay those people back, so your best goal is to pay it forward."